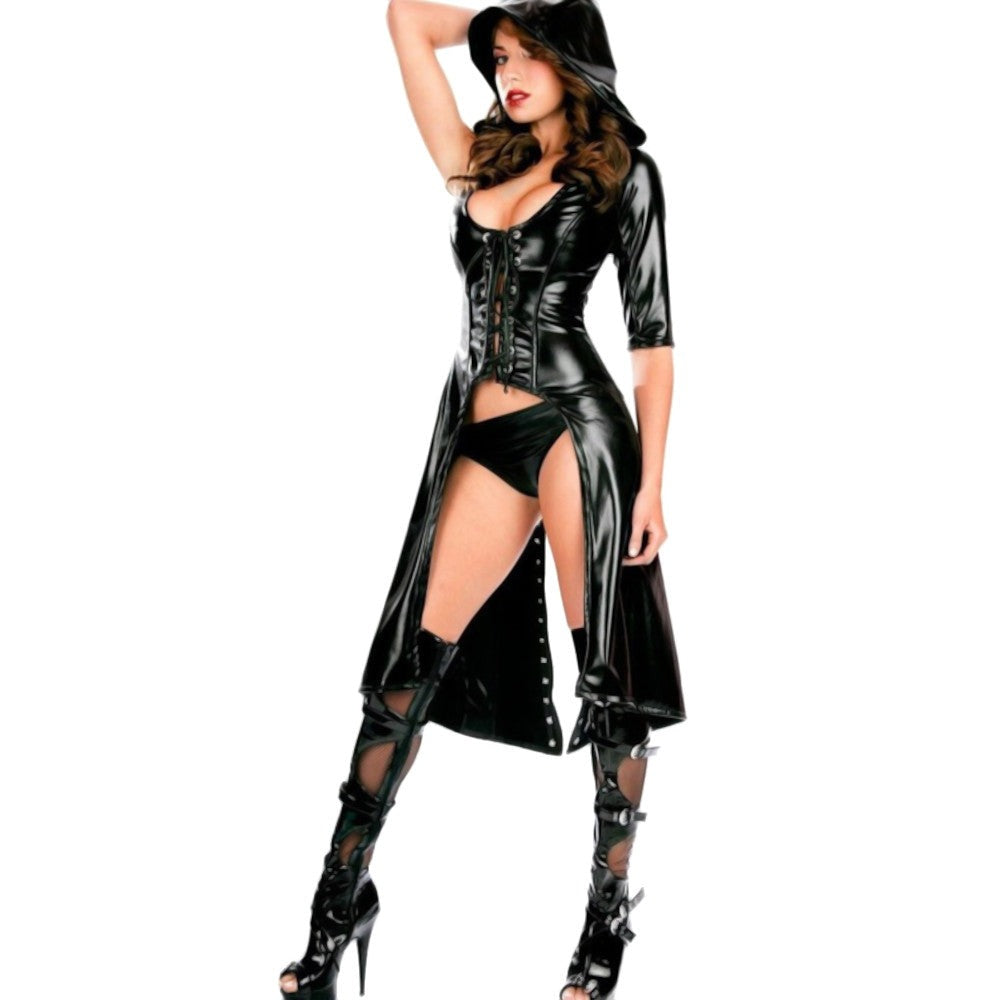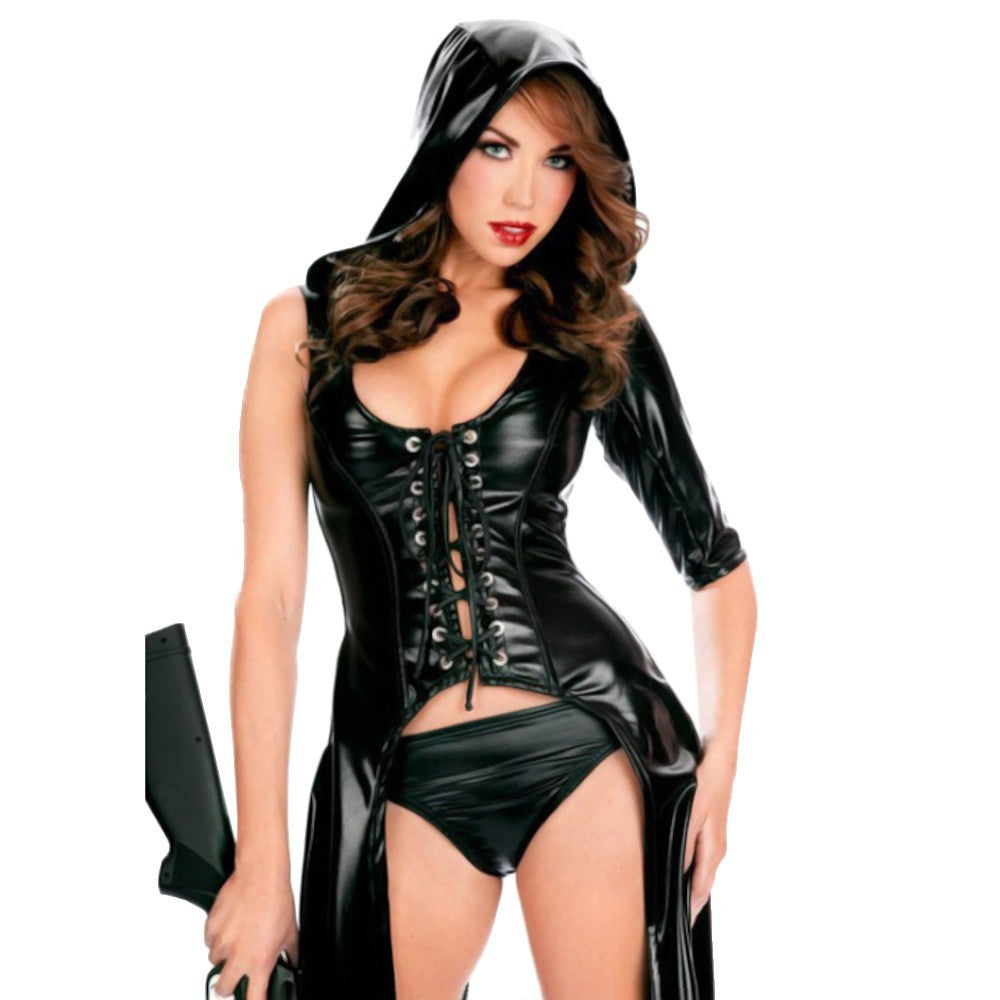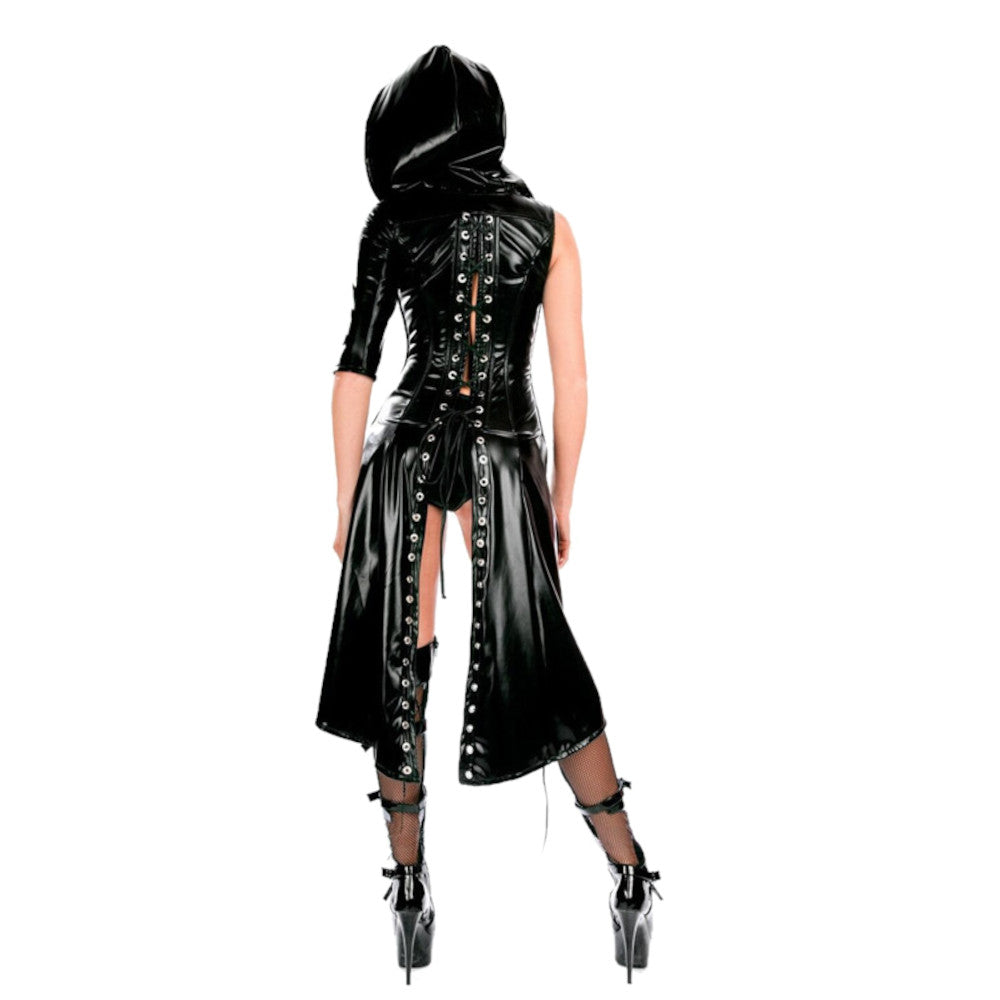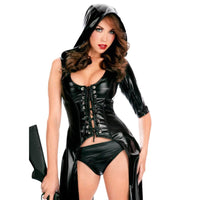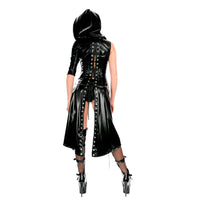 Who says witches are ugly and scary? These sorceresses can be hot! Picture Hermione Granger in a racy hooded robe with bold red lipstick on her lips and high-heeled boots on her feet and thighs. You like it, don't you?

Fortunately, you can turn yourself into a feisty and sexy witch! All you need to do is wear this Black Hooded Vinyl Suit! This fetishistic suit will give the word "witch" a whole new meaning.

The black suit oozes sex appeal from top to bottom. It has a hood that covers the head of the wearer. Its fitted top has laces at the front and the back, enabling you to show the curve of your body as you adjust its fit.

Meanwhile, its sleeves have two styles, in which one part is sleeveless while the other part covers the upper half of your arm. Last is the bottom part that drapes and flows as you move your body.

But wait, there's more! When you buy this apparel, you'll also get a piece of underwear made of the same material used in the suit: vinyl. This fabric is waterproof, UV- and fade-resistant, and highly durable. Thus, this outfit will surely last.

This oh-so-sexy hooded suit is perfect for kinky costume parties. Pair this get-up with a broom, a pair of black see-through stockings, and a pair of black stilettos (you can also wear black boots if you want), and all eyes will be on you.

What if the party is over? Well, you can still put it on—even if you're not attending an event. You can wear this when you and your partner are in the mood to play. Doing so will take your intimate scenes to a magical world of eroticism.

Be the hottest witch in town with this Black Hooded Vinyl Suit. Grab one now!
Specifications
Color
Black
Material
Vinyl
Sizes
Length:
Jacket Length (without hood) – 47.64 inches (121 cm)
Hood – 17.72 inches (45 cm)
Chest: 33.07 – 47.24 inches (84 – 120 cm)
Waist: 26.77 – 47.24 inches (68 – 120 cm)
Hip: 34.65 – 47.24 inches (88 – 120 cm)
Recommended for
Women
Washing Tips and General Instructions
Hand wash or machine wash at cold temperature. Hang to dry. Do not iron.