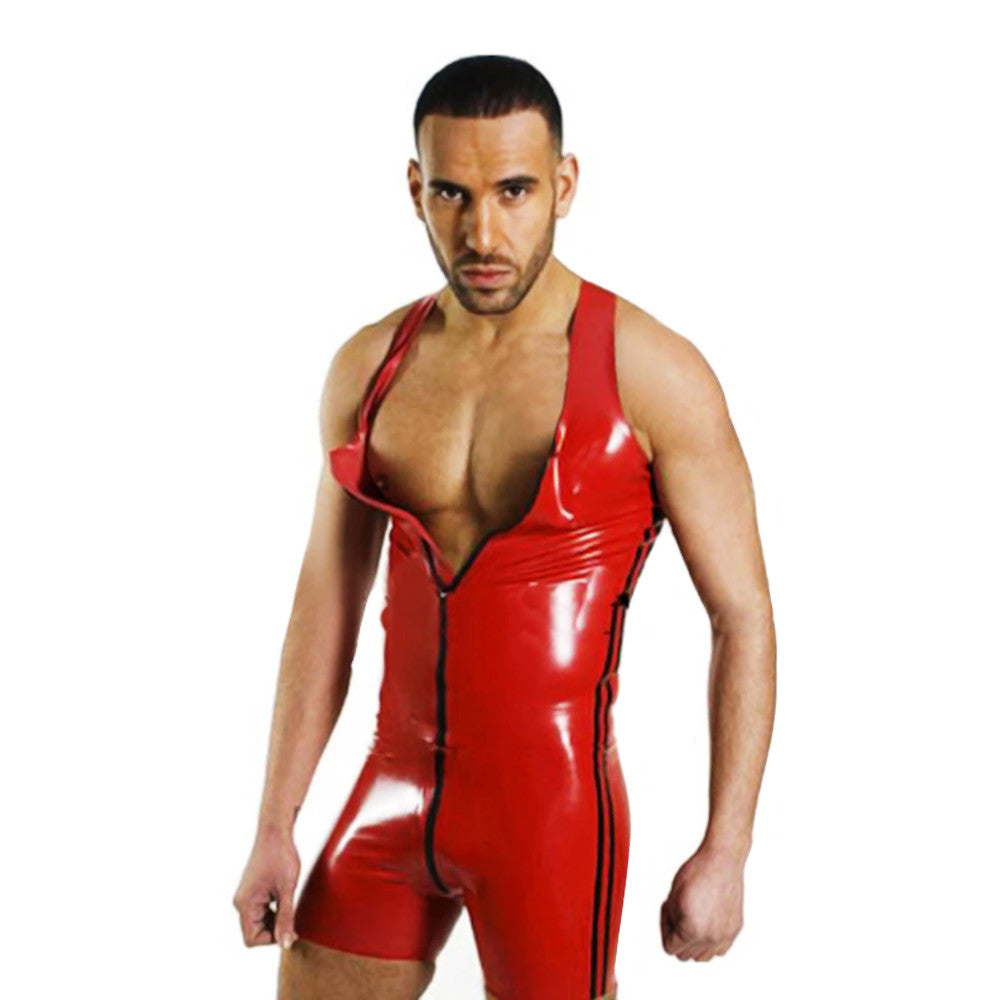 Working for years as a gigolo, you noticed lately that your customers are getting fewer. You know you always have the latest trending moves during your performances. But for some reason, you do not seem to entice them anymore. Perhaps you need to make a change. How about using a more provocative costume this time?

You may have a macho body when you're all naked, but what if you're not? If you're all dressed up, is it still obvious that you're sexy? Well, with the Macho Men's PVC suit, even if you're all covered, you can flaunt your swaggering body for the world to see!

Shift to using this suit and lure those customers back to choose you again. This gear made of PVC is so skin-tight that it will showcase your prominent chest and bulging balls and dick. It will also boast off your legs that didn't skip the leg day and those stunning biceps and triceps. Pull down the zipper attached to it, and you can reveal that abdominal muscles. Available in five sizes, small to double extra-large, you can pick whichever suits your built, whatever your body type is. It comes in shiny red, making it sparkle once it reflects the spotlight as you dance your way to get those patrons back.

Slide in your legs and thighs into its sleeves. Then, insert your arms into their respective holes. Pull the zipper's slider up to your preferred position, and you're good to go. You can pair it with a mask, too, to heighten your look and get that enigmatic aura to puzzle everyone about who you are.

Once the show is through, make sure to clean this badass costume to maintain its shine. You can rinse it but only with lukewarm water. A latex-friendly cleanser will also help in removing the sweat odor on its surface. Never dry clean it, nor subject it to heat, or it will permanently lose its beauty.

You will become the club's most anticipated macho dancer once you use the Macho Men's PVC suit. Get this now!
Specifications
Color
Red
Material
PVC
Sizes
S, M, L, XL, XXL - Refer to the size chart below for the measurements
Recommended for
Men
Washing Tips and General Instructions
Hand wash
Set the dryer at the right temperature
Do not iron
Sizing Guide