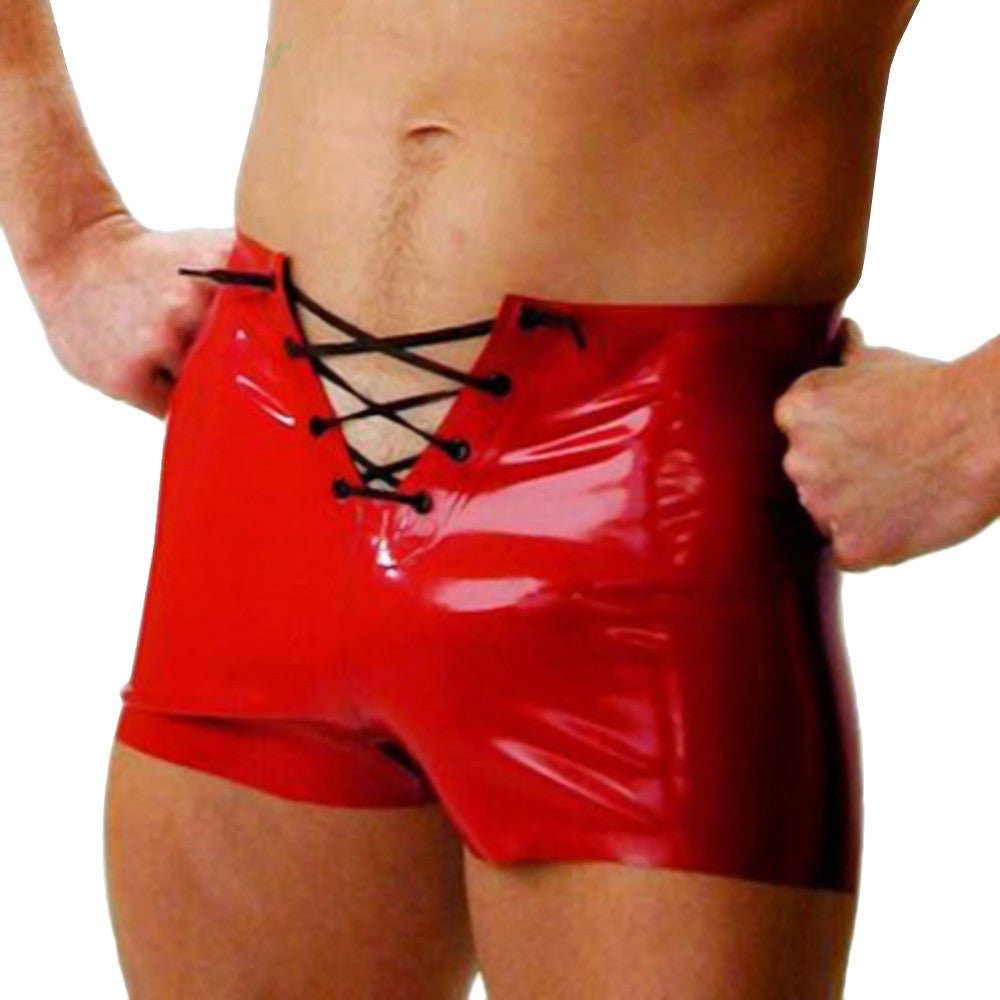 Your mistress has been very busy lately and has never shown any interest in doing the hanky-panky. You suggested taking a shower together, hoping you could turn her on. Unfortunately, though, you were unsuccessful. You are running out of ideas on how to steal her attention away from work. Well, here is a sure way to grab her interest and fire up her libido: put on the Lacy Latex Hot Pants! With these pants on, you won't have to try hard to seduce your mistress. Take it off the sexiest way you can, and you will make her pussy wet!

These tight-fitting shorts will make you look gorgeously masculine as they emphasize how firm your butt is and how big your cock is! Yes, this is a covering, yet it is so revealing! This highly flexible underwear features a lace-up closure. Lace through the metal grommets, then tighten the closure to secure your package. Make her earn your dick before you give in. She has never paid attention to you as her slave, so you have the right to make her beg once you make her so wet.

This pair of shorts is made of natural latex, a non-toxic and eco-friendly material. It may look smooth, but it clings on the skin, creating friction when you try to wear it. Slide into it with ease by applying silicone lube on your legs, thighs, and butt. You will also need to lubricate the inside of the pants. To bring out its deep shine, you need a silicone-based polish to rub on its surface. Use cloth during the first application, then use your hands to rub a second coating on the shorts. Whatever you do, never use oil-based polish as it will damage latex.

So what's it gonna be? Let nature take its course, or you wear something hot to get laid? Go for the latter and buy these hot pants now!


Specifications
| | |
| --- | --- |
| Color | Red, Black, Pink, Purple, Silver, White, Yellow |
| Material | Latex |
| Sizes | XS, S, M, L, XL, XXL - Refer to the size chart below for the measurements |
| Recommended for | Men |
| Washing Tips and General Instructions | Wash in clean, warm water. Avoid detergents and soaps. Wipe away excess water with a soft towel. Leave to dry flat or hang up to drip dry. Never tumble dry, dry clean or iron. |
Sizing Guide