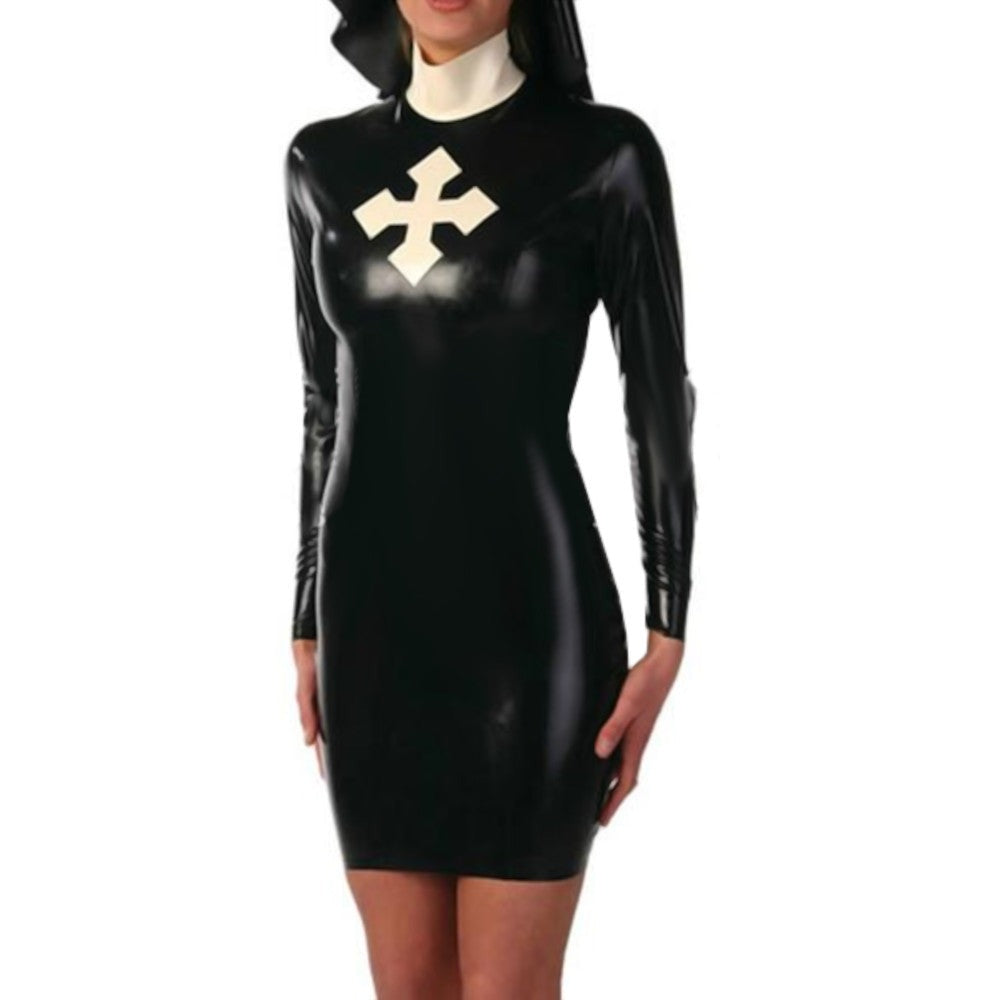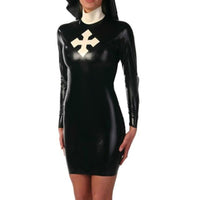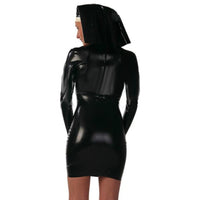 You are a latex queen, and no one can stop you, especially when you're feeling adventurous. You have explored different roles in your BDSM scenes, but never have you tried to portray yourself as a saint. It's never too late, especially now that the Sexy Saint Nun Costume is here. With this costume, you can choose to be a horrifying nun that we see in horror films or be a saintly one.

While it makes you look like a saint, it also makes you look sinful. This princess cut habit-inspired latex dress bears a cross, a symbolic emblem for the Catholics. It has sleeves that cover the entire length of the arms, but the dress is mid-thigh length, flaunting your flawless legs. When you are ready to commit an act of lust, all you have to do is lift the skirt to let your partner go down on you or give his dick some fun!

How many exciting scenarios can you think of with this saint nun costume? There should be plenty! As you know, a veil is a staple of a nun's habit. So go ahead and put it on your head to make your role more convincing. Pair it up with your slutty high-heeled shoes to signal you're in for decadent pleasure. Feel the latex stick to your skin by going commando.

If you're wondering how you can put it on or take it off, take a look at the back because that's where the zipper is. Slip into the dress with ease by applying silicone lube on your body and the inside of the garment. You can also use talc powder instead. Avoid exerting too much force when pulling the garment as latex easily tears. Use cotton gloves if you must when putting this dress on.

Sinner or saint, you can put on this dress to seduce your partner. Buy now!
Specifications
| | |
| --- | --- |
| Color | Black, Blue, Green, Orange, Purple, White, Yellow, Red, Transparent Black, Sky Blue, Lavender, |
| Material | Latex |
| Sizes | XS, S, M, L, XL, XXL - Refer to the size chart below for the measurements |
| Recommended for | Women |
| Washing Tips and General Instructions | Handwash in warm water with a small amount of detergent. Rinse thoroughly. Shake away excess water and dry flat. Dust the inside with talc when completely dry. |
Sizing Guide