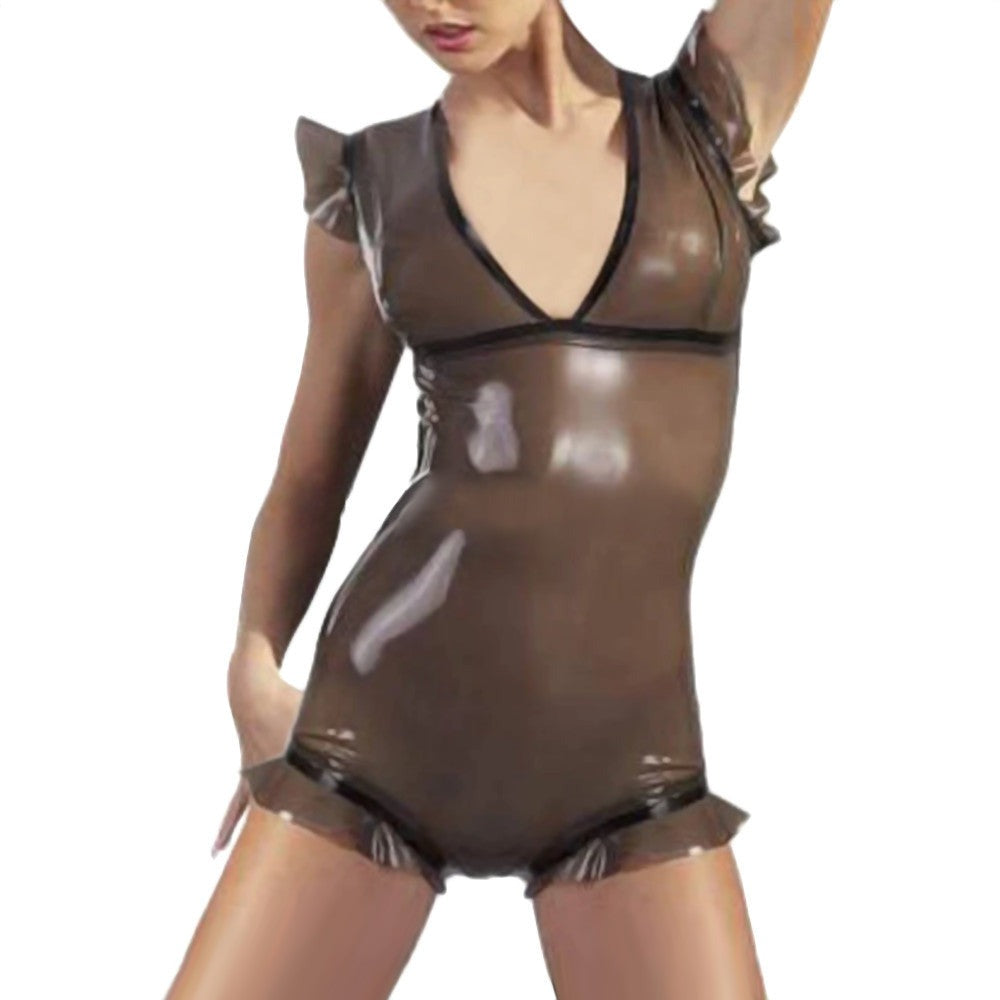 Transparent Frilly Latex Swimsuit
Are you looking for a new and stylish way to dress up on the beach? Look bold and daring in an extraordinary way.
Wear a swimsuit that will set you apart, like this Transparent Frilly swimsuit. This transparent swimsuit will give you a jaw-dropping guise as you walk on the sandy beach. This sleeveless outfit has V-neckline and black seams. You can leave your chest bare and show off your pecs or cleavage. It has ruffles around the arm- and leg holes to make you look more alluring in the resort. It will stay fit and tight using the zipper at the back. This swimsuit has optimum durability as it measures 0.40 mm thick.

Its low-cut design will cover your inner thighs if you're feeling a bit uncomfortable showing them. It is available in several colors, and all of them are transparent, so you can still wear your favorite bikinis without showing too much skin. Alternatively, you can wear this outfit over your birthday suit as you seduce your partner in the bedroom. But because of its skin-tight design, it is better to use talcum powder, dressing aid, or latex lube.

It's nice to make others jealous and show your body off under the heat of the sun. But don't stay out in the heat for too long because high temperatures and direct sunlight can be corrosive to this suit's material. It's also for this same reason that you should avoid using the tumble dryer. Detergent soaps and bleach can also corrode this swimsuit. Wash it within eight hours of use with warm water and mild soap. Rinse properly with cool water, and get a hanger to put it up. Let it drip and air dry.

Whether you're a male or female, you can get this suit in a size that will fit you. Add this to your cart now!
Specifications
Color
Transparent Black with Black, Red with Black, White with Black, Purple with Black, Olive Green with Black, Jade Green with Black, Apple Green with Black, Brown with Black, Plum Red with Black, Rose Red with Black
Material
Latex
Sizes
XS, S, M, L, XL, XXL: Refer to the size chart below for the measurements.
Recommended for
Women
Men
Washing Tips and General Instructions
Handwash with warm water. Use mild soap. Rinse with cool, clean water. Air dry.
Sizing Guide