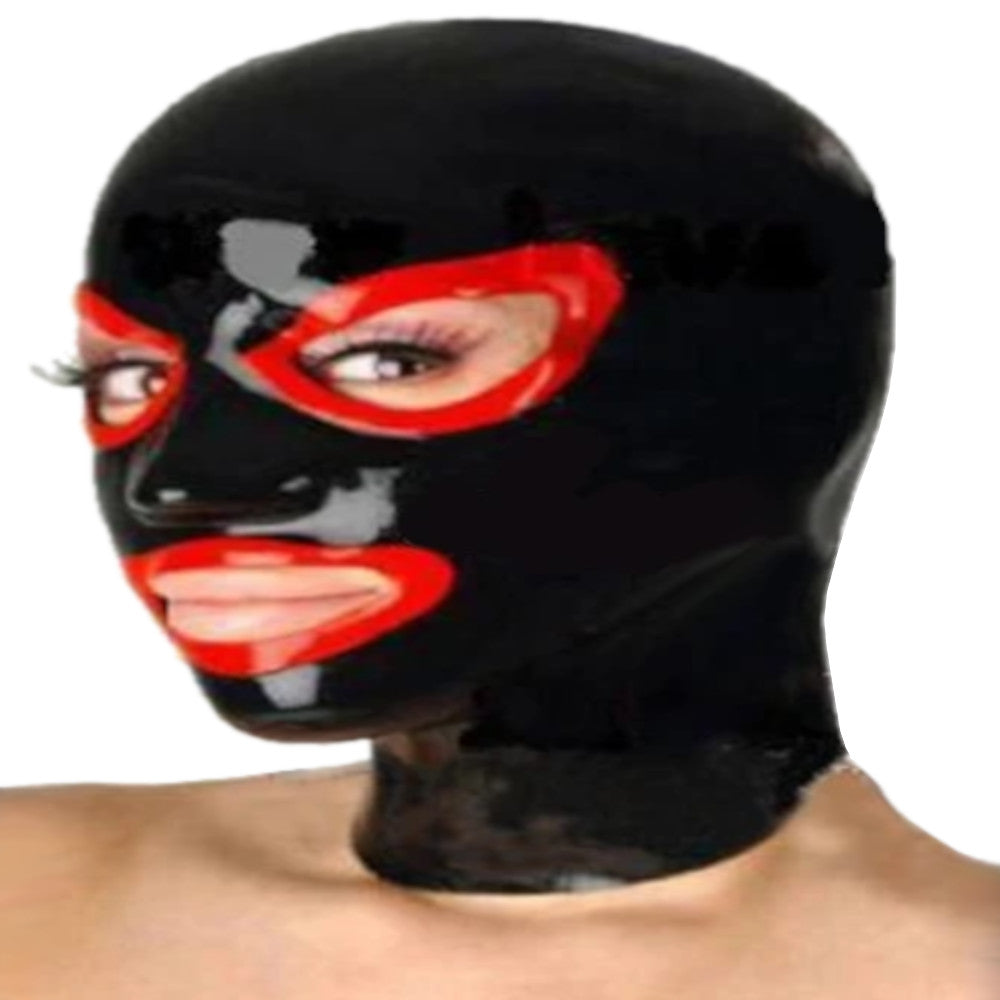 Racy Red Rimmed Latex Fetish Mask
Yes, you got lucky that you have a very willing partner who's always up for the challenge of pleasing your sadist ass. And a responsible Dom must return the favor by constantly coming up with different ideas to make your journey to Jizzville an interesting one. So, if you're looking for a new accessory that your Submissive can wear with her favorite bodysuit, then look no further; The Racy Red Rimmed Latex Fetish Mask has got her covered.

This mask is made of 100% Natural Latex, so you know you're in for good stuff. You'll surely love seeing your Sub's head wrapped up in this glossy hood. The holes for the eyes and mouth have a fiery red lining which makes a lovely contrast against the primary color of the mask so that the design will stand out.
You don't have to worry that your Sub might find it difficult to breathe because aside from having an opening for her mouth, this hood also has holes for her nostrils. This mask covers your partner's entire head, including her neck, making it an ideal tool for sensory deprivation.
Your Submissive can pair this headgear with any black catsuit, and it will blend in flawlessly, given its classic look. The zipper at the back makes it easier for your partner to wear this over her head and pull it down for a snug fit.

There are lots of things you can do with this fetish mask. But first things first, you must make sure that your Sub isn't allergic to the material. That is a serious risk you have to look out for. Once the bad kind of itch is out of the picture, then the next thing you should prepare for is how your Sub can wear it more effortlessly. Rubber can be very tight-fitting, so it would help if you'll dust talc on the insides of this mask, or you can also apply a thin layer of silicone-based lube on it so that the friction will be reduced.

Steamier nights are just a click away with the Racy Red Rimmed Latex Fetish Mask. If you want it, come and get it!

Specifications
Color
Black with Red
Material
Latex
Sizes
XS, S, M, L, XL, XXL-
Refer to the size chart below for the measurements
Recommended for
Women
Washing Tips and General Instructions
You can wash rubber garments in clean warm water
Avoid detergents and soaps
Always wipe away excess water with a soft towel and leave to dry flat or hang up to drip dry
Never tumble dry, dry clean, or iron your garment
Do not use washing powder or bleach for washing.
Sizing Guide