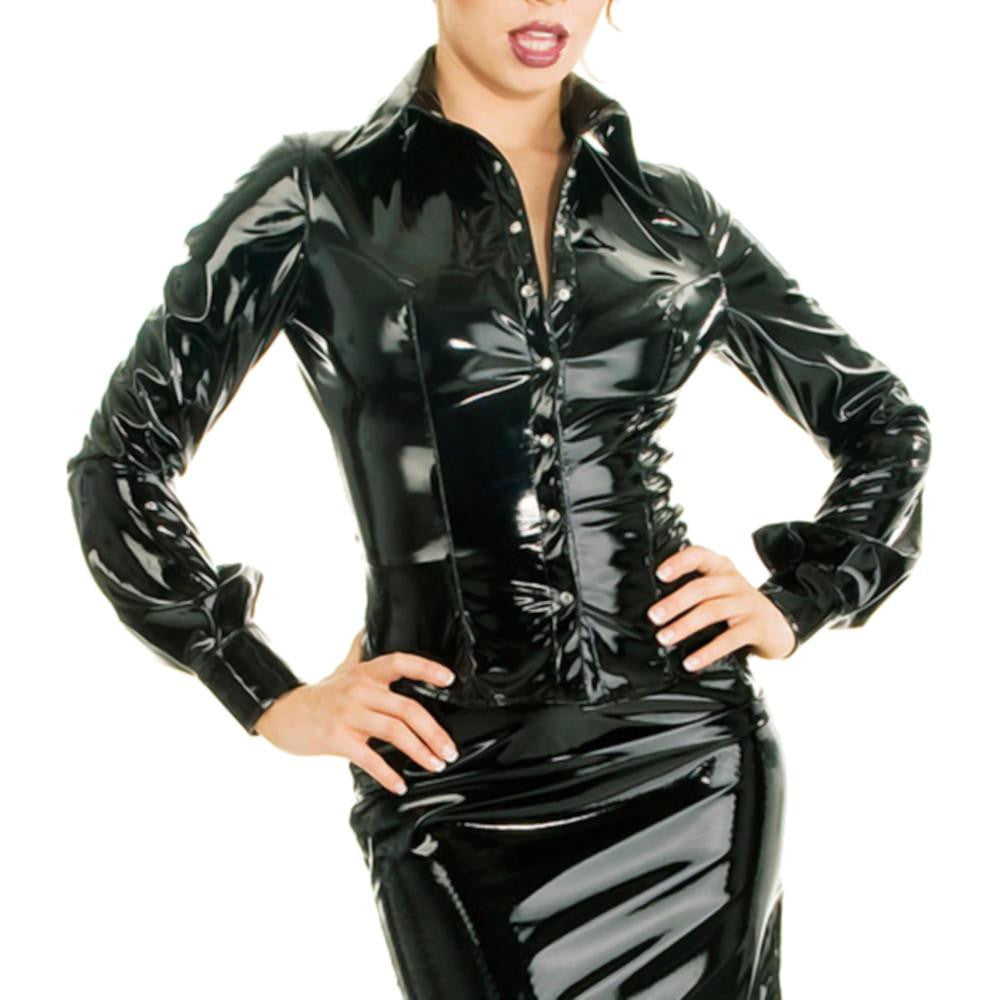 Mischievous Mistress Dominatrix Wear
Bosses have always been pictured as strict and stern individuals. They're stereotyped as people who are unsmiling or poker-faced and don't know how to have fun. You know this too well, and you're getting sick and tired of not being able to smile or laugh while spending time in the playroom with your slave.

It's time to change the rules of the game with the Mischievous Mistress Dominatrix Wear. There's no harm in being naughty and playful while trying to discipline a slave. After all, who doesn't like to be punished in the arms of a mistress of mischief?

Put on the Mischievous Mistress Dominatrix Wear and make your partner wonder about how you'd play. It is a black latex jacket fit for a mistress who loves to tease. It features a tab collar that makes the outfit look more stylish. Close all the buttons or show off your cleavage. Not only do the metal snap buttons make wearing easy, but they also add style. Cover your arms with its long sleeves that have fitted cuffs. It's a body-hugging jacket that will highlight your curves.

This versatile dominatrix top will look fashionable with skirts and pants, better if they are latex, too! And if you want to rock this jacket in the outside world, feel free to do so! If Hollywood stars have walked on the red carpet wearing rubber suits and dresses, why can't you strut on the streets with a stylish latex jacket?

Handcrafted from high-quality latex, this outfit is durable when given the proper care. To put it on with ease, dust off the inside with talc powder to eliminate friction. Don't put too much force when pulling the sleeves if you don't want to tear them. Bring out its glossy shine by spraying it with silicone-based polish and not with any oil-based type.

Easy to put on and comfortable for prolonged use, this dominatrix wear should be a part of your wardrobe. Buy now!
Specifications
| | |
| --- | --- |
| Color | Black |
| Material | Latex |
| Sizes | XXS, XS, S, M, L, XL, XXL - Refer to the size chart below for the measurements |
| Recommended for | Women |
| Washing Tips and General Instructions | Handwash in warm water with one to two drops of baby shampoo. Rinse thoroughly. Hang to dry using a plastic or wooden hanger. |
Sizing Guide