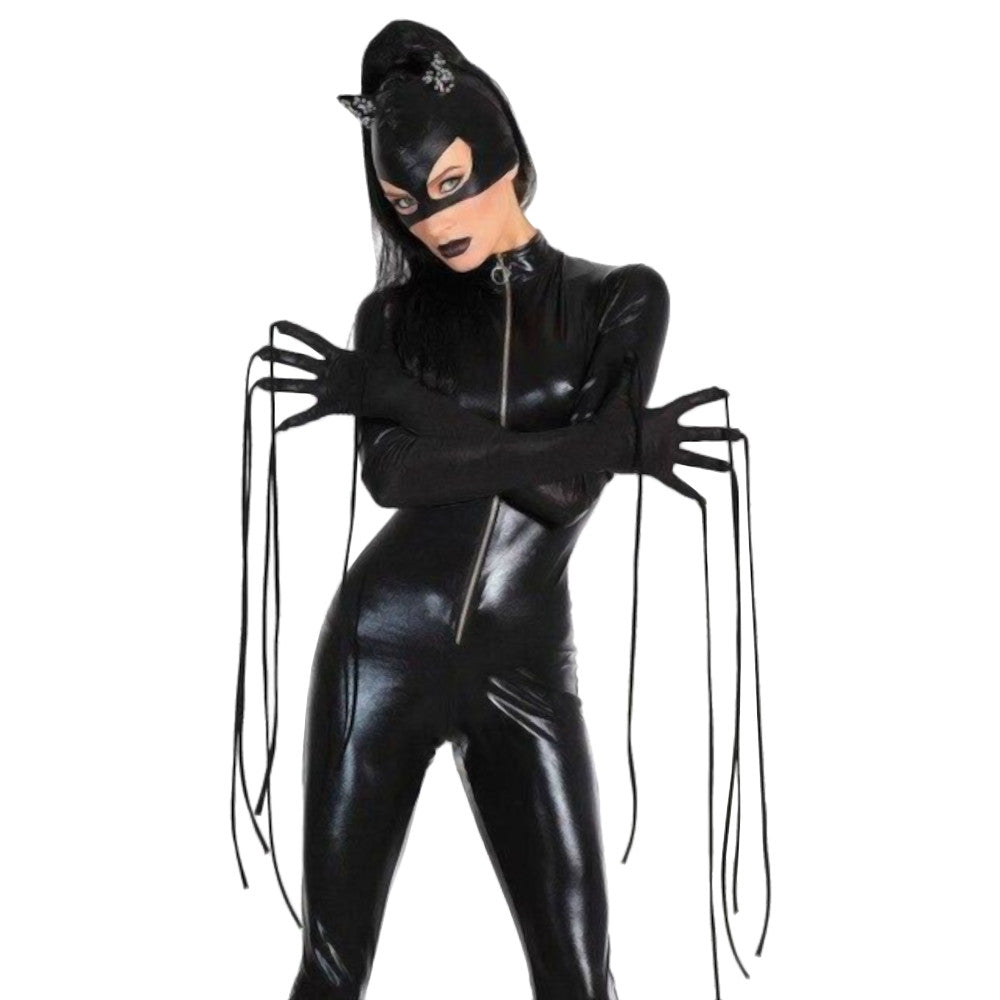 Black Catwoman Cosplay Costume
Your roleplays aren't as fun as they used to be, and your partner isn't showing any interest in coming up with changes. Hence, the burden of keeping your sessions thrilling and exciting lies on your shoulders. What this means is you are the alpha in your relationship. So, punish him for not actively taking part in deciding how to make your intimate moments memorable. Put on the Black Catwoman Cosplay Costume, and be a purr-fect mistress!
This tight-fitting outfit features long sleeves and legs for maximum body coverage. With a mock neck to emphasize your gorgeous slender neck and a convenient front zipper that you can open when you want to seduce, this catsuit is a must-have for your evening rendezvous. But wait, there's more! Along with this bodysuit comes a pair of black gloves with feathering. These gloves will give you a good reason to scratch your partner to stimulate him. To complete your feline look, we included a mask with cat ears, too!

Feel comfy and warm in this catsuit and play as friskily as you like. It's made of stretchable material to let you move freely. This versatile costume isn't just for kinky play, as you can put it on when heading out to cosplay events or Halloween parties. Going to the club? Try this! A pair of boots or high-heels will perfectly match this outfit.

It's available in medium and extra-large sizes, so check your body measurements to be sure. The suit has to hug your curves to flaunt your voluptuous body. As it's black, this outfit will make you look more slender and taller. Black will also make you look enigmatic, so don't think that black cats bring bad luck.

Wash this garment in warm water with liquid detergent to get rid of accumulated sweat, odor, and dirt. Hang to dry but keep it away from sunlight.

You can bring back the fun and excitement during playtime soon when you buy this Catwoman suit now!

Specifications
Color
Black
Material
Faux Leather
Spandex
Sizes
M, XL - Refer to the size chart below for the measurements
Recommended for
Women
Washing Tips and General Instructions
Handwash in a bucket of warm water with liquid detergent. Rinse thoroughly. Hang to dry using a plastic or wooden hanger. Do not iron.
Sizing Guide