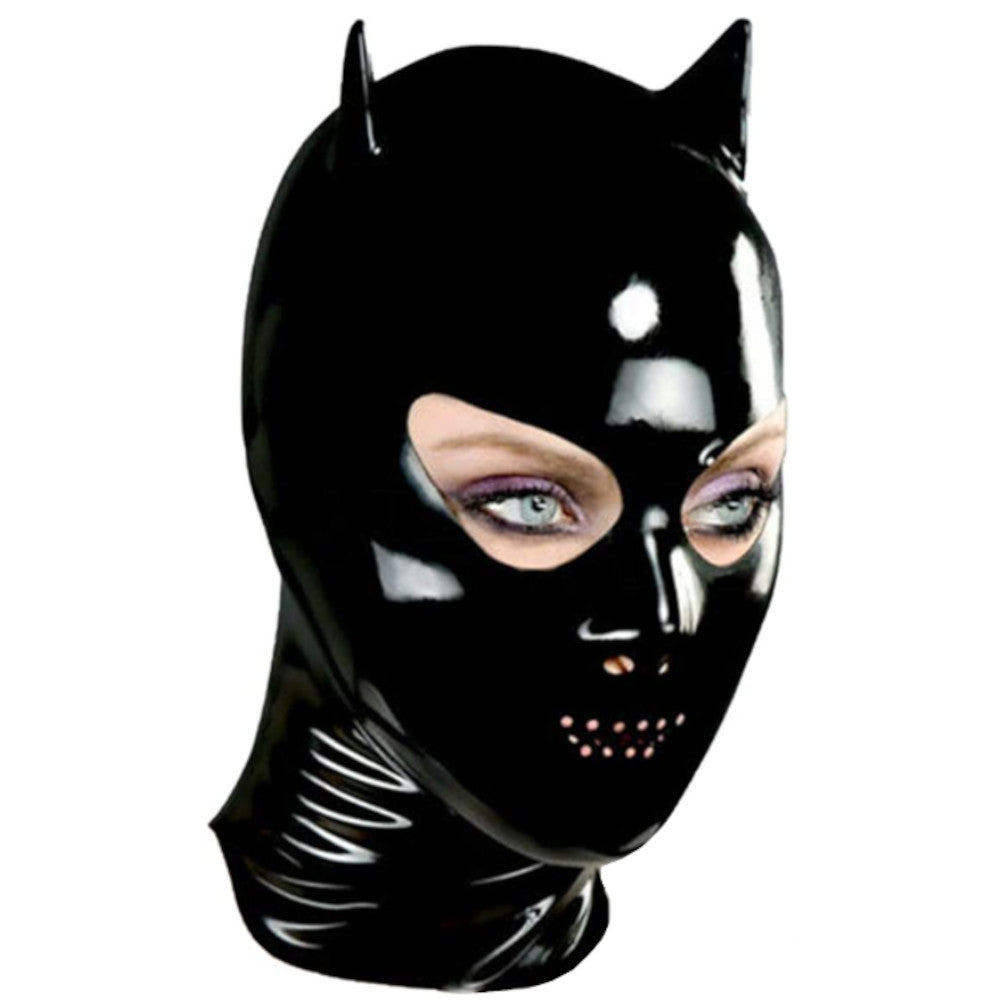 Strip off your partner's identity and replace it with the guise of an obedient, helpless pet. Limit her ability to talk and take pleasure in your newfound dominance. Be your pet's relentless master and make her wear this Latex Catwoman Headpiece.

Some superstitious people believe that black cats bring bad luck, but like a ruthless dominant that you are, you refuse to give in to these stereotypes. On the contrary, you find black cats sexy and alluring. You indulge in this fascination even within the four corners of your bedroom. And if you're looking for a new piece for your companion, this Latex Catwoman Headpiece will turn your bratty partner into a disciplined pet. This hood will cover most of your partner's head, including her neck. It has two big holes for her eyes, small holes for the nose, and pinholes on the mouth area. And because the material is latex, the mask will conform with her head's natural shape, and it will slightly stretch if she attempts to move her mouth. However, with its thickness measuring 0.45mm, talking may not be that easy, making this mask a suitable accessory if you want to keep her mouth shut as well. This headpiece is tight-fitting, so who's to stop you from putting on a blindfold to remove her sense of sight. You can even add a collar around her neck for extra humiliation.

Remind your pet to always sanitize the mask, ideally within eight hours of use. It's a latex mask, so detergent soaps or bleach are out. A solution of warm water and a mild soap is sufficient to make this headpiece as clean as new. Don't use a tumble dryer. Air-dry it instead.

Feel the surge of pleasure ignite in your sex life by trying new kinks in the bedroom! Add this to your cart now!

Specifications
Color
Black, White, Gray, Red, Purple, Blue, Clear
Material
Latex
Sizes
XS, S, M, L, XL, XXL - Refer to the size chart below for the measurements.
Recommended for
Women
Men
Washing Tips and General Instructions
Handwash with warm water. Use mild soap. Rinse with cool, clean water. Air dry.
Sizing Guide