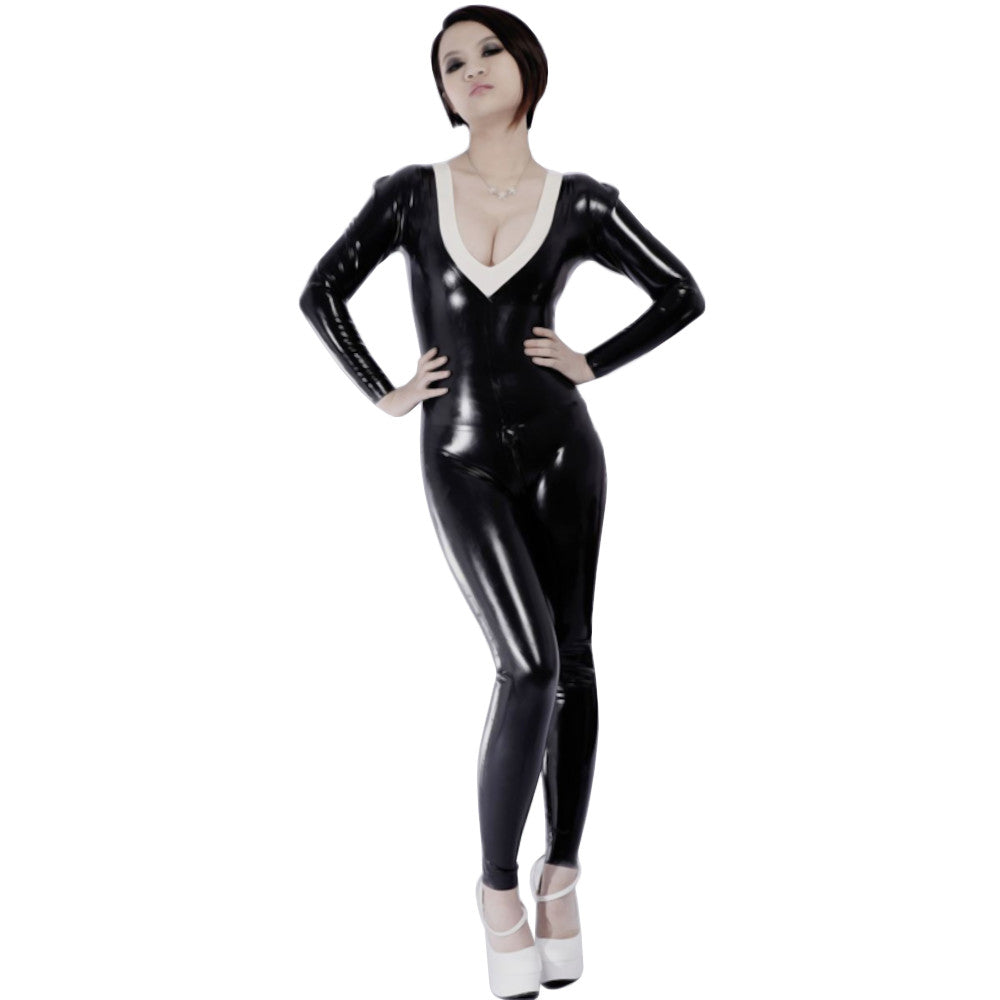 Simply Suave Latex Bodysuit
Denim, leather, silk—you have them all, but you're looking for a new way to dress up and look badass. There's no doubt that you have the confidence, but what you need is a sturdy yet lustrous material to match your indestructible poise. Wrap your body with this Simply Suave bodysuit and show off your body's natural curves.

This bodysuit has a low-hanging V-shaped neckline that will expose your plump breasts and tempting cleavage. You can accentuate your bare chest with a necklace or perhaps wrap a leather collar around your neck so you can look more glamorous. This outfit will cover your arms up to your wrists and your legs down to your ankles. Whether you want to strut this suit in the hallway of a mall, a club's dance floor, or in your red-lit dungeon, you'll look and feel seductive like never before.

Latex is a material extracted from the generous bosom of Mother Nature, but it's also durable and stretchable. This stretchy suit's versatile yet contemporary design will make you stand out in the crowd. This suit measures 0.60 mm thick with reliable quality. But still, you need to take good care of it to get the most out of this piece.

Sweat can destroy this sexy suit, so don't leave it filthy for longer than a day. Better yet, wash it as soon as you can right after wearing it. Do so with a mixture of warm water and mild soap. Detergent soaps and bleach can be harmful to latex, so avoid using those. Lastly, do not tumble dry. You can lay it flat or hang it to air-dry, exposing one side after the other to thoroughly remove moisture.

Make your heart melt at your own reflection each time you look in the mirror. Add this bodysuit to your cart now!
Specifications
Color
Black, Red, White, Clear
Material
Latex
Sizes
XXS, XS, S, M, L, XL, XXL (Refer to the size chart below for the measurements)
Recommended for
Women
Washing Tips and General Instructions
Handwash with warm water.
Use mild soap.
Rinse with cool, clean water.
Air dry.
Sizing Guide