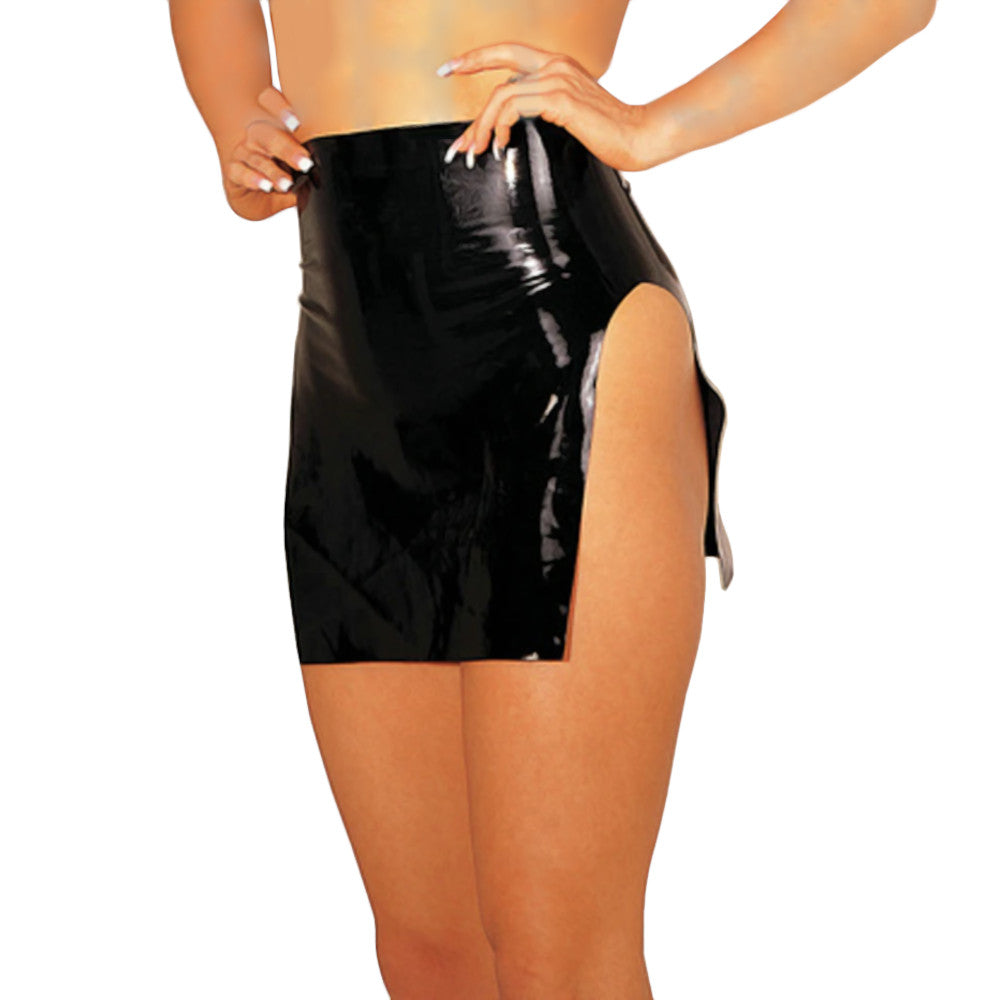 Flirtatious Black Latex Skirt
Your flirting days will never be over. You always want to dress up and showcase the lovely curves of your body, especially your hips and legs. And while denim jeans or skirts are still in the trend, you're looking for a different material that can give your assets justice. In that case, what you need is a body-hugging outfit with a stretchy medium like this Flirtatious Black Latex Skirt.

Whether you want to dress up and tease your partner, or you want to look hot in your favorite casual wear, you can never go wrong with this black latex skirt. This alluring dark piece has a flattering design and a revealing cut. With latex as its material, it can stretch and hold your body in the right places, thus enhancing your curves for a more beautiful and confident you. In addition, there's a vertical slit on the side so you can have more room to move and flaunt your flawless thighs and legs. This stunning piece looks voguish on its own, but it will even look better with your favorite shirt or leather jacket. You can also wear fishnet stockings or leggings under this skirt and prance at a party with your high-heeled boots or stilettos. As this skirt accentuates your waist and hips, people's heads will turn to get a second look.

You may experience a little struggle at putting on this skin-tight outfit, so it will be better to use products that will help you wear it with ease. These include talcum powder, lubricant, or dressing aid. Choose whichever suits your preference best. When washing this skirt, there's no need to use a bleaching agent or detergent. Instead, get a basin and prepare a mixture of warm water and mild soap. Gently handwash this skirt and hang it to dry.

This seductive outfit sells fast, so hurry and get your Flirtatious Black Latex Skirt today!
Specifications
| | |
| --- | --- |
| Color | Black |
| Material | Latex |
| Sizes | S, M, L: Refer to the size chart below for the measurements. |
| Recommended for | Women |
| Washing Tips and General Instructions | You can wash rubber garments in clean warm water. Avoid detergents and soaps, Always wipe away excess water with a soft towel and leave to dry flat or hang up to drip dry. Never tumble dry, dry clean, or iron your garment, Do not use washing powder or bleach for washing |
Sizing Guide