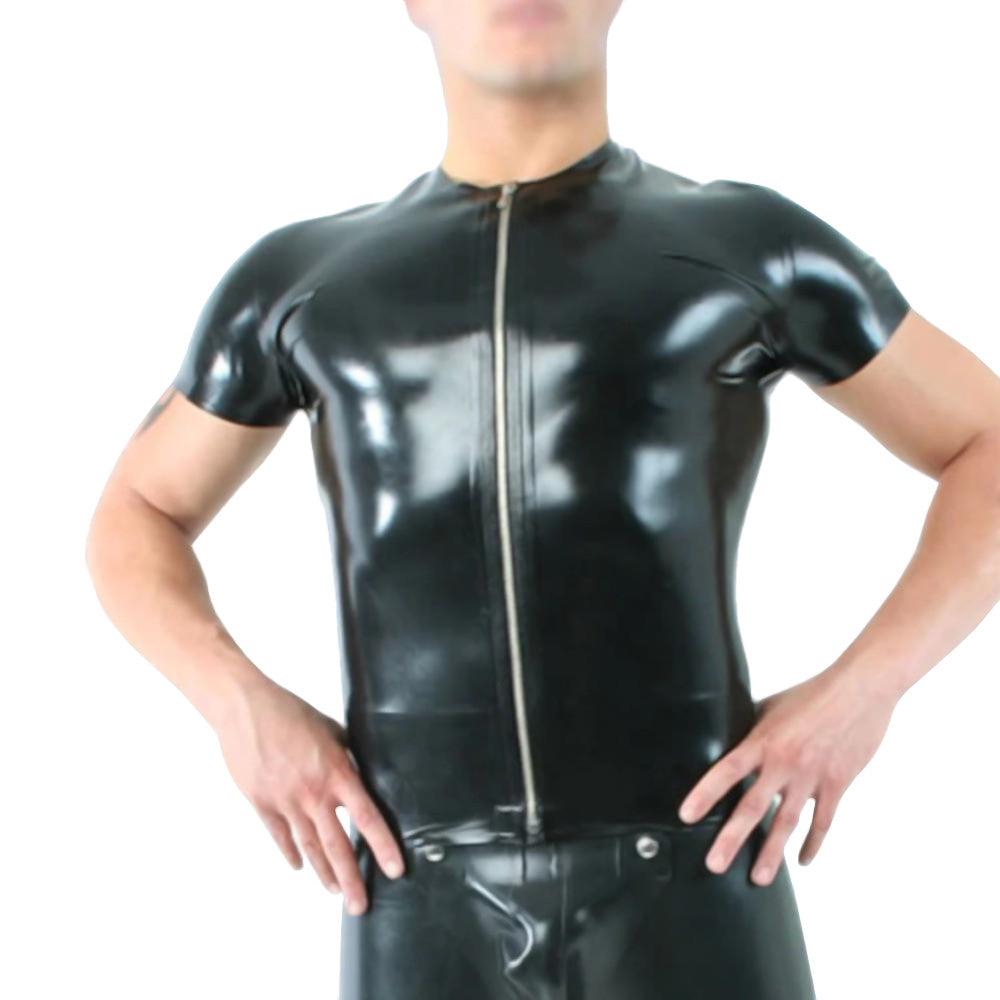 Flex your arms and show off your guns. Feel what it's like to be confident and sexy in a casual event. Get into this Short Sleeve Latex Shirt and watch their heads turn as you pass by.

Your cotton and jersey shirts are starting to look old. There are new ones, but still, they seem too plain and boring. You're looking for something that will give you a lustrous new look. If that's the case, then perhaps this Black Short Sleeve Latex Shirt is the guise you desire.

This black outfit will hug your upper body for a sharper and manly look. It may seem like a simple piece at a glance with its short sleeves and round collar. But with its latex material, you will surely stand out. Latex is a natural and non-toxic material that can give your wardrobe a total makeover. It is stretchable and tight-fitting, so you can flaunt your pecs and biceps without going shirtless. It's a versatile piece that will match your favorite pair of denim jeans. You can also wear it with latex or leather pants. It zips at the front, so you can leave it open halfway for a more macho look.

You can get into this latex shirt with ease by using talcum powder or a dressing aid. Apply any of these on the interior side of the shirt before wearing it. It's tight-fitting and can get really sweaty. But don't leave it in the laundry basket for more than eight hours. To keep it as good as new, you have to wash it after wear using a solution of warm water and mild soap. After rinsing it thoroughly with cool water, hang it up until it's dry.

Add a wow factor to your overall look. It's available in various colors. Get this shirt in any color today!

Specifications
| | |
| --- | --- |
| Color | Black, White, Purple, Red, Transparent Black, Pink, Yellow, Sky Blue, Natural Transparent, Baby Pink, Transparent Purple, Lake Blue, Army Green, Dark Blue, Black, Apple Green, Orange |
| Material | Latex |
| Sizes | XS, S, M, L, XL: Refer to the size chart below for the measurements. |
| Recommended for | Men |
| Washing Tips and General Instructions | Handwash with warm water. Use mild soap. Rinse with cool, clean water. Air dry. |
Sizing Guide