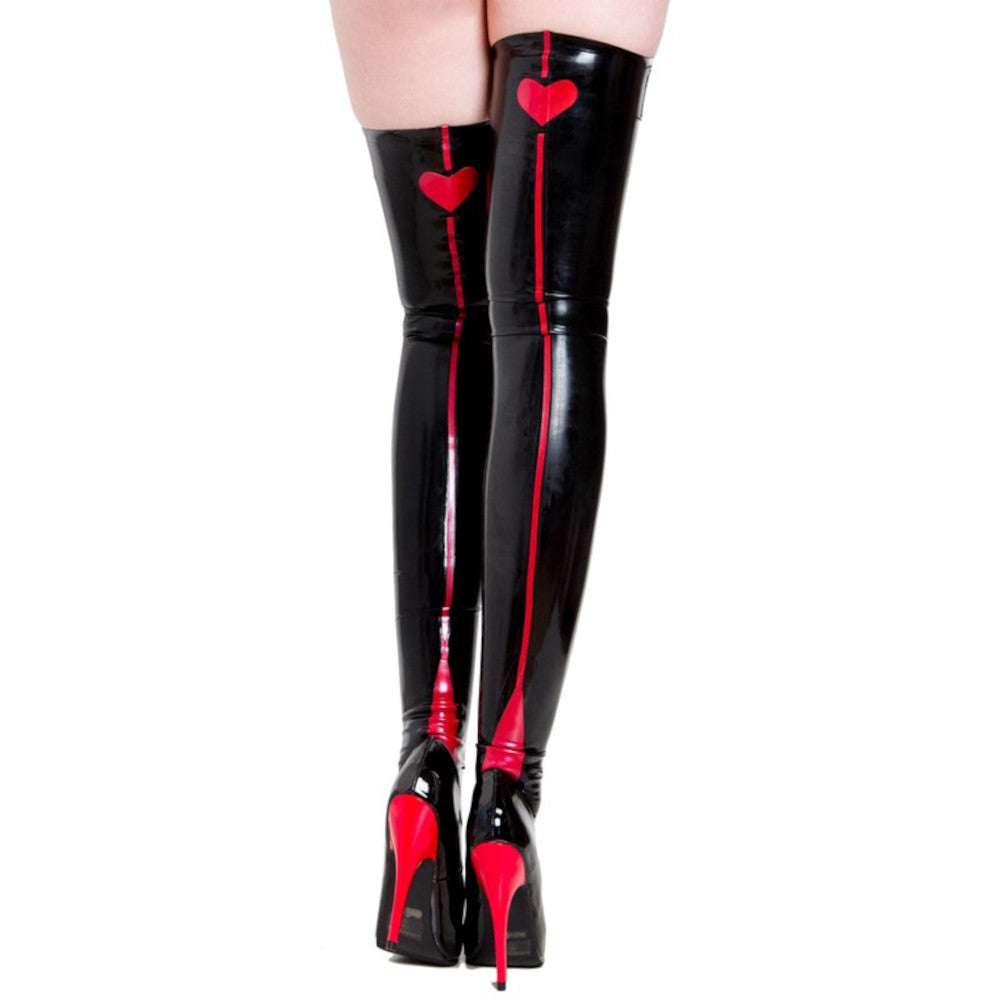 Heart Breaker Latex Thigh Highs
Right after your man cheated on and broke up with you, you promised yourself not to be fooled around by men like him anymore—ever. And so here you are. From the weak, submissive lady you were, you have transformed into a strong, independent, and dominating woman now. Men can no longer break your heart, as you are the Heartbreaker this time.

Prance like a feared dominatrix and show them what they made you do. Get the Heart Breaker thigh Highs stockings to heighten your badass look!

Stress your slender legs and smooth thighs using this pair of pure latex-made stockings. It's stretchy, glossy as hell, and highly durable. No matter how clumsily you strut, it won't break or tear anytime. It comes in devilish black color with a heart print at its back. And if you are worried about its fit on you, fret not as it comes in six sizes—XS to XXL. Whatever you call your body built—lean, muscular, chubby, fatty, there should be a size perfect for your legs and thighs! Measure your limbs' dimensions now and check the chart below to have an idea of what is the ideal size for you.

As it's a skin-tight garment, make it easy for you to wear it by applying fine talc powder onto your skin beforehand. Shaving your leg hairs will also help in the seamless wearing of the stockings. Once put on, match this sexy costume with high heels, preferably shiny shoes, too, to complement its texture. Use a micro-mini skirt to highlight it, and hold a whip and a paddle to maximize your look. Start spanking your men while dressed beautifully with this pair of stockings. Punish them and make them aware that you are nobody's girl!

Impose your role as the Dominatrix in your plays by using Heart Breaker thigh Highs costume. Get this now!
Specifications
Color
Black
Material
Latex
Sizes
XS, S, M, L, XL, XXL: Refer to the size chart below for the measurements
Recommended for
Women
Washing Tips and General Instructions

Hand wash only.
Do not iron.
Do not use chlorine-based solution.
Use latex-friendly cleaner.
Sizing Guide