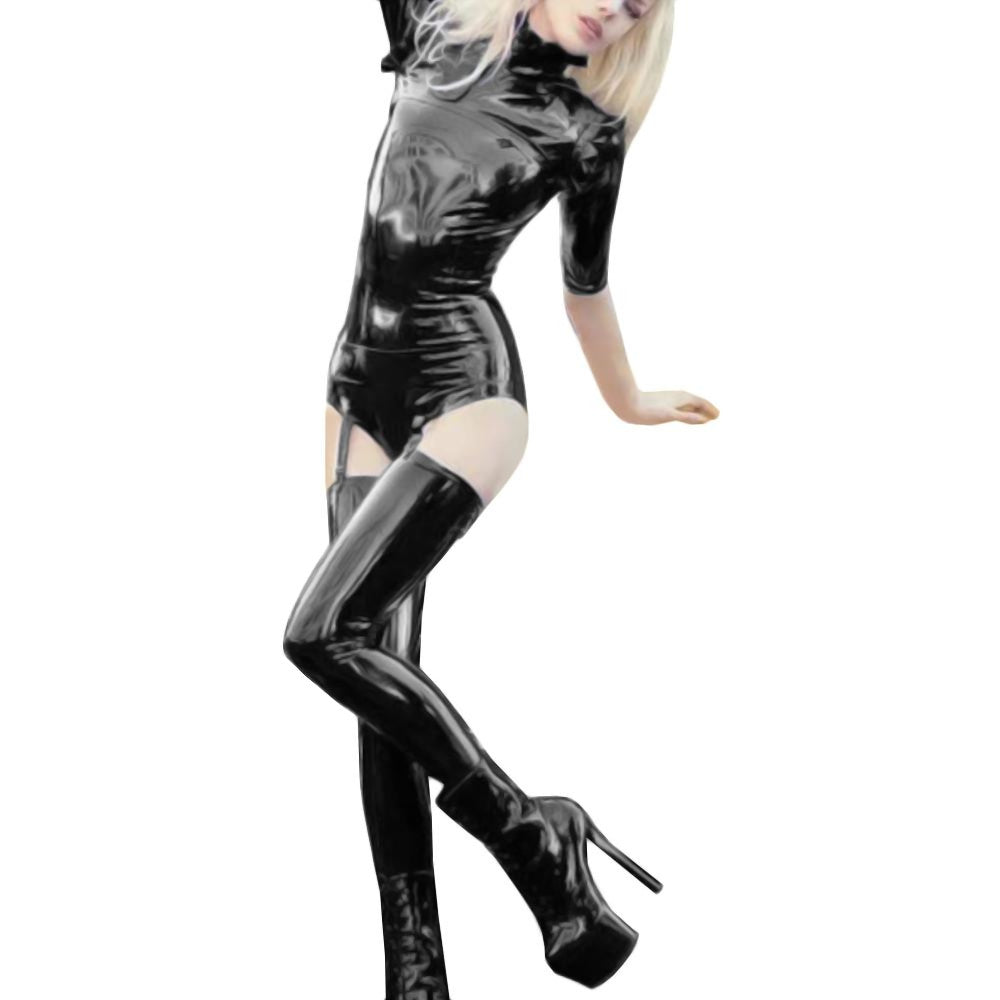 Dominatrix Lingerie Catsuit and Stockings
Nothing is sexier than a woman who knows how to take control of her man, especially in bed. She knows what she wants, and she does everything in her power to get them. She embodies what an Alpha female really is, fierce, unstoppable, and the word "no" isn't part of her vocabulary.

Ready to showcase your dominatrix antics? You better not falter, dear! Your reputation as a badass mistress lies upon how well you present yourself. So to make sure your slave knows you're all set for the play, you must wear this Dominatrix Lingerie Catsuit and Stockings.

What makes this two-piece set special is its latex material. It is a natural substance known to be harvested from plants. It has a silky-smooth surface, and it has this glossy finish that looks so impressive. With its elasticity, you can also show off your curves effortlessly. Once worn, the suit and stockings will cling to your skin, accentuating your sexy figure from torso to toe.

Furthermore, the set comes in black, a shade symbolizing sultriness and power. It has a minimalistic design that will make sure your slave will only focus his attention on your commands and domme antics. The suit has a turtle neck collar and three-fourth length of sleeves. It has one strap on each leg hole connected to the stay-up style stockings, making it a complete lingerie set.

Match this set with your pair of black or red stilettos and bring out your mistress's weapons. Practice your resting bitch face while instilling discipline to your slave. Don't forget to get the perfect size for your body to make sure you can present yourself as a strict domme your partner doesn't want to mess up with. You can apply silicone or water-based lube on its surface to maintain its shininess.

So what are you still waiting for? Add this lingerie set to your cart today to make sure you'll play the dominatrix role with conviction.
Specifications
| | |
| --- | --- |
| Color | Black |
| Material | Latex |
| Sizes | XXS, XS, S, M, L, XL, XXL: Refer to the size chart below for the measurements. |
| Recommended for | Women |
| Washing Tips and General Instructions | Handwash only. Always wipe away excess water with a soft towel and leave to dry flat or hang up to drip dry. Never tumble dry, dry clean, or iron your garment. Do not use washing powder or bleach for washing. |
Sizing Guide