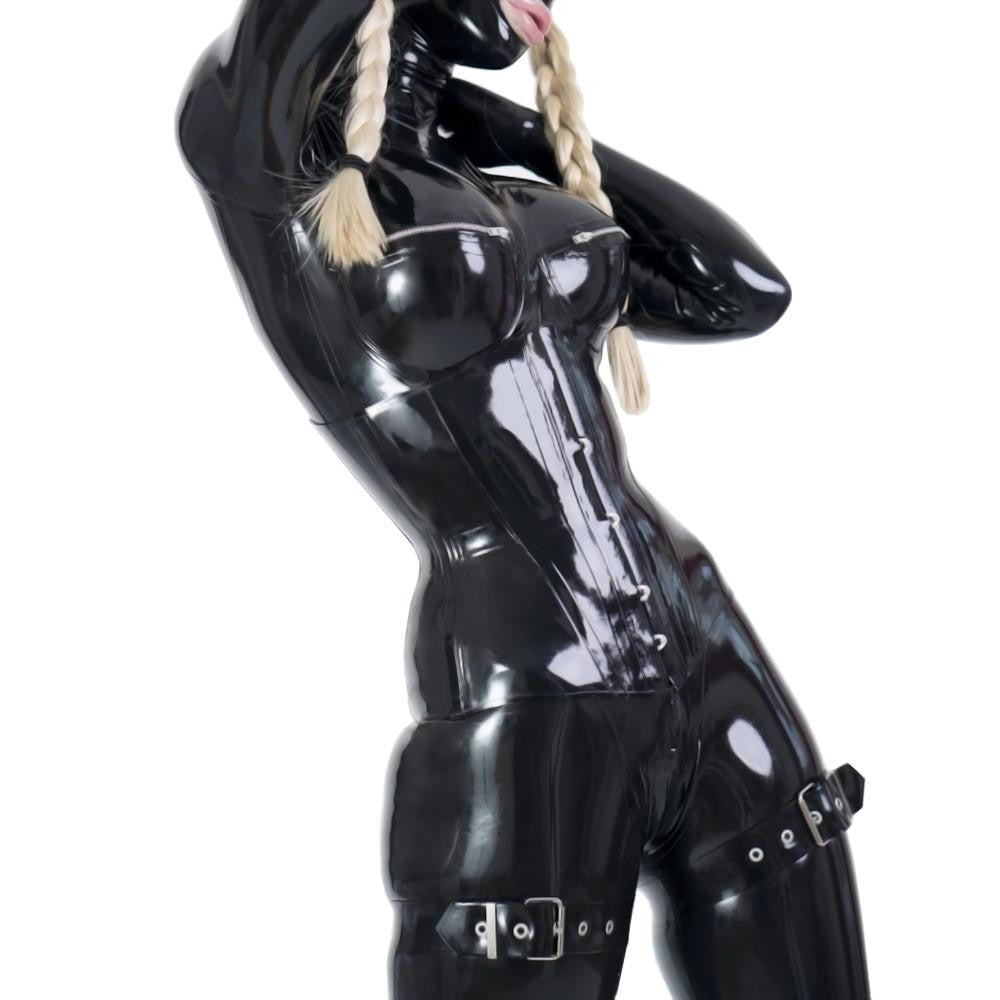 Boss Lady Latex Dominatrix Suit
You call yourself a lady boss, but until now, you haven't fully embraced it. For a long time, you've been wearing a pair of rubber gloves and a rubber dress. But is this all you are capable of wearing? It's high time to cover yourself in rubber and fully claim your rank. Put on the Boss Lady Latex Dominatrix Suit, and no one will mistake you for a slave.

This dominatrix catsuit comes complete with braids, hood, socks, and gloves for the ultimate rubber coverage experience. With a hood that covers your face and braided blonde hair, you will be unrecognizable and mysterious to your partner. This creation of a new persona will arouse your slave's interest and ignite his libido. The cutouts on the eyes, nose, and mouth will still make your senses sharp, and you can give orders anytime you want.

Slip into the bodysuit and feel its embrace on all your curves. It has long sleeves and legs for the ultimate latex experience. The bodysuit also features a back zipper that gives your partner free access to your crotch! Because what's the point of suiting up when it's not convenient to fuck, right? With the zipper at the back, how will your slave nibble on your nips? Don't worry about that. There's a zipper on each breast for easy access!

Cover your hands and feet to complete your second skin. As this dominatrix outfit is made of latex, it will cling tight to your body, highlighting every curve that you have. If you're wondering how you can slip into the bodysuit with ease, all you have to do is dust off the inside with talc powder to eliminate friction. Do the same for the gloves and socks.

Listen to the erotic squeaky noise with every move you make. Revel in its embrace. This latex suit will transform you into a real lady boss. Buy now!
Specifications
| | |
| --- | --- |
| Color | Black |
| Material | Latex |
| Sizes | XXS, XS, S, M, L, XL, XXL - Refer to the size chart below for the measurements |
| Recommended for | Women |
| Washing Tips and General Instructions | Handwash in warm water with one to two drops of baby shampoo. Rinse thoroughly. Hang to dry using a plastic or wooden hanger. |
Sizing Guide