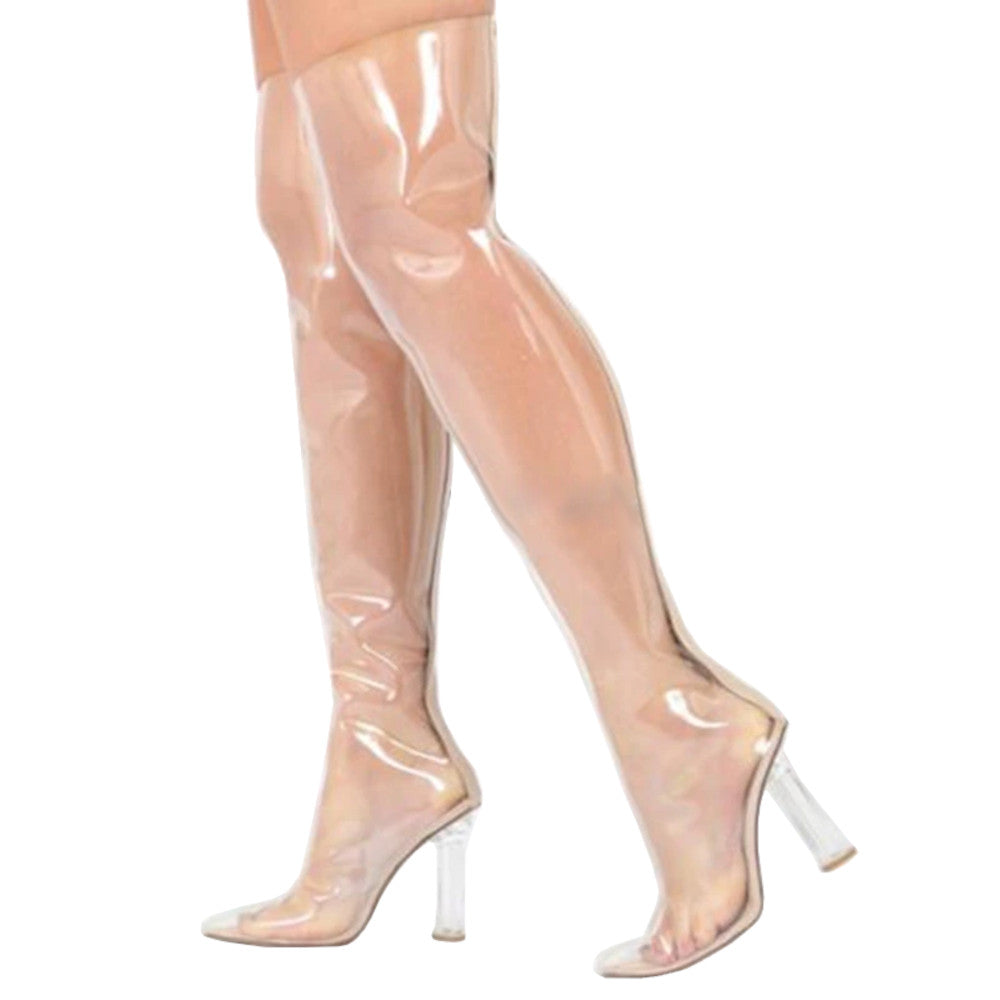 Clear PVC Thigh High Boots
You have gorgeous feet and legs, so they deserve to be flaunted, not to be covered.

And what better way to show off your sexy thighs than with these above-the-knee boots? These Clear PVC Thigh High Boots will display your legs without baring your skin.

The boots may look simple because of their see-through design, but it's what makes these shoes hot! Men—or even ladies—who have foot fetishes will get turned on by your look by simply staring at your feet. However, they can't touch your skin since these boots are tight-fitting. They embrace your thighs, capturing the curves of your legs.

That's not all; these boots look deadly, too! They have pointed toe caps, making these shoes risqué. Their high heels will take their breath away with each step you take. With these shoes, everyone will admire your look!

Ready to make a big entrance with your sexy boots? First thing's first! You have to prepare your legs. Apply a sufficient amount of water-based lubricant all over your thighs. Gently put the shoes on by slipping your legs into them and pulling them up. Pair them with your mini dress or a tube top and short shorts, and everyone will be mesmerized by you!

A pair of boots made of PVC, this footwear is stretchy and comfy. These shoes can adapt to the size of your legs, providing you with a comfortable fit. They're also skin-friendly as they're hypoallergenic and feel smooth on the skin. For these reasons, these high-heeled boots are perfect for fashionistas and kinksters dealing with severe allergies or sensitive skin.

The Clear PVC Thigh High Boots are perfect for girls of all sizes since you can get them in a wide range of sizes. Just pick a shoe size that's perfect for you and add it to your cart!
Specifications
| | |
| --- | --- |
| Color | Clear |
| Material | PVC |
| Sizes | 4, 5, 6, 6.5, 7.5, 8.5, 9, 9.5, 10, 10.5, 12 - Refer to the size chart below |
| Recommended for | Women |
| Washing Tips and General Instructions | Wipe with a wet towel, followed by a dry cloth. Leave them to dry |
Sizing Guide