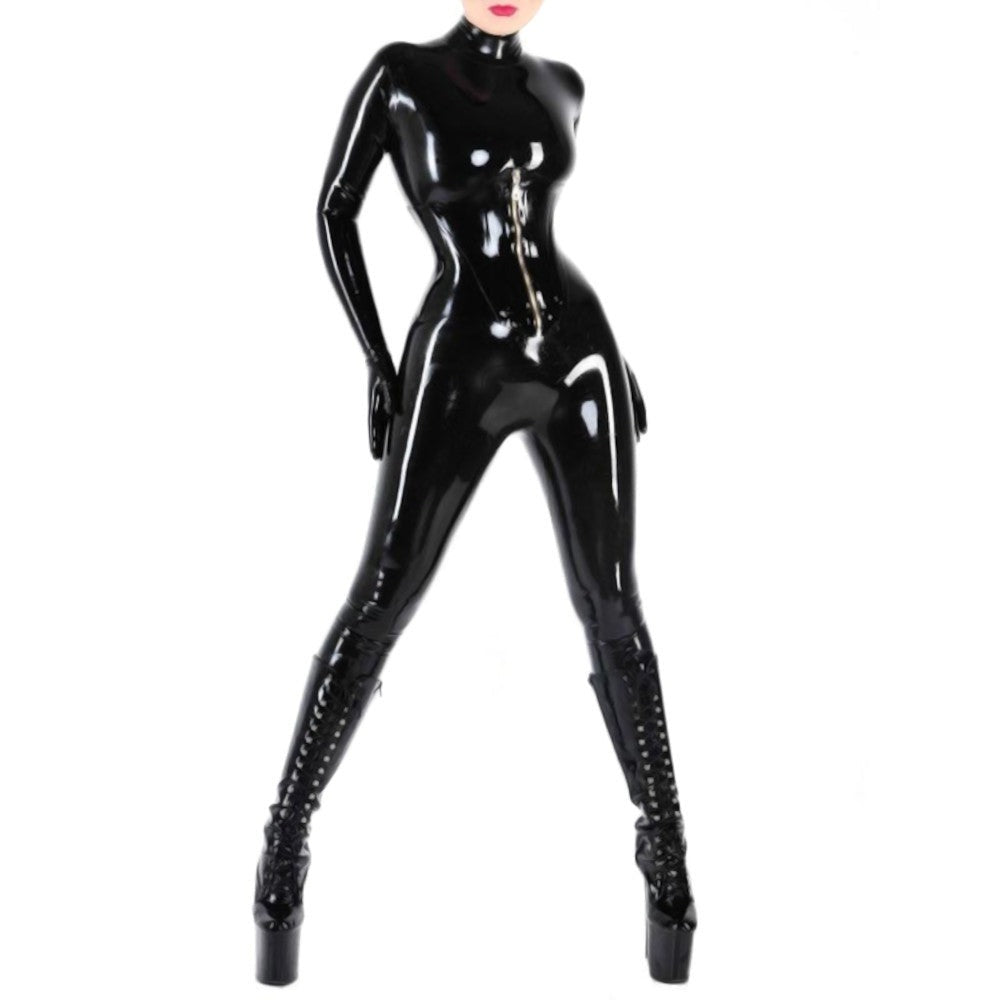 Drama Queen Latex Jumpsuit
You were sitting on the couch watching your favorite TV series when your woman suddenly crawled in front of you and started meowing. She purred so softly and scratched her nose with her curled hands. You knew it was play-time. And so you accepted her invite.

Throughout the play, she continued playing like a horny kitten. She was moaning and groaning to your every touch. She really wanted to play the kitty-master game, but she had no costume to wear. Poor little pussy, if only she had Drama Queen Latex Jumpsuit, she would have looked like a slutty pussycat. Why don't you buy her one so you can make a pet out of her?

This jumpsuit uses pure latex—that's why it's glossy. It's so snug-fitting that it takes the shape of your lady's body as she wears it. It may look sheer and thin, but trust its incomparable durability that endures extreme pulling and stretching. It covers the entire body as the fabric runs from the neck down to the ankles. It has a zipper at its abdomen to allow easy access to both the breasts and the pussy, if you need to play with them anytime. And finally, it comes in a wide range of sizes—extra-small to extra-large. Check the chart below and compare your lover's body dimensions to know what fits her.

Put this suit onto her very easily by applying fine talc powder onto her body first. Then, zip all that needs securing. Match it with cat ears or eye masks to make her look like the real deal. Pet her as long as you want, and she would surely like it!

Before getting one, make sure that she is not at all allergic to latex. If she's not, which is good, then place your order to receive it as soon as possible. Surprise your woman by adding this Drama Queen Latex Jumpsuit to your cart now!
Specifications
Color
Black. Blue, Pink, Red, White, Yellow
Material
Latex
Sizes
XS, S, M, L, XL: Refer to the size chart below for the measurements
Recommended for
Women
Washing Tips and General Instructions
Hand-wash only.
Do not iron.
Do not use chlorine-based solution.
Use latex-friendly cleaner.
Sizing Guide