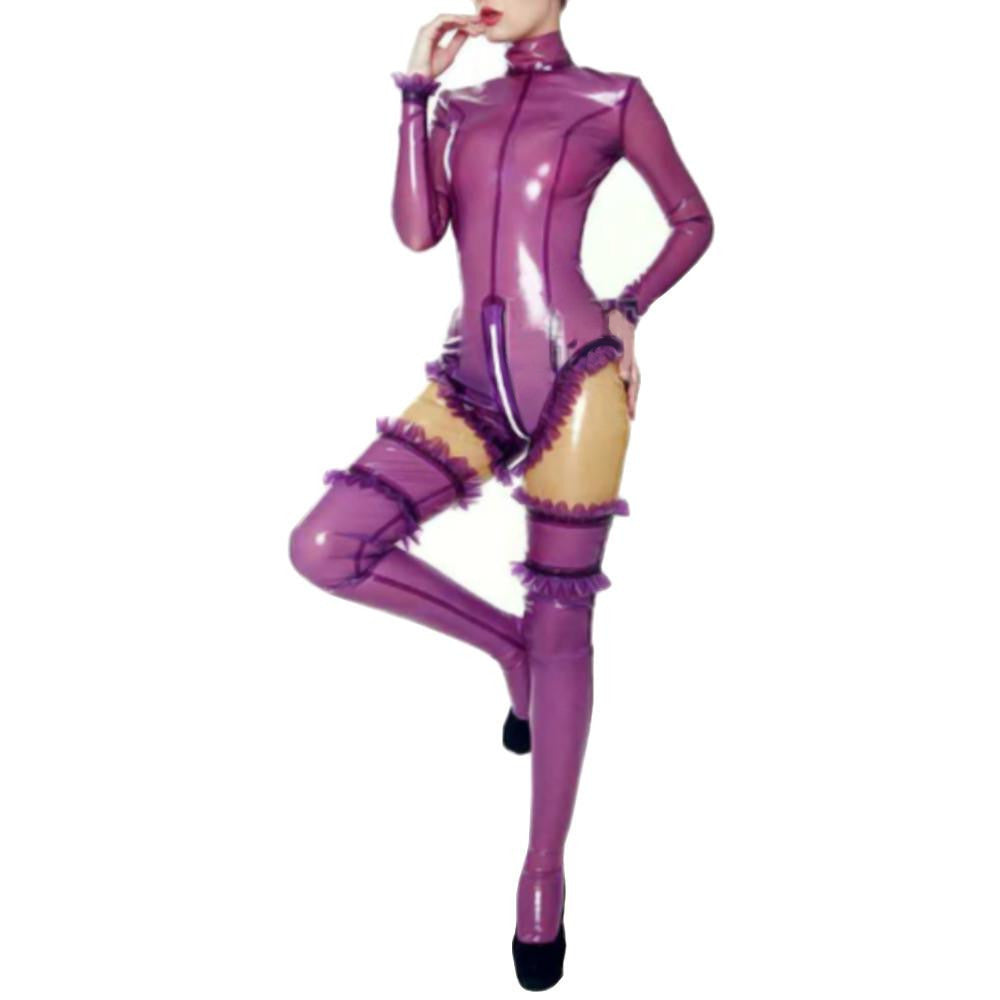 Take Beyonce's word for it: Girls run the world. If you want to bring out the best in everything you do, you have to feel empowered all the time—even in the bedroom. And honestly, it's easy to be in control if you look so damn beautiful that your partner won't be able to say no to you. To dominate your relationship, you must exert effort to look the part. Walk the talk with the Purple Latex Femdom Gear, and half of the battle is already won.

This high-quality latex costume looks ravishing in a semi-transparent purple hue. It has a turtleneck collar that makes you look taller. The tight-fitting material clings to your body and shows off your lovely curves. Its long sleeves cover your entire arms down to your wrists and have tiny ruffles at the cuff. The leg openings of this leotard also have ruffle linings along the seams. You can easily slip in and out of this rubber suit because it has a long zipper at the back that extends down to your crotch.

This naughty number also comes with purple stockings to match the top. They're pretty long as they wrap your toes up to your thighs. You can guess that ruffles are this outfit's thing because the stockings are lined with pretty little frills, too!

This suit is available in seven sizes so you can choose which looks best for you according to your built. But before you hastily purchase this item, you should make sure that you are not allergic to latex. If this aspect is overlooked, then you're in serious trouble.

Hit the jackpot the next time you invite your partner to the bed. Buy the Purple Latex Femdom Gear today, so you're sure that your victory is in the bucket! Hurry and click that button now!

Specifications
| | |
| --- | --- |
| Color | Purple |
| Material | Latex |
| Sizes | XXS, XS, S, M, L, XL, XXL - Refer to the size chart below for the measurements |
| Recommended for | Women |
| Washing Tips and General Instructions | You can wash rubber garments in clean warm water. Avoid detergents and soaps. Always wipe away excess water with a soft towel and leave to dry flat or hang up to drip dry. Never tumble dry, dry clean, or iron your garment. Do not use washing powder or bleach for washing. |
Sizing Guide