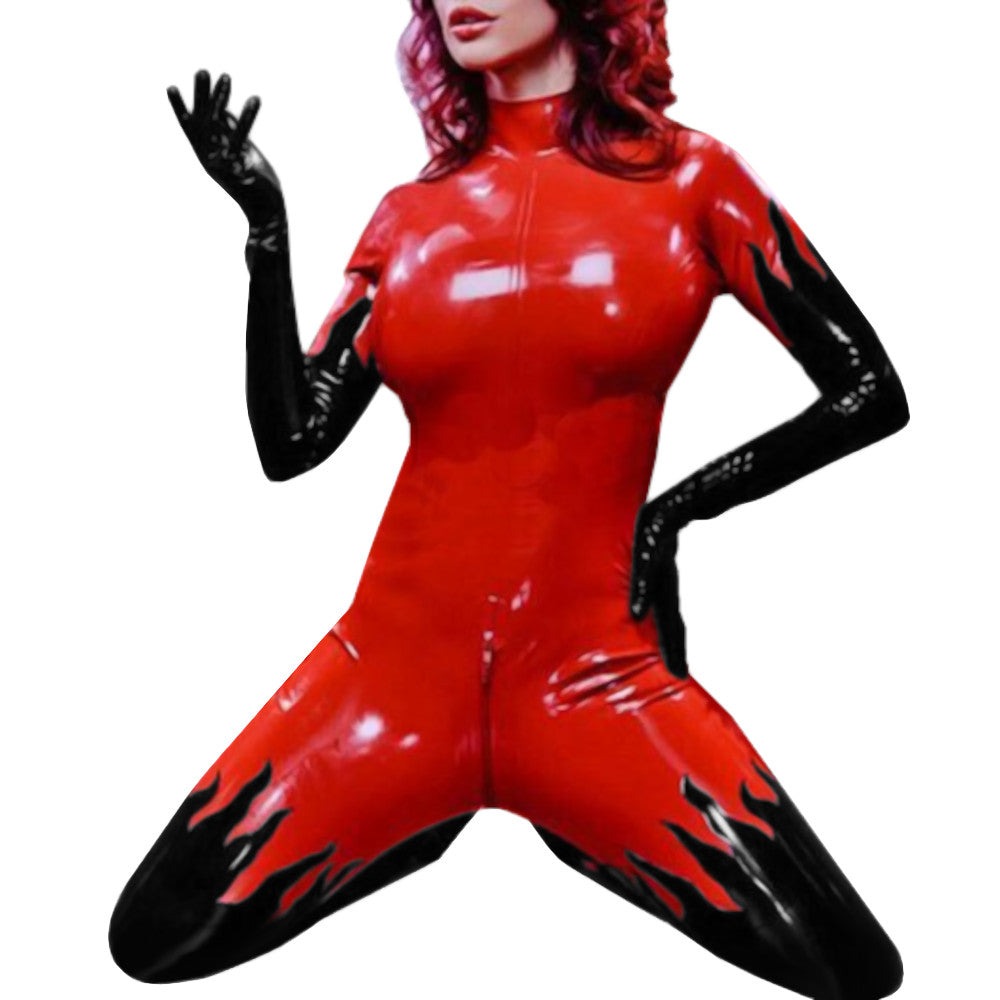 Firestarter Ladies Catsuit
He used to slap your butt whenever you were in a sexy outfit. And he used to look at you like he wanted to ravage you and get you laid. Nowadays, you catch him staring at women's asses and boobs. Oh well, boys will be boys, but why has he stopped admiring your gorgeous curves?

Maybe it's high time to re-ignite the fire and bring back his lust over your voluptuous body. Believe us when we say it won't be that hard. With the Firestarter Ladies Catsuit, it won't be difficult for you to flaunt your sizzling hot body!

This flamin' hot red catsuit will burn him with sexual desire. It features a high collar to emphasize your graceful neck. Its long sleeves and legs are with black flames to create stunning contrast, making your limbs look longer and more slender.

The multiple zippers that run from the back to the crotch will make your latex suit experience enjoyable and hassle-free. Taking toilet breaks is not a bother, so go ahead and be a show stopper at clubs. Dance on stage and make your guy jealous of other men who want to take you home. Fortunately for him, he can have easy access to your crotch when he's too hot to hump on you!

If you fantasize about being a devil's wife, put on your red stilettos, wear a headband with horns, and grab a flogger to punish! The catsuit is available in six sizes, so pick the one that fits snugly. Latex is supposed to cling tight to your body to trace every curve you've got. And don't worry. This latex suit is elastic, allowing 100% mobility. You may twist and bend in any direction, but the bodysuit won't rip or tear open.

It's made of natural latex; hence, give it the proper care it needs so you can wear it longer. Seduce and get all the attention you need with this tight-fitting outfit. Buy now!

Specifications
| | |
| --- | --- |
| Color | Red and Black |
| Material | Latex |
| Sizes | XS, S, M, L, XL, XXL-Refer to the size chart below for the measurements |
| Recommended for | Women |
| Washing Tips and General Instructions | Handwash in a bucket of warm water with one to two drops of baby shampoo. Rinse thoroughly. Hang to dry using a plastic or wooden hanger. |
Sizing Guide