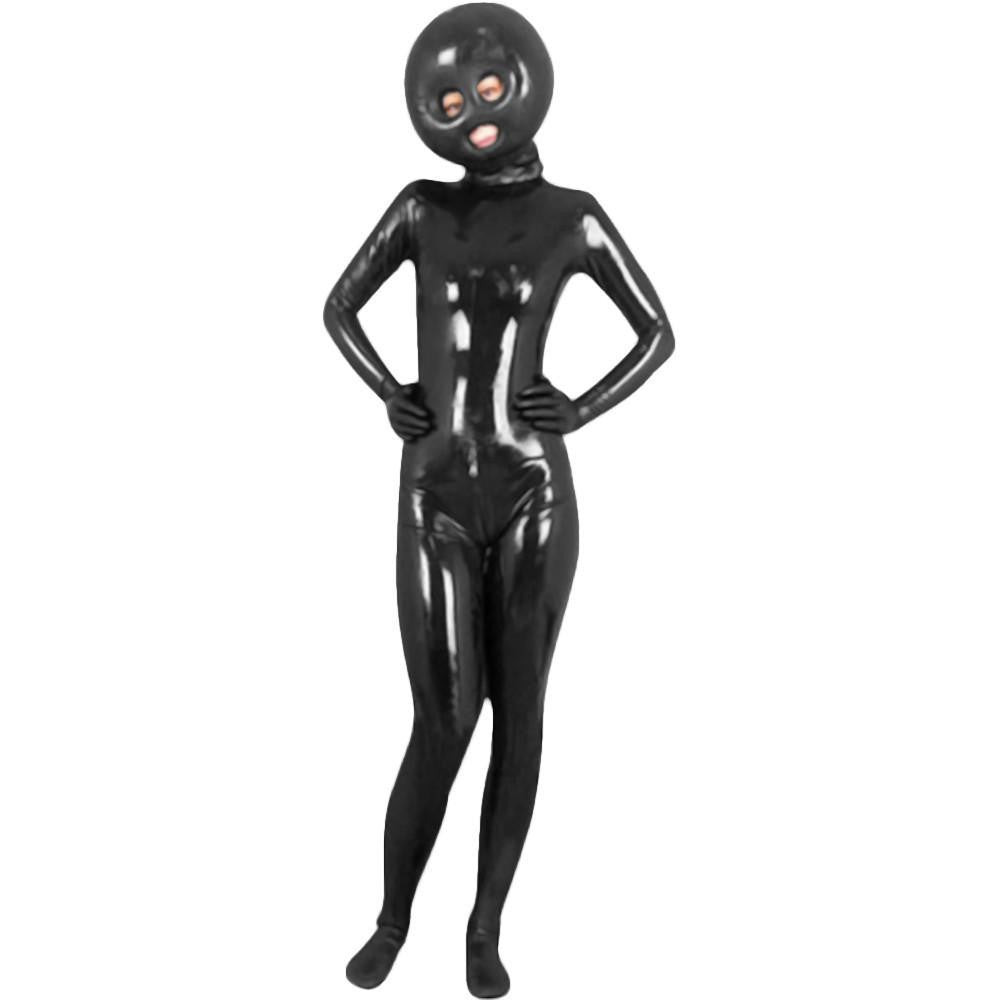 Inflatable Bondage Hood Catsuit
In the eyes of the vanilla world, the dominant partners are the ones that usually wear catsuits—all thanks to mainstream movies and media. But in the kinky world, both the Dom and the sub can wear bodysuits. These suits come in different styles and purposes, allowing the person to choose an outfit that fits his/her role.

If you're looking for a catsuit made for submissives, look no further than this Inflatable Bondage Hood Catsuit! This suit will put your lover at your feet. What's more, it elevates the scene entirely as it can blow up his/her head—literally! What a way to take your play on a cloud of pleasure.

Erotic and skintight, this hooded catsuit covers the sub's entire body. The hood covers the head, except the eyes and the mouth. The eye holes allow your passive partner to see you and what's around him/her. The mouth opening—on the other hand—provides access to your lover's lips, giving you the freedom to kiss and fuck him/her.

As for the catsuit, it has full sleeves and is tight-fitting, showing off the curves of your lover's body. It also has a back zipper, allowing you to play with his/her body without taking it off entirely. You only have to zip it down until it exposes the part you want to torment, taunt, and please.

A catsuit made of latex, this provocative outfit feels incredible on the skin—thanks to its smooth finish. It's also comfortable to wear as it provides a snug fit and is stretchy. Hence, your partner can still move and do different positions freely, even if it's tight.

Made for men and women, this catsuit can fit bodies of all sizes. Plus, it's available in an array of colors. You only have to pick a size and color that you want.

Get a catsuit that will put your partner into his/her place. Grab this Inflatable Bondage Hood Catsuit now!
Specifications
| | |
| --- | --- |
| Color | Black, Red, Blue |
| Material | Latex |
| Sizes | XXS, XS, S, M, L, XL, XXL - Refer to the size chart below |
| Recommended for | Women and Men |
| Washing Tips and General Instructions | Hand wash in warm water without soap or detergent. Leave it to dry flat and dust with talc. Do not tumble dry. Do not iron. Do not dry clean. |
Sizing Guide