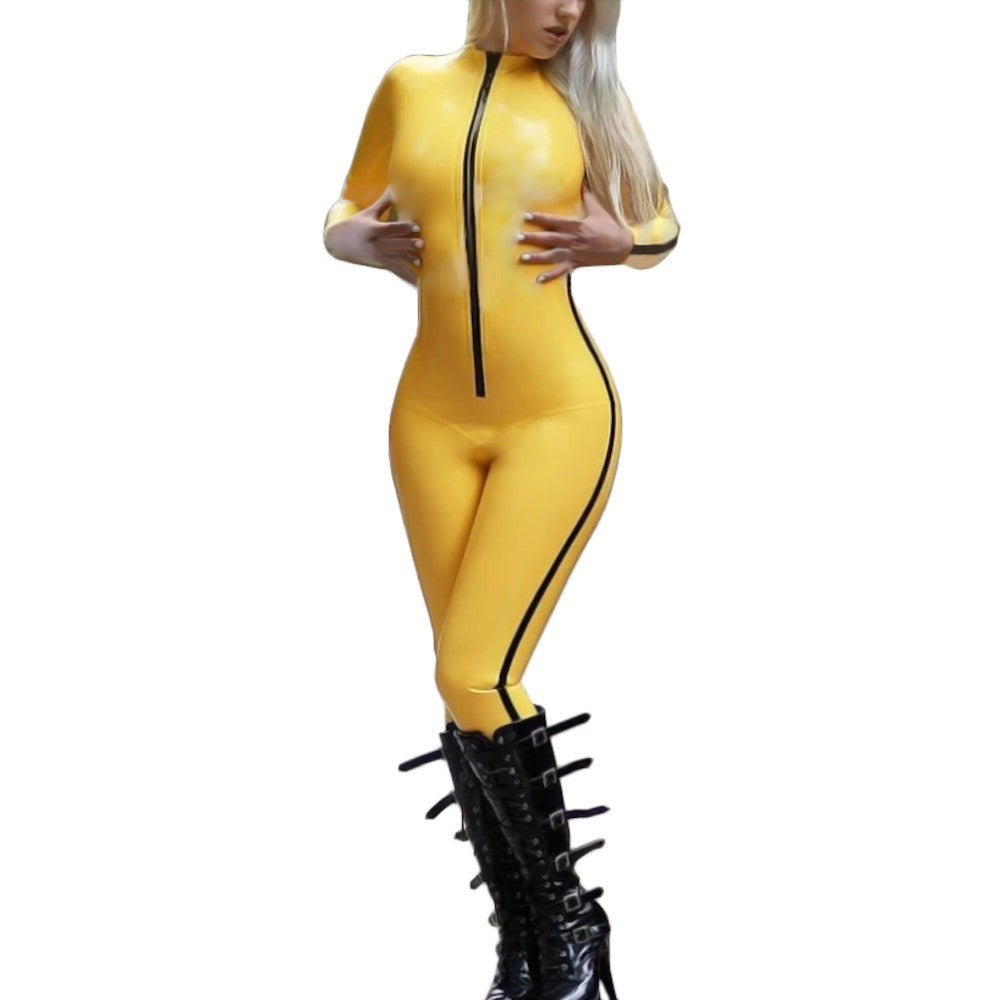 Want to be a hot and aggressive "assassin" in bed? Perhaps you like to be the sexiest cosplayer at the party you'll attend? Whatever reason you may have, this Kill Bill Yellow Catsuit has got you covered! It's skintight and vibrant; it would be impossible not to get everyone's attention once you put it on.

Featuring long sleeves, a front zipper, and a tight bottom, this full bodysuit covers your body and turns you into a badass chick! The sleeves outline the shape of your arms. The hug-fitting bottom—on the other hand—embraces the curves of the lower part of your body, highlighting your best assets. Meanwhile, the front zipper, which runs throughout your torso, makes this catsuit easy to wear and remove. You don't have to stretch the neck wide to put it on. You only have to slip your body into it, then zip it up! Just don't forget to lube up your body before putting it on for effortless wear.

Besides its tight-fitting feature, this catsuit has black trimmings on both sides. These outlines flaunt your curve even more as they define the shape of your body. So who says you can only be sexy if you show your skin?

Smooth and stretchable, this outfit is comfortable to wear. Its sleek texture feels great on the skin, while its elasticity provides a snug fit for the wearer. Meaning, you can put this outfit on with no worries.
Though the outfit is best suited for girls, boys can wear this catsuit, too! That's because this bodysuit is available in a wide range of sizes, which means anyone—and yes, including men—can rock this garment.

So what's still keeping you from buying this Kill Bill Yellow Catsuit? Go ahead, take your pick, and add it to your cart!
Specifications
| | |
| --- | --- |
| Color | Yellow |
| Material | Latex |
| Sizes | XXS, XS, S, M, L, XL, XXL - Refer to the size chart below |
| Recommended for | Women |
| Washing Tips and General Instructions | Handwash in warm water without soap or detergent. Leave it to dry flat and dust with talc. Do not tumble dry. Do not iron. Do not dry clean |
Sizing Guide