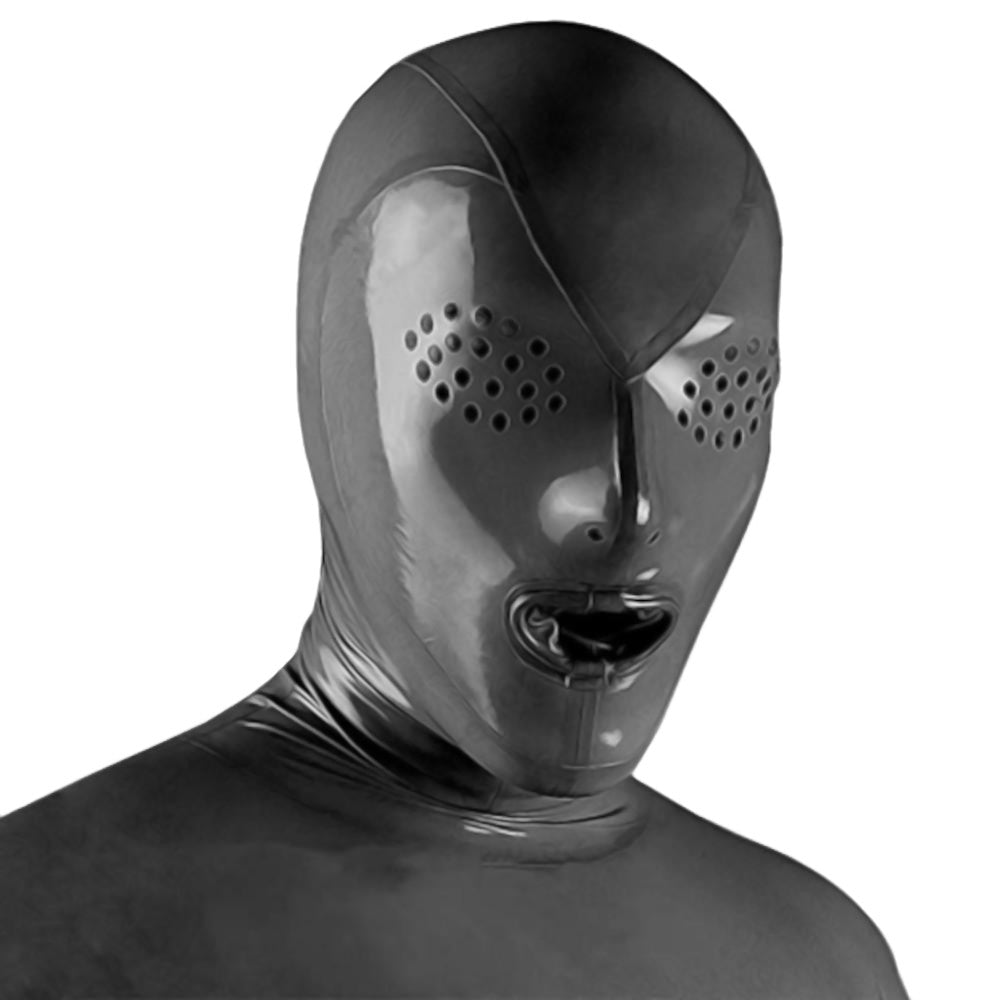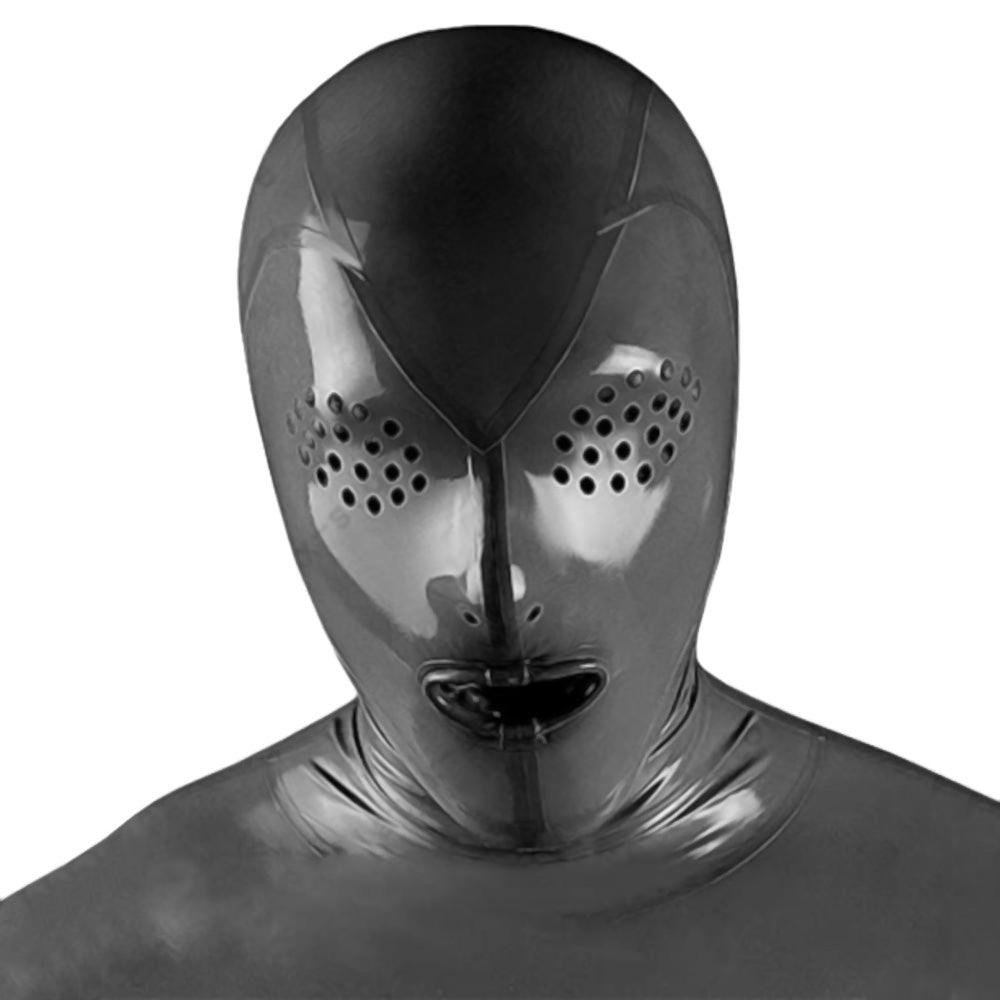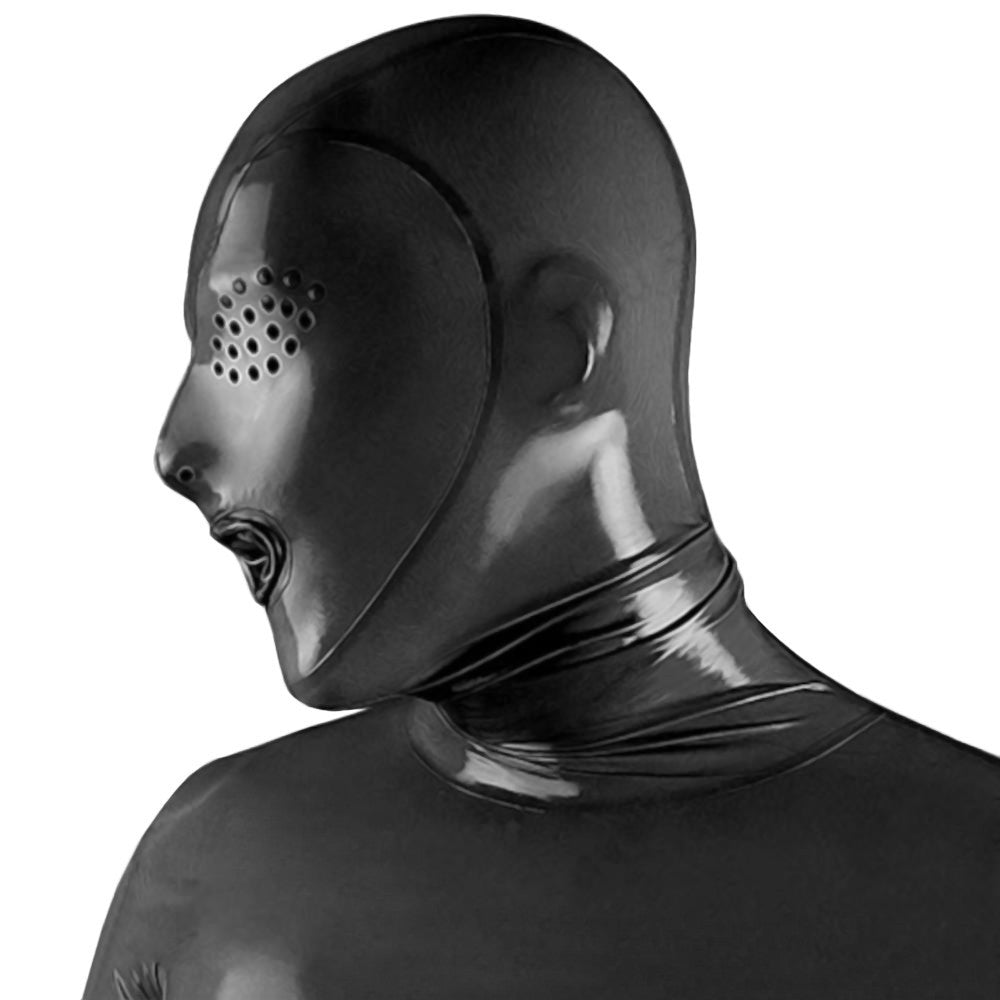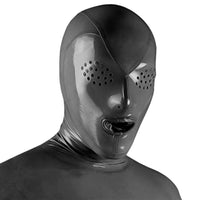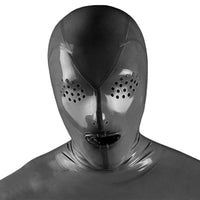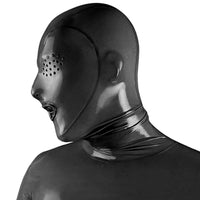 Kinky Latex Breathplay Hood
Nothing is more satisfying than rendering your Sub powerless. It's an empowering sight to witness an alpha male under your mercy, and you'll never get enough of it. We have the perfect item that you can use to assert power over your partner: the Kinky Latex Breathplay Hood.

This mask is made of top-notch quality latex, a very stretchable and tight-fitting material that dominates the world of BDSM. The hood covers your Sub's entire head and his neck, depriving him of any sensual stimulation on some of his sensitive erogenous zones. This item is meticulously crafted, and it is evident in how its parts are joined together, piece by piece. The rawness of the design creates an industrial vibe, fit for your boy toy's stamina.

This hood is intended for breath play. Hence, it does not reveal much of your partner's face. There are perforations on the eyes, so his vision will not be completely blocked. But the mouth area is plastered shut, leaving him with no choice but to rely only on the two tiny holes on his nostrils for breathing. As you know, breath play is a kinky act that makes orgasms more intense, and you can expect this mask to do an excellent job in that field. Of course, that is if you'll allow your Slave to cum.

This mask goes well with any suit as it is very versatile. It comes in various colors: White, Red, Purple, Transparent Black, Transparent Red, Yellow, Green, Dark Blue, Black, Pink, Nature Transparent, Transparent Purple, and Sky Blue. It is offered in six sizes, so make sure to carefully take your Sub's measurement to ensure a good fit.

Make simple tasks like inhaling and exhaling a challenging chore for your sissy Sub. Purchase the Kinky Latex Breathplay Hood and watch him tap out. Get this item today!
Specifications
| | |
| --- | --- |
| Color | White, Red, Purple, Transparent Black, Transparent Red, Yellow, Green, Dark Blue, Black, Pink, Nature Transparent, Transparent Purple, and Sky Blue |
| Material | Latex |
| Sizes | XS, S, M, L, XL, XXL- Refer to the size chart below for the measurements |
| Recommended for | Women and Men |
| Washing Tips and General Instructions | You can wash rubber garments on clean warm water. Avoid detergents and soaps. Always wipe away excess water with a soft towel and leave to dry flat or hang up to drip dry. Never tumble dry, dry clean or iron your garment. Do not use washing powder or bleach for washing. |
Sizing Guide