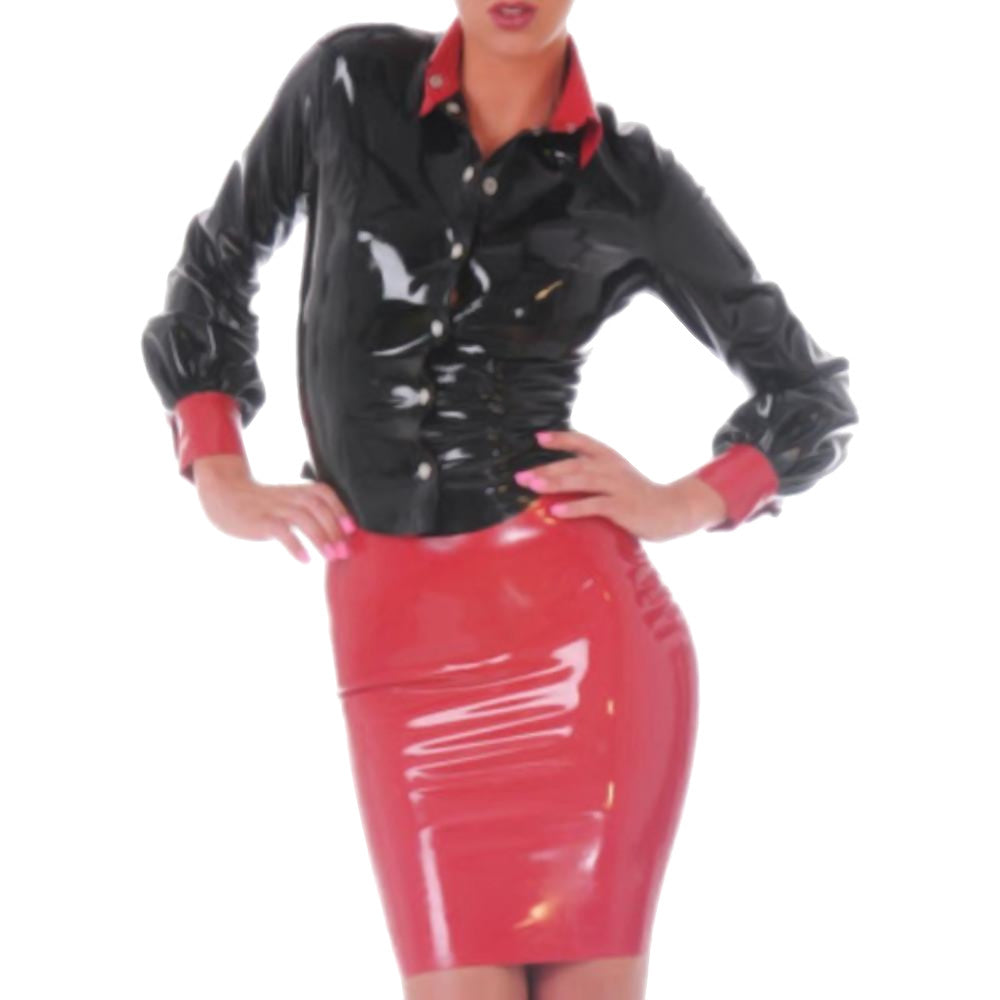 Chic Latex Dominatrix Clothing
Your sub has been acting naughty and needs discipline. And what better way to teach your partner a lesson but by dressing up as a teacher. . .a seductive, intimidating teacher. Look like an unforgiving domme and wear this Chic dominatrix Clothing as you punish your submissive in the most relentless way possible.

Being a dominatrix is your nature. You don't take disobedience lightly, and you implement punishment whenever due. Moreover, you want to look menacing yet alluring as you perform your role as a domme. And to do that, you need to have this Chic dominatrix Clothing in your closet. This latex suit may seem like a formal shirt and skirt at a glance, but it has a different glow, unlike any other uniform—all thanks to its lustrous material. . .latex. It's a long-sleeved top with a fold-down collar. It closes at the front, and the sleeves are a bit loose with cuffs that close at the wrists. The pencil skirt will hug your waist and hips tightly to give your tempting curves a boost.

It's also a fun piece to accessorize. You can put a belt around your waist to highlight your curves. And because it's tight-fitting, you can still put a corset over it. Wear your high-heeled shoes and hold out your whip, and you're now the most terrifying yet sexiest domme there is.

When washing this piece, do not use detergent soaps or bleach. These chemicals are harsh and can damage the material. A solution of warm water and mild soap will do. Handwash this clothing and rinse well. Let it air-dry, and do not use a tumble dryer. You can hang it up or use a dry towel to remove the excess moisture.

Look like a stunning dominatrix, and add this to your cart now!

Specifications
| | |
| --- | --- |
| Color | Black |
| Material | Latex |
| Sizes | XXS, XS, S, M, L, XL, XXL: Refer to the size chart below for the measurements. |
| Recommended for | Women |
| Washing Tips and General Instructions | Handwash with warm water. Use mild soap. Rinse with cool, clean water. Air dry. |
Sizing Guide