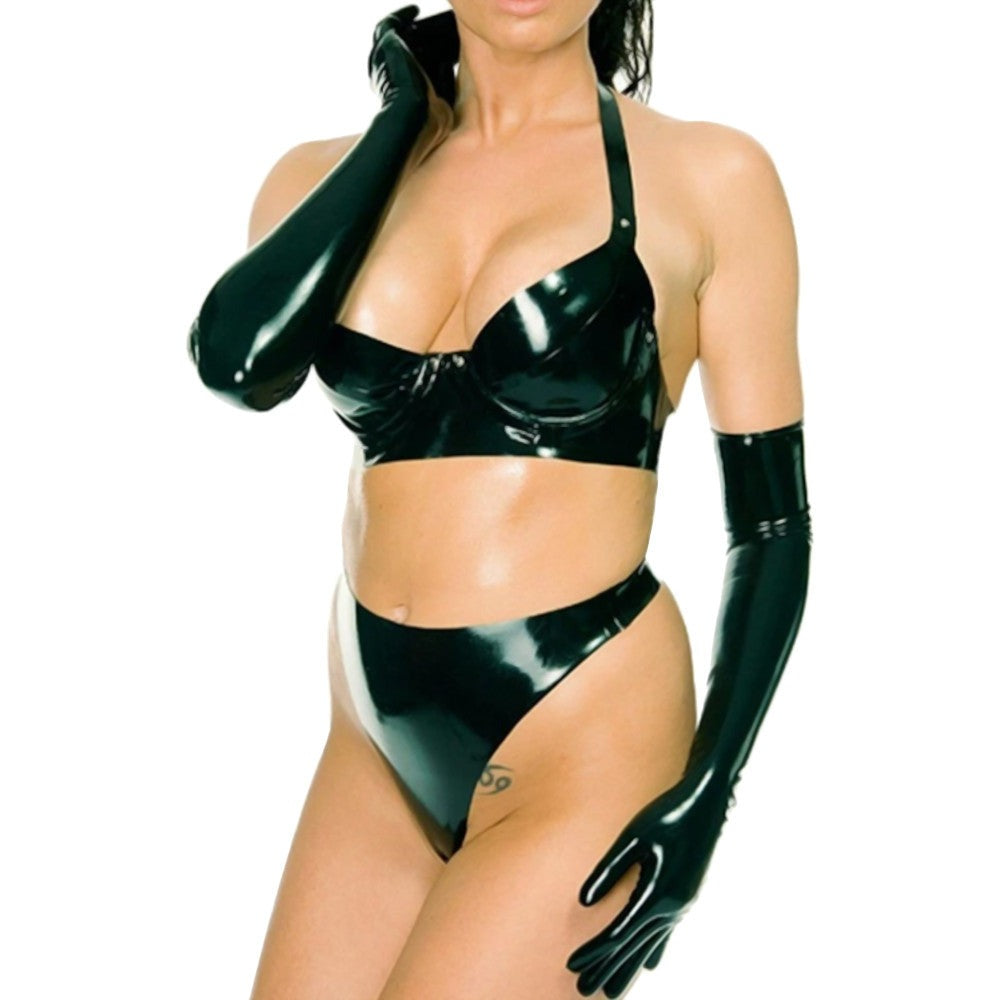 Latex Lingerie Set With Gloves
Just because you are not Victoria's Secret model doesn't mean you can't wear a sexy lingerie set anymore. There's more to it than meets the eye. They may be hidden all the time, but they sure are reliable in many different ways. It brings out confidence in you, and it helps boost self-love. And with the perfect undergarments like this lingerie Set with Gloves, you can even spice things up in bed with your partner.

This lingerie set comprises a brassiere, a panty, and a pair of gloves. Each piece is made of latex, a textile known for its high tensility and resiliency. This medium is sleek and shiny, making it undeniably sexy. It is both waterproof and weatherproof, too; that's why any garment of this material is easy to maintain.

Once worn, the tight-fitting cheeky bottom will instantly give your butt a lift and will make it look insanely voluptuous. The push-up bra will also do the same to your bosoms, making them appear well-endowed and inviting. The gloves, on the other hand, will add sultriness to your overall look. They will cover your hands up to the middle of your arms.

Before wearing this piece entirely, you have to know first whether you are allergic to latex or not. Try to put a small part of the lingerie on your skin and see if it will give you some allergic reactions. Don't forget to look at the size chart provided and pay attention to the washing tips and general instructions given on the product page so that this skirt will last for a long time with you. Remember to wear it first and remove it last when you don fancy accessories to avoid tearing the fabric. You can also apply a water-based lube on its exterior to maintain its shininess.

So what are you still waiting for? Add this lingerie set to cart your today!
Specifications
| | |
| --- | --- |
| Color | Black |
| Material | Latex |
| Sizes | S, M, L, XL, XXL - Refer to the size chart below for the measurements |
| Recommended for | Women |
| Washing Tips and General Instructions | Handwash only. Always wipe away excess water with a soft towel and leave to dry flat or hang to drip dry. Never tumble dry, dry clean. Do not use washing powder or bleach for washing. |
Sizing Guide