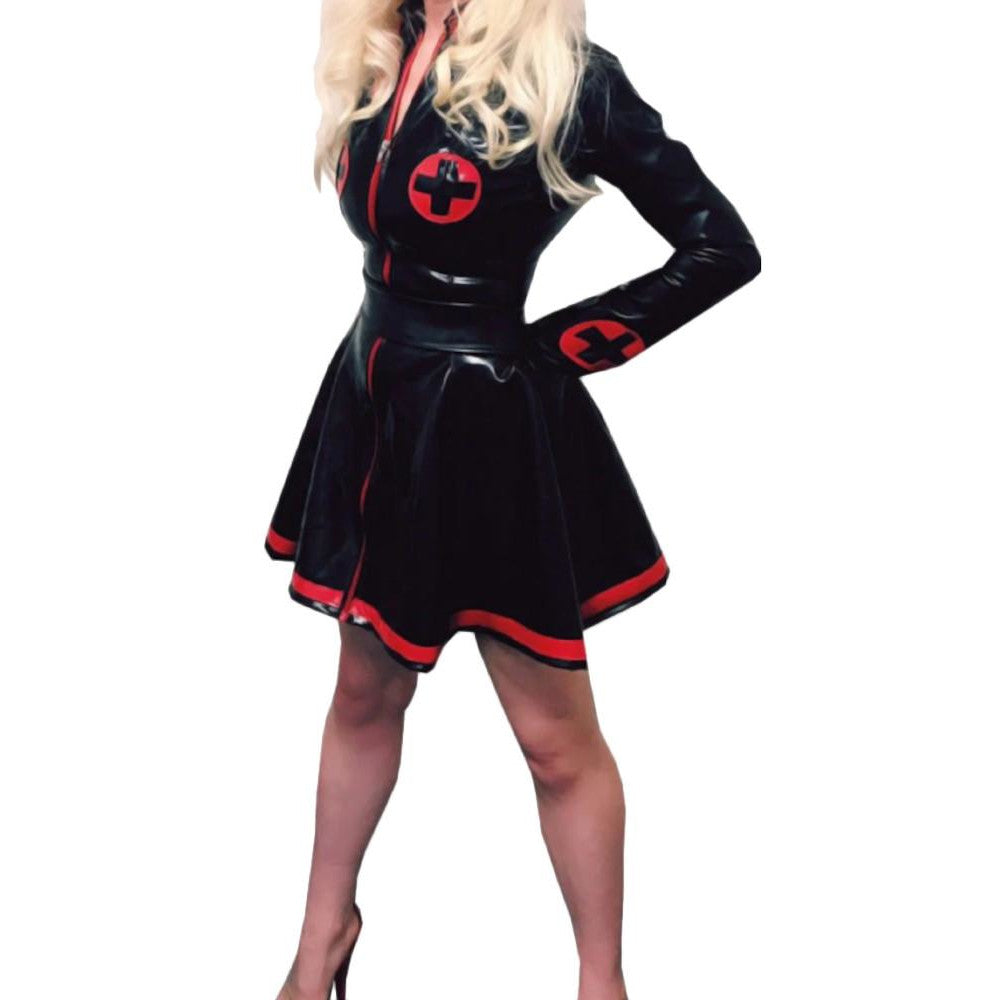 Sexy Nurse Dominatrix Outfit
What's the point in being the lady boss when you can't have it your way? Take the lead and show you are in control. Put on the Sexy Nurse Dominatrix Outfit and bring out your urethral sound, enema, or prostate massager! This latex nurse uniform will be the spice of your medical-themed play!

This stylish latex nurse dress features long sleeves with a Red Cross emblem close to the cuffs and on both sides of the chest. With this symbol on four spots of this dress, there's no denying you can take care of your "patient" well. With a front zipper that runs from the neck down to the hemline, not only will putting it on be easy, but it will also give your partner access to your breasts and whatever he wants to ravish.

With a flattering bodice and a fitted waist, this dress will highlight the contour of your body. The dress also features an A-line skirt flaring out as it gets closer to the hemline. With a design that allows free flow, you'll be able to move spontaneously. It has trimmings along the hemline to make it look chic and sassy. Wrap the belt around the waist to highlight your lovely curves!

Match the dress with a nurse cap, and don't forget to wear your high heels to complete the look. This nurse dress comes in three color variants: black, blue, and red. Whichever piques your fancy, you can't go wrong. Black exudes power, red shows confidence, and blue mesmerizes. Make yourself a true dominatrix by wearing any of these colors.

You can make this dress last for more thrilling sessions to come if you wash it in warm water sans soap or detergent. Hang it to dry, then dust off with talc powder before storing it.

Dress up to dominate with style. Buy this dress now!

Specifications
| | |
| --- | --- |
| Color | Black, Blue, Red |
| Material | Latex |
| Sizes | XXS, XS, S, M, L, XL, XXL - Refer to the size chart below for the measurements |
| Recommended for | Women |
| Washing Tips and General Instructions | Handwash in warm water with one to two drops of baby shampoo. Rinse thoroughly. Hang to dry using a plastic or wooden hanger |
Sizing Guide