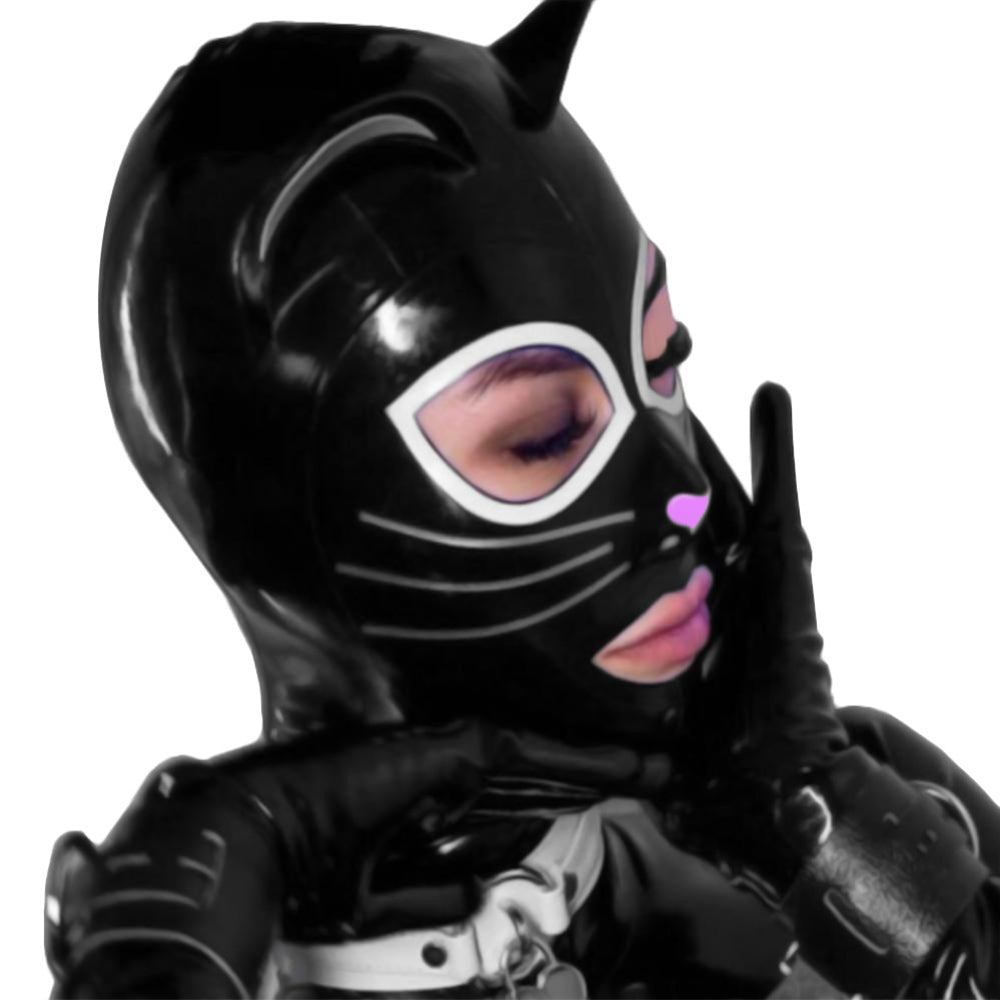 Purrfect Latex Catwoman Mask
Cattail? Check! Pet collars? Check! Food bowls? Check! Pet fence? Check! Congratulations! You've completed all the items on your shopping list for your submissive pet. But something's still missing: a cat mask! Your partner wouldn't be completely transformed into a cat without putting a cat disguise on.

And if you're looking for such a headpiece, this Purrfect Latex Catwoman Mask would be purrfect for her! Put this on her head, and she'll turn into a wild feline in no time.

This racy mask has the features of a cat—without the fur. It has two pointed ears on its head, two cat-eyed white outlines on the eye holes, and a pink heart-shaped nose with a mouth opening. With this mask on her head, it would be hard for you to resist her.

A mask made of latex, this accessory is comfortable to wear. It feels smooth, not just on the outside but also on the inside. It's also stretchable, as it adapts to the size of the wearer's head. Furthermore, it provides a snug fit, even if it's skintight. That's the beauty of latex, it will feel like you are not wearing anything at all!

The mask is available in a myriad of colors. Besides black, you can also get blue, orange, pink, white, purple, red, and sky blue. These different shades allow you to choose a mask that matches her style and your hue for passion. That's not all; you can also get it in varying sizes—from extra-small to double extra-large. You only need to get a mask that fits you perfectly.

Made for women, this mask isn't just for roleplays. She can wear it at a costume party, too! Pair it with a latex catsuit, and she will surely steal the spotlight.

Turn your cute, docile pet into a feisty feline with this Purrfect Latex Catwoman Mask. Add it to your cart now!

<
Specifications
Color
Black, Blue, Orange, Pink, White, Purple, Red, Sky Blue
Material
Latex
Sizes
XS, S, M, L, XL, XXL
Refer to the size chart below
Recommended for
Women
Washing Tips and General Instructions
Handwash in warm water without soap or detergent
Leave it to dry flat and dust with talc
Do not tumble dry
Do not iron
Do not dry clean
Sizing Guide