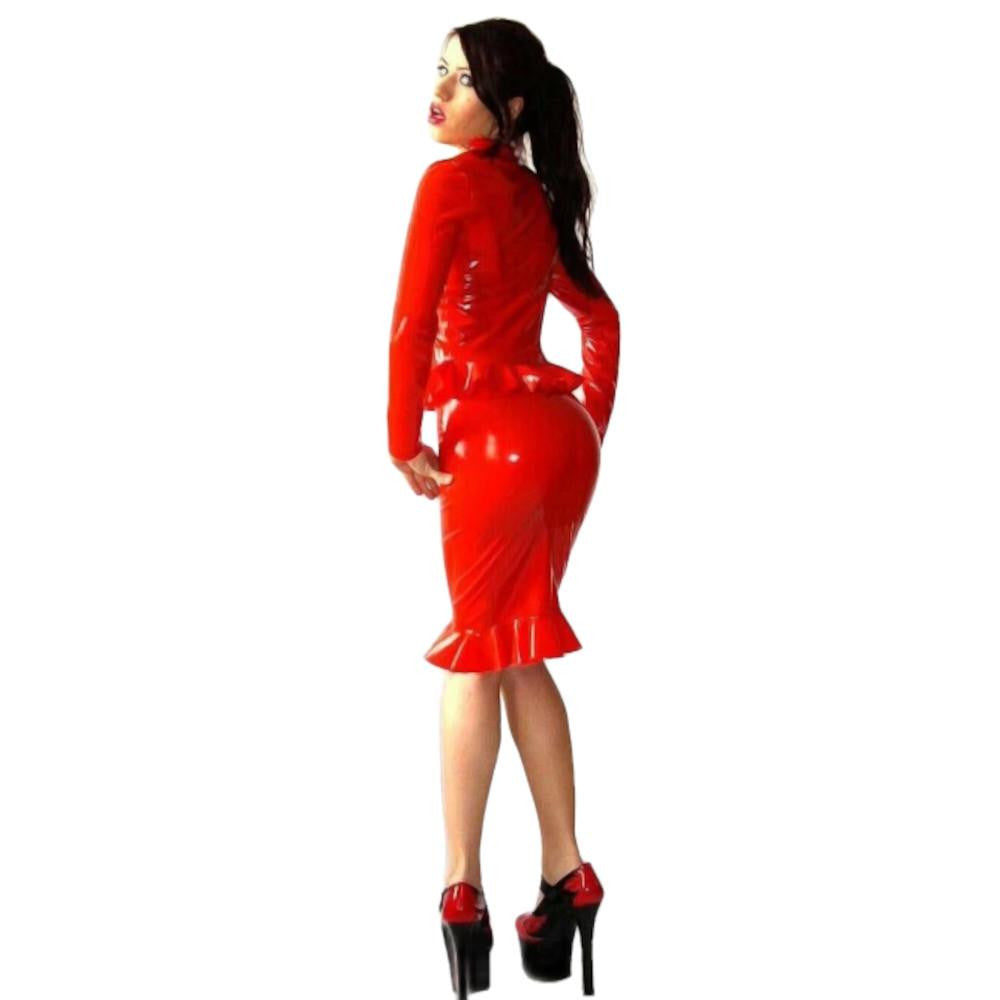 Tight Red Latex Dominatrix Apparel
If you're the boss, you have to dress like one. For sure, you already have bodysuits, but even slaves put them on. Putting on the right outfit for your role matters. What you wear tells others who you are, so you've got to have the Tight Red Latex Dominatrix Apparel in your closet, ready to be worn when you play Mistress.

This red latex outfit is composed of a long-sleeved top and a mermaid skirt. Best suited for a dominatrix, the pair will make you look sexy, sassy, and confident! The jacket has ruffles on its hem for a touch of playfulness. To match that, the tight skirt also has fringes on its hemline. Perfect!

This set of dominatrix apparel comes in various sizes, from extra small to double extra-large, because sexy doesn't come in just one shape! Since the skirt and the jacket are made of latex, they will hug your curves sensually and erotically. Feel the rubber cling tight on your skin and love the squeaky sound it creates with every move you make.

Pair it up with red or black stilettos. The higher the heels, the sexier you'll look. Hold a whip in your hand and start giving commands. As you exude confidence in this red latex outfit, your slave won't dare defy you.

Dust off the inside with talc powder to eliminate friction. Doing so will help you put on the top and the skirt with ease. Bring out the glossy shine by spraying them with silicone-based polish.

You'll want this dominatrix outfit to last, so wash it in warm water because detergent or soap damages latex. Hang each piece to dry, then dust them off with talc before putting them back in your closet.

Be at your best when you punish a slave, so buy this pair now!
Specifications
| | |
| --- | --- |
| Color | Red |
| Material | Latex |
| Sizes | XS, S, M, L, XL, XXL - Refer to the size chart below for the measurements |
| Recommended for | Women |
| Washing Tips and General Instructions | Handwash in warm water with one to two drops of baby shampoo. Rinse thoroughly. Hang to dry using a plastic or wooden hanger |
Sizing Guide