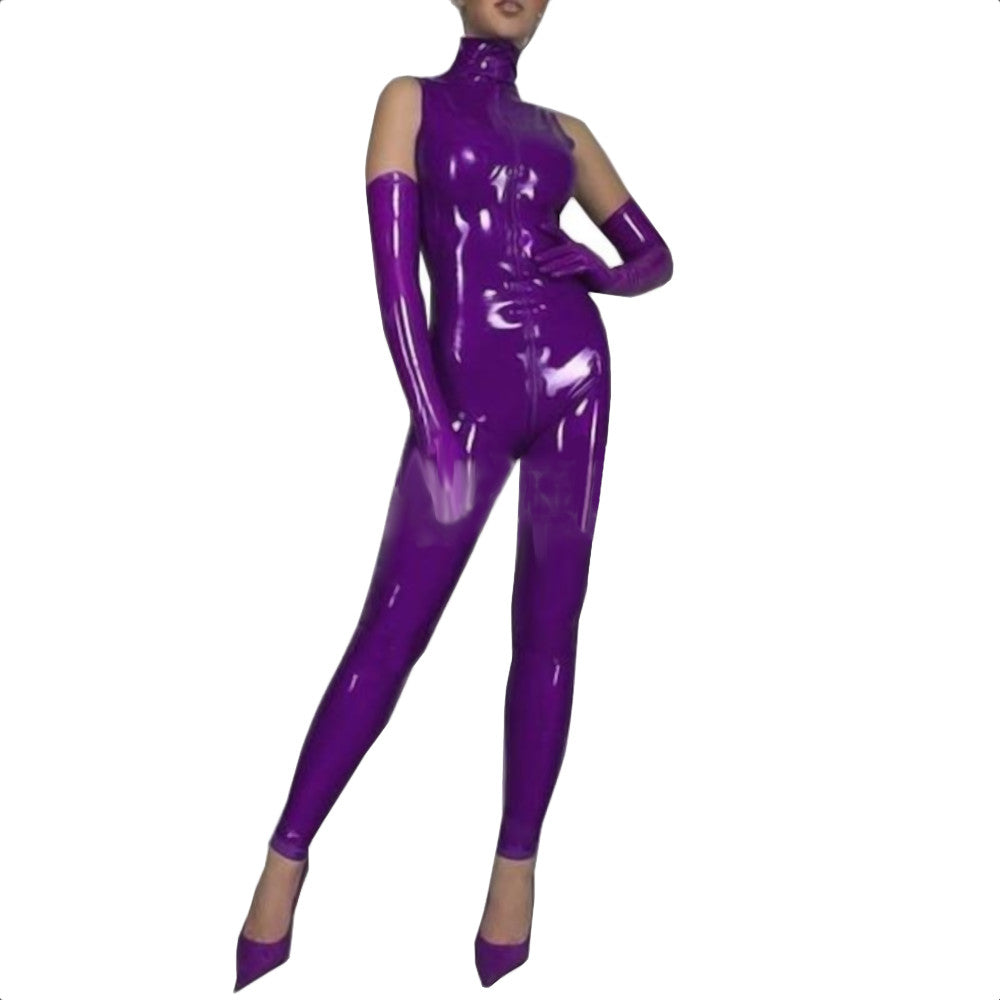 Sleeveless Purple Catsuit with Gloves
Whether you're already bored with your leather outfits, or you're looking for new and exciting costumes to try and add to your wardrobe, best believe that we have just the right item you're looking for. The Sleeveless Purple Catsuit with Gloves will spice up everything and will make you look as if you're always ready for some action!

This bodysuit is made of high-quality latex, and if you're new to this kind of material, then you should most definitely give it a shot. Latex is also versatile, but compared to leather, it is more pliable. Most fetishists prefer to incorporate latex in their BDSM sessions for several reasons. For one, it provides a skin-tight fit, which has many advantages in the world of kink. Also, rubber can be dyed with vibrant colors so that you can be raunchy and stylish at the same time.

This outfit comes in a glossy hue of purple. The design accentuates your body figure as it knows what parts to cover and what needs to be flaunted. The turtleneck makes your upper limbs appear longer and makes your look more slender. This suit is sleeveless, which bares your toned arms. But if you are not in the mood to expose them, worry not; this attire comes with a pair of long latex gloves. The gloves wrap your fingertips to your upper arms and are truly an eye-catching accessory. The catsuit's snug fit hugs your tiny waist and wide hips, showing off those voluptuous curves. Its leg cuffs fall on your ankles, so you can wear this catsuit with stilettos or high-cut boots and still expect to look gorgeous. It has a long front zipper that extends up to the back of your crotch, so you can easily slip in and out of this suit any time you wish.

The Sleeveless Purple Catsuit with Gloves is available in six sizes, so make sure you check your measurements carefully to achieve your best fit. Buy this piece today and get ready to look the most glamorous you've ever been!

Specifications
| | |
| --- | --- |
| Color | Purple |
| Material | Latex |
| Sizes | XS, S, M, L, XL, XXL - Refer to the size chart below for the measurements |
| Recommended for | Women |
| Washing Tips and General Instructions | You can wash rubber garments in clean warm water. Avoid detergents and soaps. Always wipe away excess water with a soft towel and leave to dry flat or hang to drip dry. Never tumble dry, dry clean, or iron. Do not use washing powder or bleach. |
Sizing Guide