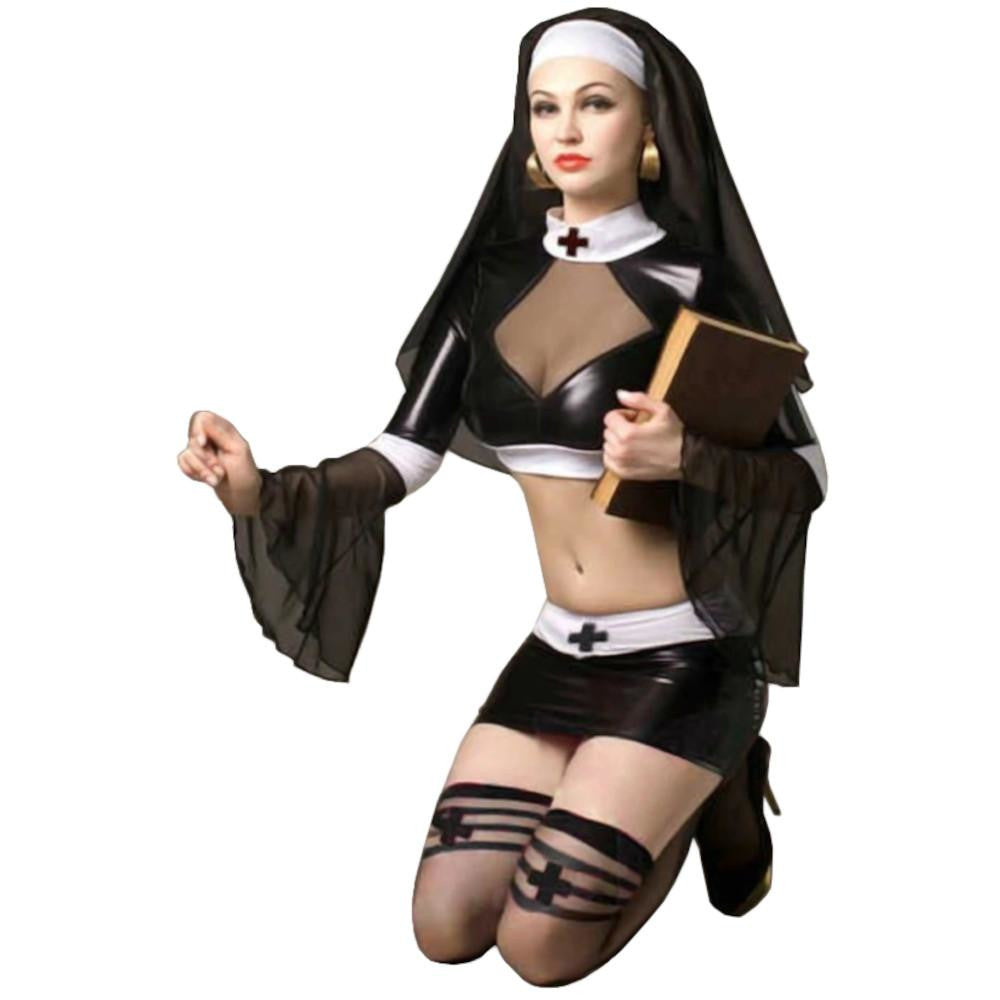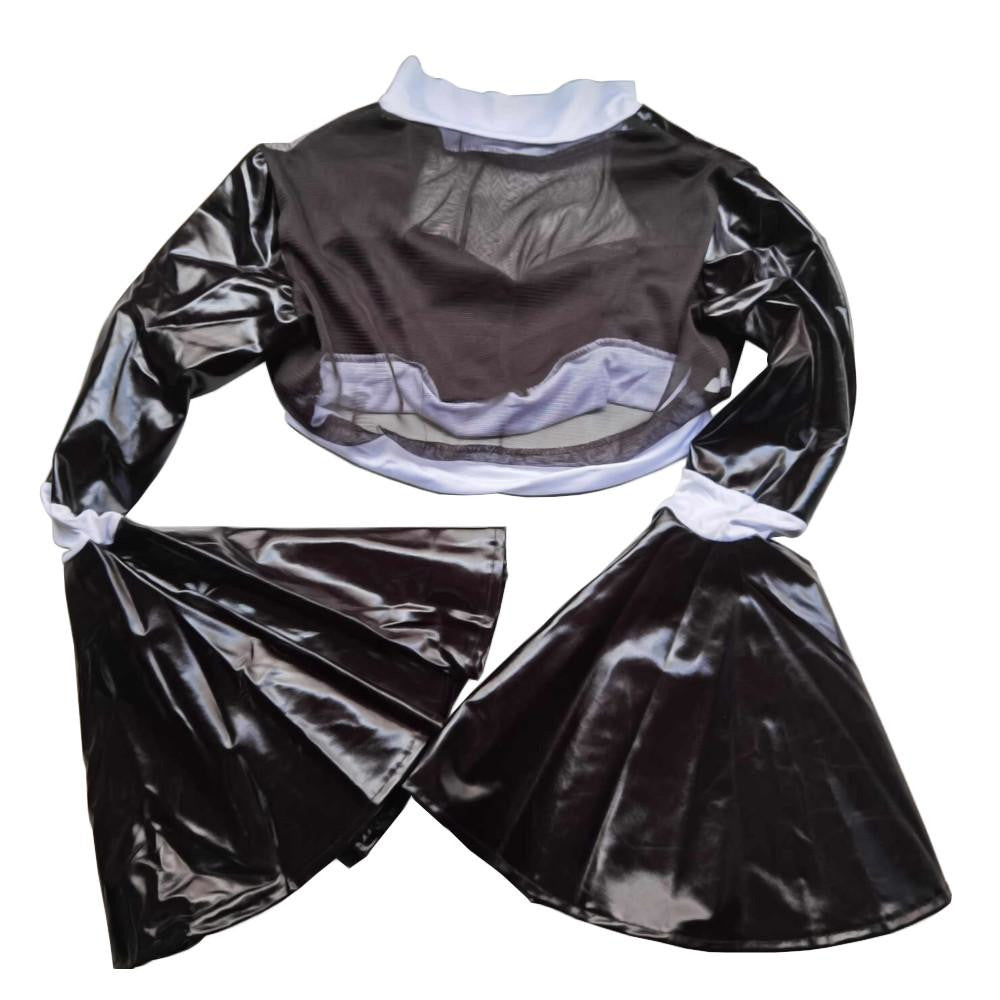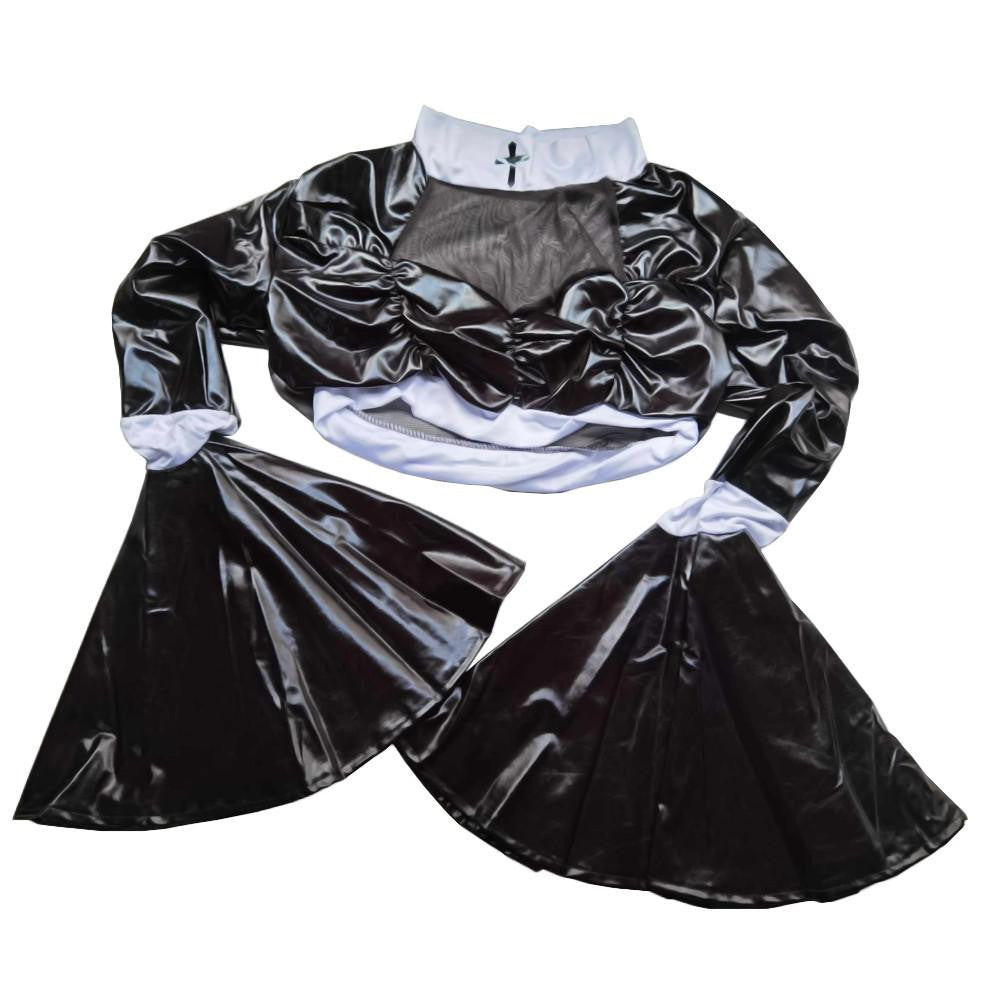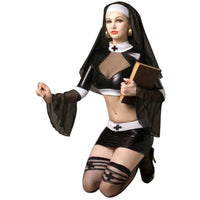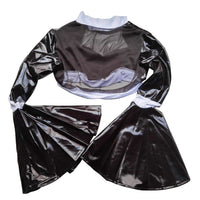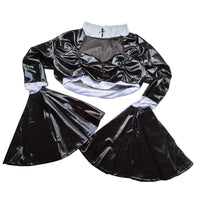 Slutty Faux Leather Nun Costume
Your lingerie isn't doing its job anymore. Your man will only glance at you to proceed with whatever he's doing, may it be a boring activity like reading a book or watching TV. This can hurt the ego, especially if you've done everything to look sexy in his eyes, and of course, to get laid after. How long has it been since you had sex? Before concluding he's cheating on you, put on the Slutty Faux Leather Nun Costume. This provocative outfit inspired by a nun's habit is jaw-dropping!

When you put this garment on, you will look like a sinful nun ready to do the dirtiest deed! This set comes with a veil, a long-sleeved crop top, and a skirt. The veil is a symbol of your devotion, while the seductive top, with see-through mesh on the neckline and on the back, shows you're daring enough to please him however he likes to be pleased. If he wants you to blow his whistle, so be it! You're a slutty nun! The skirt is mid-thigh length—so short that when you bend over, he'll get to see a slice of heaven! Why not give him a belly dance and flaunt your belly button, gorgeous waist, and sexy mid-riff! No offense to Christianity, but there are cross symbols that will make your role convincing.

To play your role convincingly, hold a rosary in one hand, then a Bible on the other. Kneel as if you were praying, but your mouth is wide open ready to provide a decadent blow job!

And because you're a slut, wear your highest heeled shoes since a seductive costume has to go with such. Don't hesitate to wear your favorite perfume and accessorize with dangling earrings! If your guy isn't seduced, then we don't know what will!

You don't have to be a saint to have a piece of heaven. All you need is to put on this slutty nun's costume. Buy now!
Specifications
Color
Black with White
Material
Faux Leather
Sizes
Bust - 80cm (31") to 90cm (35")
Waist - 68cm (26") to 76cm (30")
Recommended for
Women
Washing Tips and General Instructions
Hand-wash with mild detergent in cold to warm water. Air dry. Condition to prevent cracking