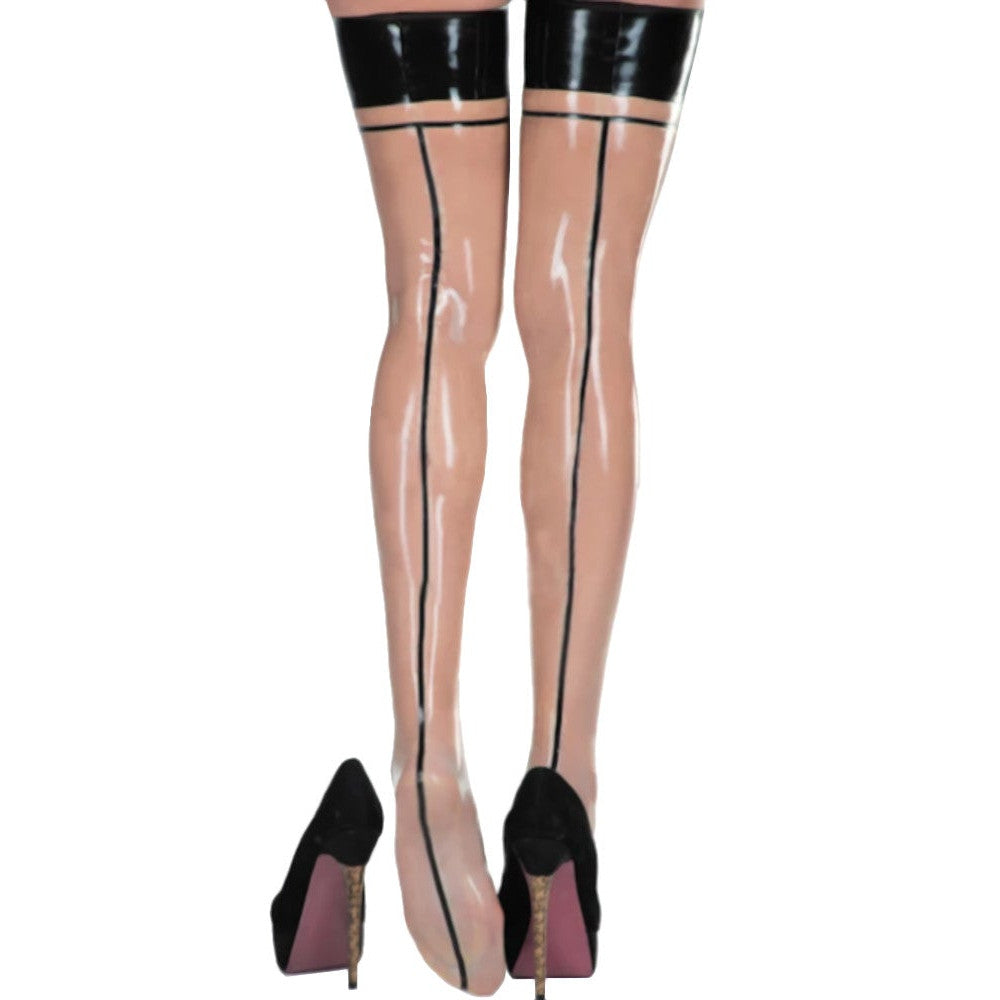 Transparent Latex Stockings
Aren't stockings the sexiest undergarment? The way each pair wraps those sexy and flawless legs and thighs is indeed enticing, and much more when they are worn together with an equally seductive pair of stilettos. Such a view at any given angle is undeniably tempting. So if you want to make your partner falls head-over-heels with your alluring stance, make sure to wear this pair of Transparent Latex Stockings.

Unlike the regular lace and cotton stockings, this pair of stay-up is different. Each piece may not be as breathable as the other mentioned materials, but its snug-fitting easily compensated for that missing feature. The base material used in these ensembles is latex, a body-conforming fabric commonly used for fetish fashion and its dramatic appearance.

These stockings have a sleek and shiny surface. As for their texture, you don't have to worry. They are smooth enough to give your legs a little comfort amidst their tightness, so you can just focus on flaunting them sexily. More so, they are transparent and vintage tights-inspired with their black welts and seams. You can use suspenders to connect them to your lingerie, or you can use them as they are. Don't forget to match it with your little black dress or sexy set of undergarments, and you are ready to flaunt those legs for days.

Just don't forget to measure the length of your thighs down to your feet to make sure you will get the suitable stockings for you. And since they are tight-fitting, you would benefit from putting a small allowance to your measurement just to be sure. Try to avoid getting them in direct contact with any sharp-edged things as their surface are pretty delicate. Be gentle in using them to maintain their lasting durability.

Flaunt those thighs and legs with these stockings. Whether it's for kinky playtime or you just feel like using them as you go out, you know you can count on this pair to make you look alluring. Add them to your cart today!
Specifications
| | |
| --- | --- |
| Color | Transparent with black details |
| Material | Latex |
| Sizes | S, M, L, XL, XXL - Refer to the size chart below for the measurements |
| Recommended for | Women |
| Washing Tips and General Instructions | Hand wash only. Avoid detergents and soaps. Always wipe away excess water with a soft towel and leave to dry flat or hang up to drip dry. Never tumble dry, dry clean or iron your garment. |
Sizing Guide