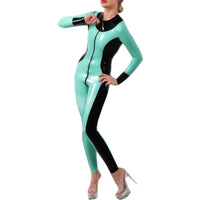 Curvaceous Full Body Rubber Catsuit
It's time to ditch the boring. You are ready for something more intimate, more beautiful, and more liberating. You have tolerated what's mundane for so long, and now it's your time to shine and make that transformation happen soon!

Feel that tight embrace and revel in your new look and new skin with the Curvaceous Full Body Rubber suit. Flaunt your curves with this form-fitting bodysuit and grab the attention you deserve, and hold your partner's or other people's gaze. It comes in various colors, giving you the best options so you can look sexy and confident.

It's designed with a front zipper that you can open from the neck to your bum. What this means is that you won't have to hog the toilet when you need to relieve yourself. So go ahead and enjoy clubbing until the wee hours of the morning! Unzip it when you offer those tits for licking, sucking, or bitin'! And when you're ready to give your partner the sweetest holes, unzip it all the way down to give him access.

This rubber suit is versatile as you can play different roles during your BDSM sessions. You can be a ruthless dominatrix with all the torture devices to make him beg for mercy. Or you can be a submissive, helpless slave in bondage with cuffs and chains. You can be a sweet kitten or a playful pup, too! Put on the right accessories to play your role convincingly!

Glide into the suit, apply talc powder or silicone lube on your body and the inner side of the suit. Remove your rings or other jewelry as they will snag on the rubber and damage it. Keep it as good as new by washing it with lukewarm water sans detergent or soap. Wipe it dry, then apply talc powder to prevent the inner and outer sides from sticking together.

Show off your curvaceous body soon when you buy today!
Specifications
| | |
| --- | --- |
| Color | Clear, Black, Black and Blue-Green, Red, Purple, White |
| Material | Latex |
| Sizes | XS, S, M, L, XL, XXL - Refer to the size chart below for the measurements |
| Recommended for | Women |
| Washing Tips and General Instructions | Hand wash with warm/lukewarm water without detergent (mild shampoo is OK), Do not tumble dry or iron |
Sizing Guide