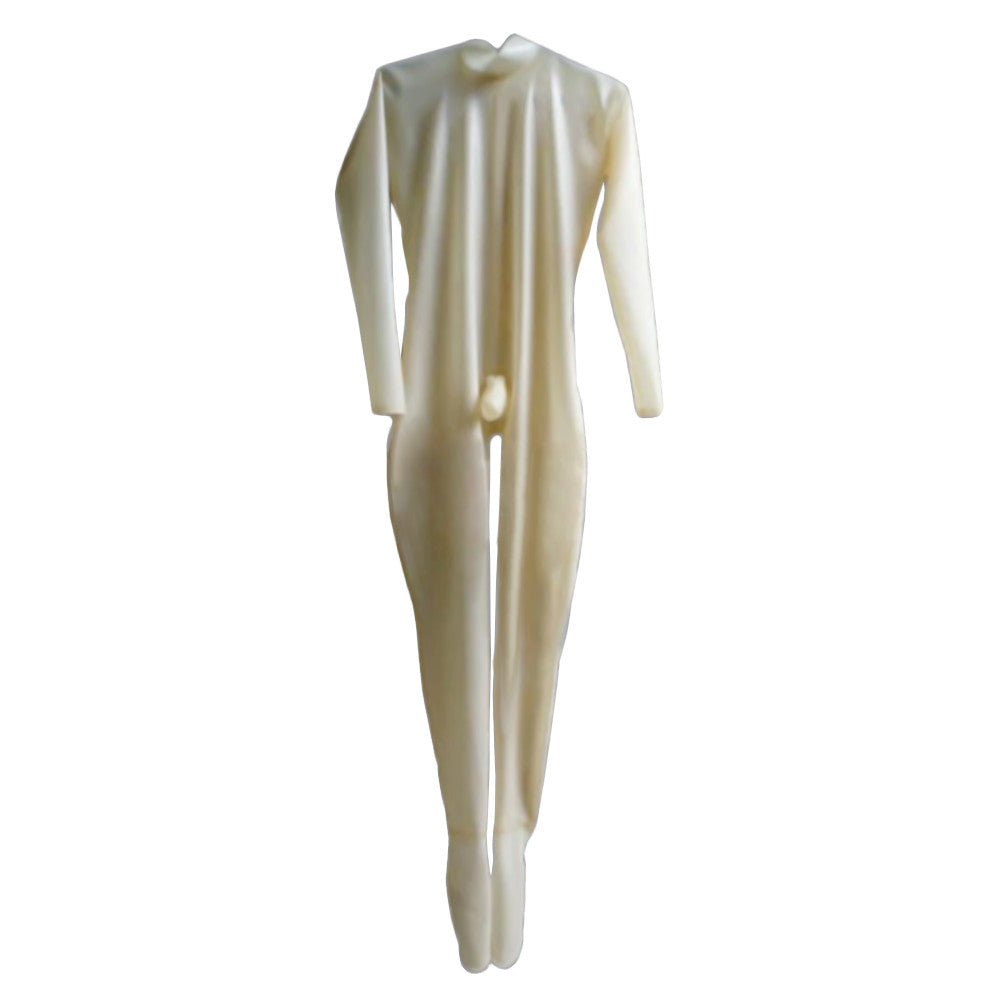 Kinky Full Body Latex Condom
Love to make out but hate to be touched? Maybe you enjoy sex but don't like to get someone pregnant? Whatever desire you may have, this kinky bodysuit has got you covered—literally!

The Kinky Full Body Latex Condom is every guy's dream. It's long-sleeved, covering not just the entire body and thighs but the arms, too! It even has room for your dick as this suit comes with a condom-type penis sheath attached to it. At the back lies a zipper for effortless wear. With this catsuit on, you can bang any girl or guy you like without getting touched by them or knocking someone off.

As the name suggests, this fetishistic bodysuit is made of latex. Latex is a stretchy material that follows the natural contour of the wearer's body. It embraces every inch of your body, emphasizing your curve and asset. It's also fully waterproof, which means you can get down and dirty anytime and anywhere you want.

But unlike any other clothes, you need to prepare your body before putting it on. Latex is a delicate material, so you have to lube up your body to prevent damaging it while wearing it. You may use a silicone- or water-based lubricant. But if you don't have any of these lubes, talc powder is a perfect alternative. Apply any of these products liberally all over your body, then gently put this bodysuit on.

Start by slipping one of your thighs into the legs, then the other one right after. Gently push it up until you slide your dick into the sheath. Put your arms into the sleeves, and zip it. Voila! You're ready to rock your new look and the bed, too. Flaunt it in front of your lover, and we guarantee you; she won't be able to resist you.

You can get this Kinky Full Body Latex Condom in different colors and sizes. Choose one, and add it to your cart!
Specifications
Color
Transparent, Pink, Red, Blue, Black, Orange, Yellow, Purple
Material
Latex
Sizes
XS, S, M, L, XL, XXL - Refer to the size chart below
Recommended for
Men
Washing Tips and General Instructions
Handwash in warm water without soap or detergent.
Leave it to dry flat and dust with talc.
Do not tumble dry.
Do not iron.
Do not dry clean
Sizing Guide