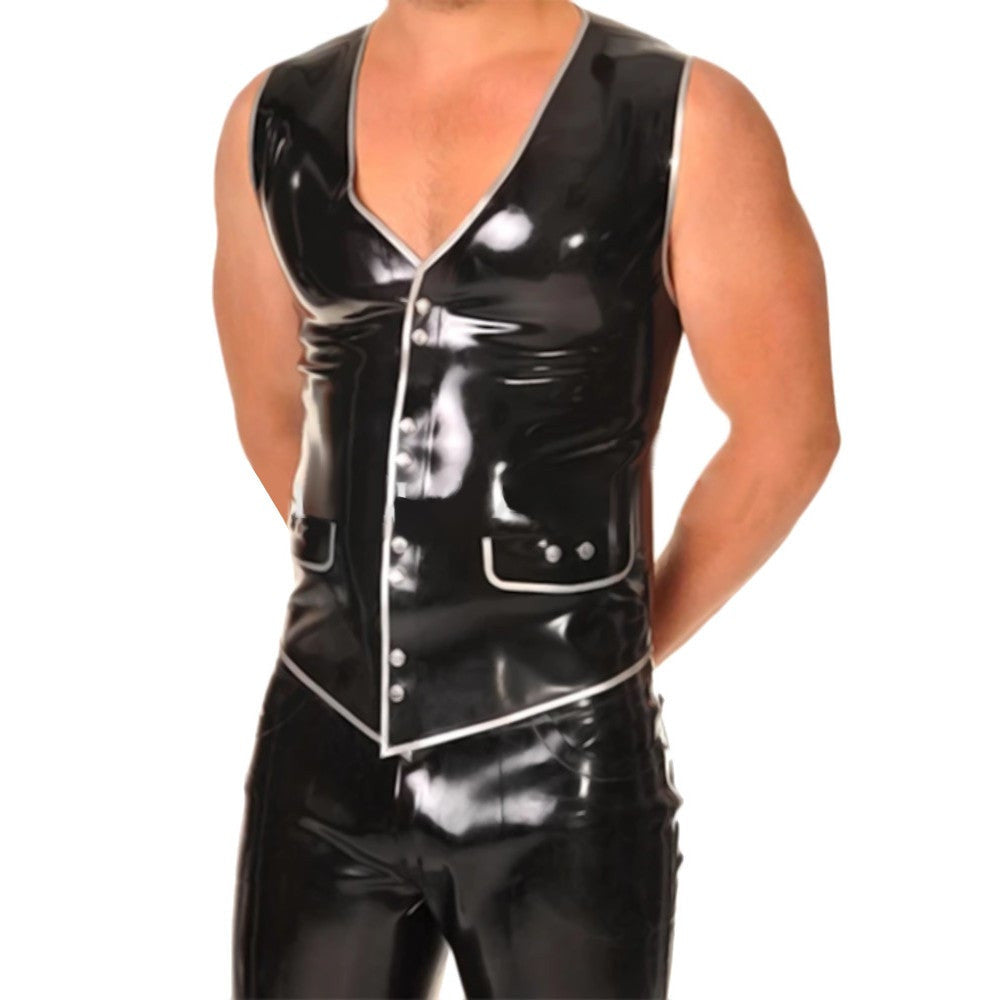 Handsome Hubby Latex Vest
Your woman is so obsessed with you that she thinks you are the most handsome man in the entire universe. Well, who couldn't blame her if what he sees in you are your highly masculine facial features, noticeable chest muscles, strong biceps and triceps, and six-pack abs?

As a reward and consolation in her obsession, you need to feed her mind and libido by showing her what she wants. Heighten your body's assets by wearing an outfit that will stress all your muscles for her to see. Use a vest, like the Handsome Hubby Latex Vest, and make her crazy with your overall look.

This pure latex vest features a plunging neckline to show off your bulky chest. It is so tight-fitting to sharpen the shape of your body—an inverted triangular-shaped one. And of course, how can it be a vest if it's not sleeveless? It has a glossy texture that looks heavenly sexy to its wearer. It is studded with metal snap buttons to give this gear a punky touch. These buttons also serve as the vest's fastening mechanism to secure its fit when worn.

Be surprised to know that it comes in 15 color variants, so your choice is not limited to the one in the photo. Measure your upper torso's dimensions now, and compare them to the numbers in the chart below. This vest comes in six sizes.

Wear it occasionally at costume events and parties or simply when your woman asks you to do so. Entice her and seduce her as you put it on, then slowly strip it off. Give her a lap dance that she will never forget. End the play with rough sex after. Just remember to wash the vest from time to time to maintain its quality and shine. Get the washing and cleaning tips on the matrix below.

Prove your lover that she made the right choice in choosing you as her partner. Always make her happy by giving her a sight to see. Use this Handsome Hubby Latex Vest always on your foreplays!
Specifications
Color
Clear, Pink, Red, Sky Blue, Blue, Green, Black, Army Green, White, Gold. Orange, Silver, Brown, Yellow, Purple
Material
Latex
Sizes
XS, S, M, L, XL, XXL: Refer to the size chart below for the measurements
Recommended for
Men
Washing Tips and General Instructions

Hand wash only.
Do not iron.
Do not use chlorine-based solution.
Use latex-friendly cleaner.
Sizing Guide