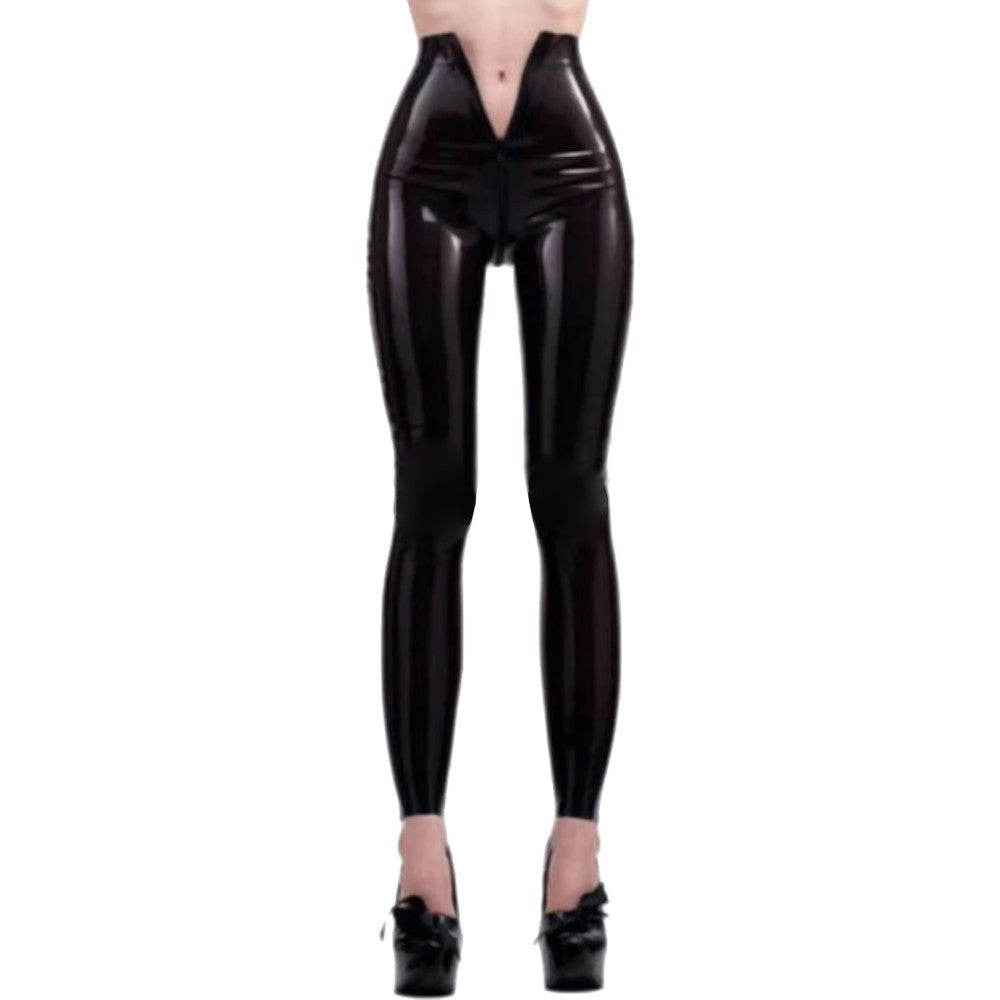 Stomach in, chest out; these are the basics of achieving proper posture and looking confident. As for some, it's easy-peasy. But some people may find it easier said than done. Tuck your tummy in with these High Waist Rubber Tights and feel sexier than ever.

Aside from emphasizing the curvature of a woman's waist, high-waisted pants can also make the wearer's legs look slender. These High Waist Rubber Tights will hug your waist, shape your butt, thighs, and legs. Thus, boosting your confidence, unlike other pants can. It can cover your body from above your waist down to your ankles. You can keep it tight and zip it up at the front. The tights alone may seem plain, but that's what makes them versatile and easy to style. Its simplicity makes it a perfect outfit to wear on almost any occasion. Put on a plain cotton shirt over it and make it your most eye-catching casual look. A glittery top and stiletto shoes will turn these pants into a party outfit. But if you're looking for a more striking look to be an effective mistress, then wearing a leather bustier while holding a whip or paddle is enough. In other words, you might end up wearing these tights more often than you plan.

To make the most out of these tights, you need to take good care of this piece. Do not pull the material and force your legs into this skin-tight outfit. Avoid tearing or damage by smoothly gliding into the pants with the help of talcum powder or lubricant. Steer clear of detergent soaps as they can ruin the material. Instead, wash this diligently with warm water and mild soap. Air dry is enough, as using your tumbler dryer is also harmful to this piece.

Get a pair of these tights (or two) and pick from the eight colors available! Buy now!
Specifications
Color
Blue, Sky Blue, Orange, Pink, Purple, Red, White, Yellow
Material
Rubber
Sizes
S, M, L, XL, XXL (Refer to the size chart below for the measurements)
XXS, XS, 3XL, 4XL : N/A
Recommended for
Women
Washing Tips and General Instructions
Wash in warm water. Avoid detergents and soaps. Wipe away excess water with a soft towel. Leave to dry flat and hang up to air dry. Never tumble dry, dry clean or iron.
Sizing Guide