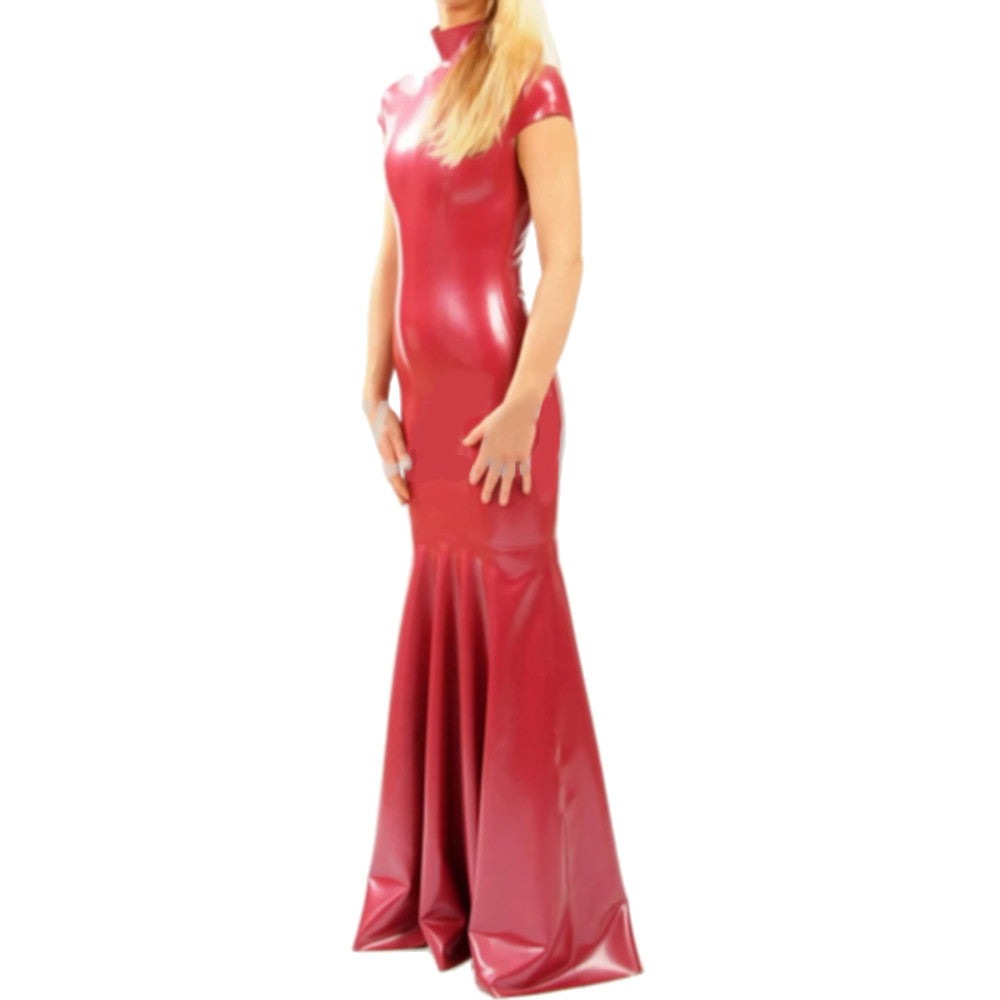 Beautiful Belle Latex Gown
Your husband suddenly invited you to a dinner date. It's been a while, and in between your busy schedules at work and looking after the kids, you can't remember the last time you got to dress up and have a quiet, intimate dinner with your man. And because of that, you didn't want to wear something he has seen before. You want to give your style a new vibe and feel. . .something that's smooth and shiny like butter. Look no further, as this Beautiful Belle Latex Gown will give you a classy yet sexy look that you are after.

Keeping the spark alive between couples takes effort. Aside from constant and open communication, trying new things to keep the thrill and excitement flowing is also a must. And while satin has been one of the most preferred fabrics by women for years, there's another clothing material that looks sexier and sultrier, and that's latex. If you want to look elegant in a modern way, let this Beautiful Belle Latex Gown give you a juvenile guise.

This mermaid dress has a turtle neck and short sleeves. It is tight-fitting from you the neck down to your thighs. And from there, the skirt gradually flares, forming an A-shape down to the floor-length seam. The dress alone already looks glamorous, but if you want to accessorize it, you can do so. You can put a thick belt around your waist to add more color and contrast. If you want it to look more audacious, then perhaps a corset can do the trick.

And because this stretchy material is tight-fitting, it is best to sprinkle some talcum powder on the interior side before putting this gown on. Alternatively, you can wear a latex lube instead of powder.

There's a dozen of colors available. Look and feel at your best by adding this gown into your cart now!
Specifications
| | |
| --- | --- |
| Color | Red, Black, Blue, Brown, Gold, Green, Orange, Pink, Purple, Silver, White, Yellow |
| Material | Latex |
| Sizes | XXS, XS, S, M, L, XL, XXL (Refer to the size chart below for the measurements) |
| Recommended for | Women |
| Washing Tips and General Instructions | You can wash rubber garments using clean warm water. Avoid detergents and soaps. Always wipe away excess water with a soft towel and leave to dry flat or hang up to drip dry. Never tumble dry, dry clean or iron your garment. Do not use washing powder or bleach for washing. |
Sizing Guide