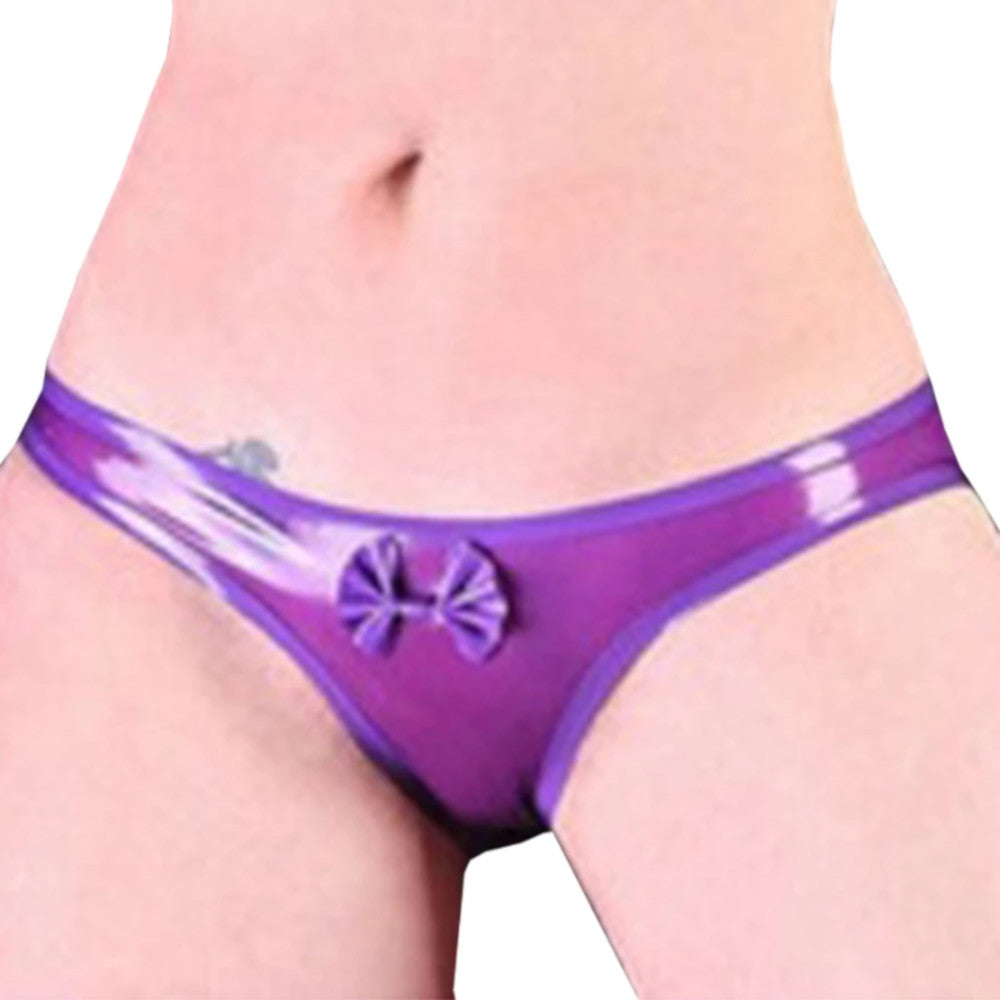 Cute Transparent Latex Knickers
Patience is a virtue. And you don't have it. So while waiting for true love to sweep you off your feet, you let hot studs sweep you to bed with steamy one-night stands. And you see to it that your wardrobe is full of dirty stuff you can wear during those late-night calls. You know how the song goes; when the hotline bling, it could only mean one thing.

Only the hottest booty call deserves the Cute Transparent Latex Knickers, so you better decide when to use this special item of kink. Made of high-quality latex, this undergarment is like nothing you've ever seen. It's tight-fitting, seductively clinging to your nether regions and effectively luring your prey to come closer. The classic bikini cut is something that nobody can resist. Its sexy, low-rise design exposes your toned abs and the smoothness of your thighs. It even has a playful little bow, denoting the cuteness your partner is about to witness. This might be a flimsy excuse to cover your pussy, because this lingerie is so raunchy, he would immediately want to take this off so that he can have a taste.

To have mind-blowing sex, showing up scantily clad and almost naked is the way to go. Lucky for you, it's a walk in the park when you have these panties on. The transparent material makes everything more exciting, granting a sneak peek of what your body has to offer. These undies come in six colors—one for each week if you want to rest on Sundays.

The only thing that can keep you from buying these naughty knickers is having an allergic reaction to latex. This aspect is very crucial since you'll be wearing these panties on top of your genitals. You don't want to catch the bad kind of itch, so you have to ensure that you'll be safe to have this covering your gem.

It's the Cute Transparent Latex Knickers or nothing. No other undies come close. So hurry and purchase yours before all supplies get wiped out!
Specifications
| | |
| --- | --- |
| Color | Black, Purple, Transparent Purple, Yellow, Pink, White, Red |
| Material | Latex |
| Sizes | XS, S, M, L, XL, XXL- Refer to the size chart below for the measurements |
| Recommended for | Women |
| Washing Tips and General Instructions | Wash in clean warm water with no detergent or soap. Do not dry clean or iron. Lightly dust talc before putting it away. |
Sizing Guide