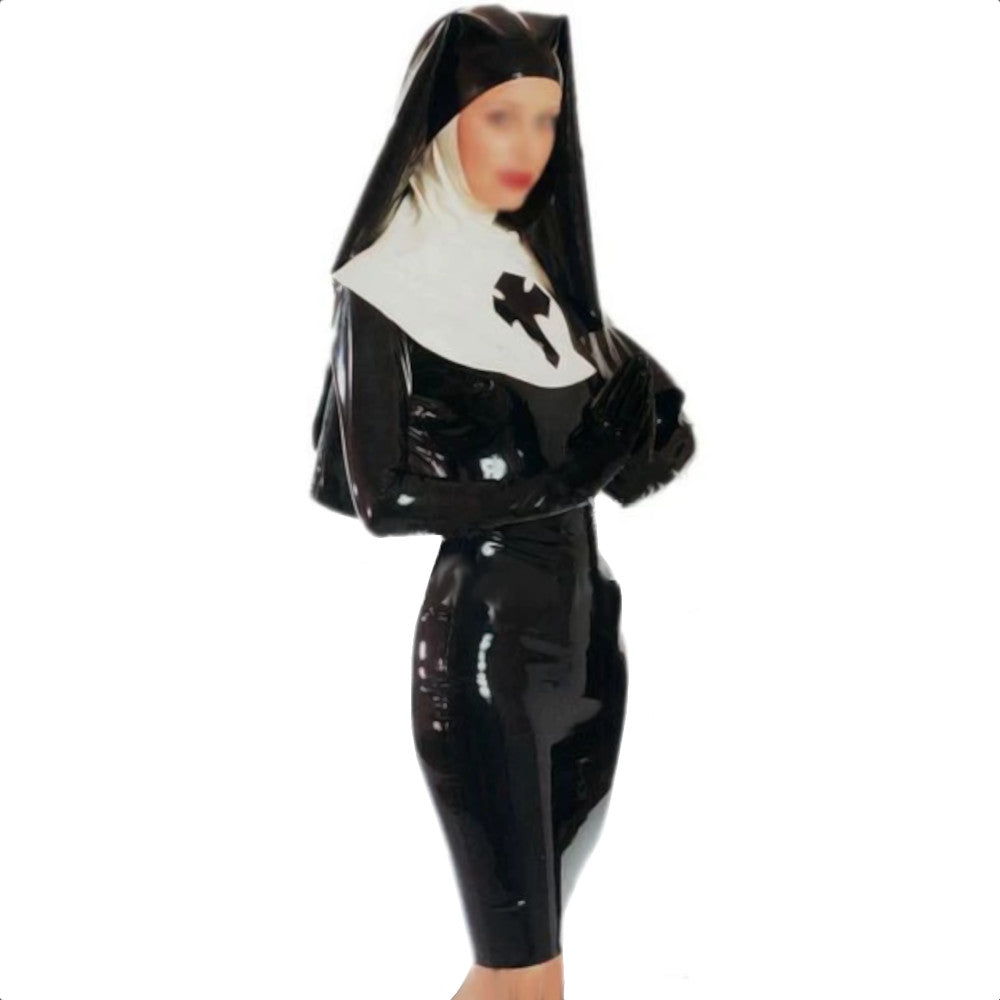 Mixed Morality Sexy Nun Costume
Nothing is more exciting than trying what's taboo. One can never explain the thrill that you get when you know that you're not supposed to do such things, but you went ahead and did it anyway. It's dangerous, but it's also fun—and most of the time, pleasurable. Why do bad things always have to be so tempting?

Take, for instance, the Mixed Morality Sexy Nun Costume—it's something you shouldn't be considering, but here you are, browsing the item. No one's blaming you, though, because this outfit is so pretty. It's a show-stopper for all valid reasons. This high-quality nun habit uniform gives an unconventional flair to a dignified article of clothing. It's super tight and hugs you snugly to bring out those sexy curves. For the record, this outfit covers your body. It has long sleeves that wrap your arms, so your skin remains untouched. The hemline of the pencil-cut skirt goes right above your knees, which is not skimpy and revealing as the norms would go. It's complete with a wimple, which covers your neck, sides of the face, and your hair—in an attempt to mask your beauty. Lastly, this costume comes with a pious veil draped gracefully over your shoulder because it is made of premium rubber.

This apparel is stunning, but there are some things that you have to consider when purchasing it. Well, aside from your morality, that is. You must make sure that you have no allergic reaction to latex because this may cause a serious health risk if this detail isn't given proper attention. If you've established that you're safe wearing it, then go ahead and have fun with this piece—in whatever ways you can think of! And if you're a tranny, you'll find this nun costume a great addition to your collection.

Are you a sexy sinner? If the answer is yes, then add the Mixed Morality Sexy Nun Costume to your cart today. You can always pray for forgiveness later.
Specifications
| | |
| --- | --- |
| Color | Black with White, Blue with White, Purple with White, Apple Green with White, Baby Pink with White, Transparent with White, Transparent Black with White, Transparent Brown with White, Transparent Purple with White |
| Material | Latex |
| Sizes | XS, S, M, L, XL, XXL- Refer to the size chart below for the measurements |
| Recommended for | Women or Men |
| Washing Tips and General Instructions | Wash in clean warm water with no detergent or soap, Do not dry clean or iron, Lightly dust talc before putting it away |
Sizing Guide