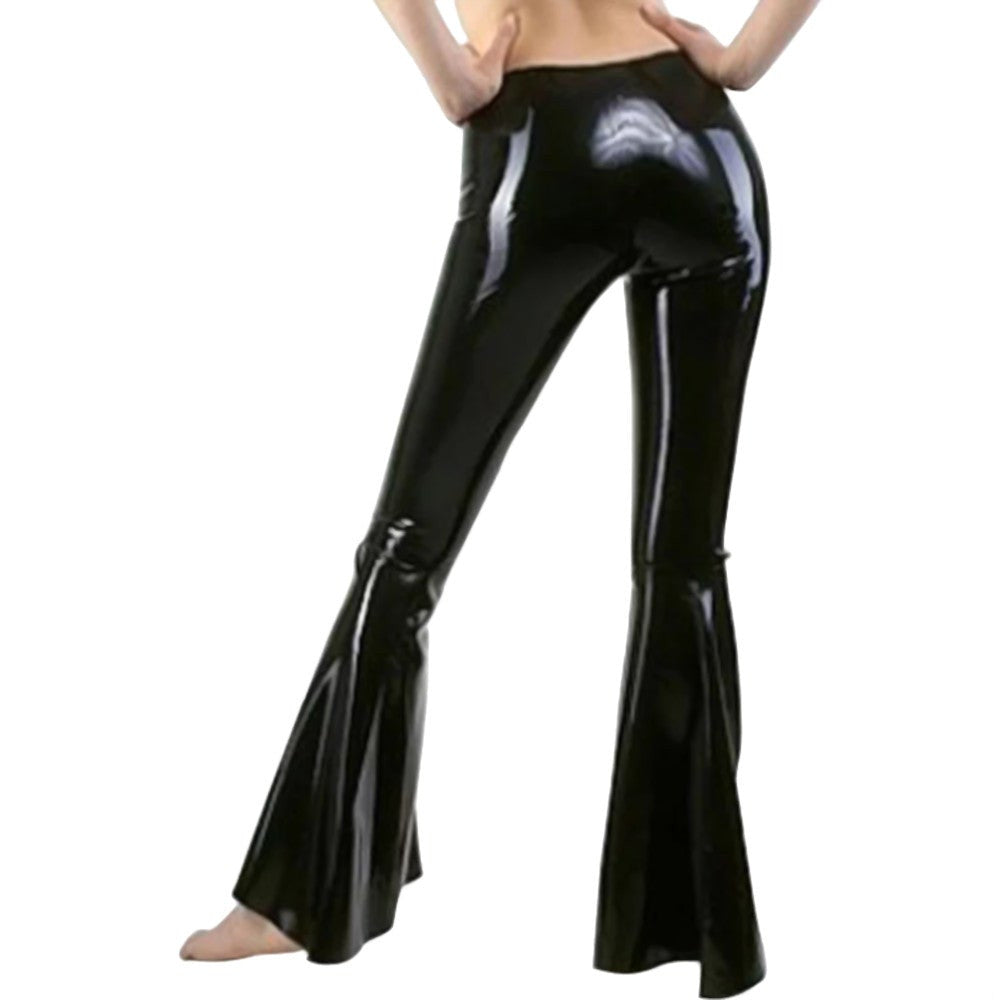 The '70s was such a memorable decade that there's a TV sitcom in its name. You may not yet be alive during this colorful decade, but you still see its influence nowadays. From music, hairstyles, and most of all, fashion. Retro style never gets old. And if you're a fan of this fad, then these Retro Latex Trousers are a must-have.

Your taste in fashion seems to be a few decades late, but you don't mind. The latest trend doesn't look appealing to you, and you prefer to stick with bell-bottoms and flared pants. But if you're looking for a retro outfit with a modern touch, the Retro Latex Trousers is here to give your fashion sense and a new approach.

This piece is tight-fitting from the waist down to the knees so you can sway your hips with confidence. From the knees, it gradually flares to form a cone-shaped bottom. It has a versatile design that is not that hard to mix and match. Any plain shirt will look good with these lustrous trousers. But if you want to milk it, then you can wear a colorful top with ruffles.

Caring for your latex takes diligence. It starts with the way you put these trousers on. Using your fingers to pull the material can cause tearing and damage. So, what you need to do is rub some talcum powder or dressing aid on the inside so your feet and legs can glide smoothly. After wearing, it is best to wash it right away. As latex can be sensitive to harsh chemicals, you should avoid detergents or bleach. Instead, you should use warm water with mild soap and gently wash these trousers. Do not tumble dry as heat can affect latex negatively. Using a hanger, leave it out to dry.

You can get these trousers in six different colors. Pick the right size and add it to your cart now!
Specifications
| | |
| --- | --- |
| Color | Black, Yellow, Dark Blue, White, Red, Purple |
| Material | Latex |
| Sizes | XS, S, M, L, XL, XXL (Refer to the size chart below for the measurements) |
| Recommended for | Women |
| Washing Tips and General Instructions | Handwash in warm water without soap or detergent. Leave it to dry flat and dust with talc. Do not tumble dry. Do not iron. Do not dry clean. |
Sizing Guide