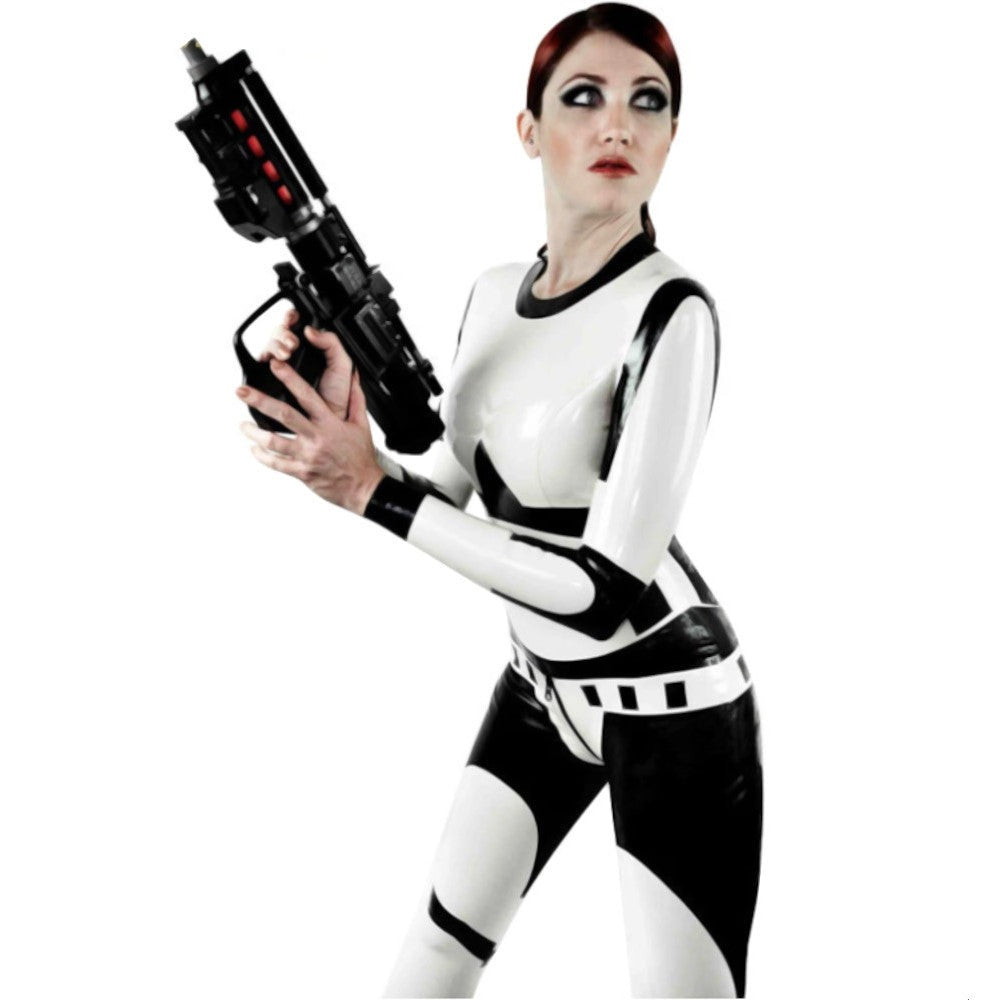 Princess Leia Latex Cosplay
Are you running out of ideas on what to wear this Halloween? Slutty nurse has run its course, and the novelty in baring your skin outgrew you—so what choices are left for you? You thought of dressing up as a slave Princess Leia, but being a Star Wars fan, you know you can do better. Suddenly, you were reminded of Han Solo when he disguised himself as a Stormtrooper, and you felt your loins burning. That's it! Your search for the perfect Halloween costume ends here.

The Princess Leia Latex Cosplay is everything your geeky heart can ever dream of—and then some more. Wearing this suit doesn't only mean you support the fandom, but it also gives you the chance to showcase how foxy you are without being too revealing. This premium-grade latex garment provides a tailor-fit and brings out your hourglass figure that most women wish to have. Capturing all the details of a Stormtrooper, this suit is a real conversation starter. The crisp black lines that lay seamlessly on the white-colored base exemplify stellar craftsmanship—and that's only one of the several reasons why you should be buying this bodysuit.

As with all the other latex suits, this product is also tight-fitting. Thus, it can be quite a challenge to put on. Don't worry; there's nothing a pea-sized amount of silicone-based lube can't fix. But if applying lube onto your skin makes you feel icky, dusting the insides of the suit with talc is a great alternative, too. If you wish to remove this costume so naughty things can commence, there's a long zipper that runs from your back to your crotch. Pull it down, and get ready for action!

You'll surely be a head-turner once you walk the streets wearing the Princess Leia Latex Cosplay, and you'll score a hot lad in no time. The force is strong in this one, so add it to your cart now!
Specifications
| | |
| --- | --- |
| Color | Dark Blue, Yellow, Pink, White, Purple, Red |
| Material | Latex |
| Sizes | XS, S, M, L, XL, XXL - Refer to the size chart below for the measurements |
| Recommended for | Women |
| Washing Tips and General Instructions | Wash in clean warm water with no detergent or soap. Do not dry clean or iron. Lightly dust talc before putting it away. |
Sizing Guide