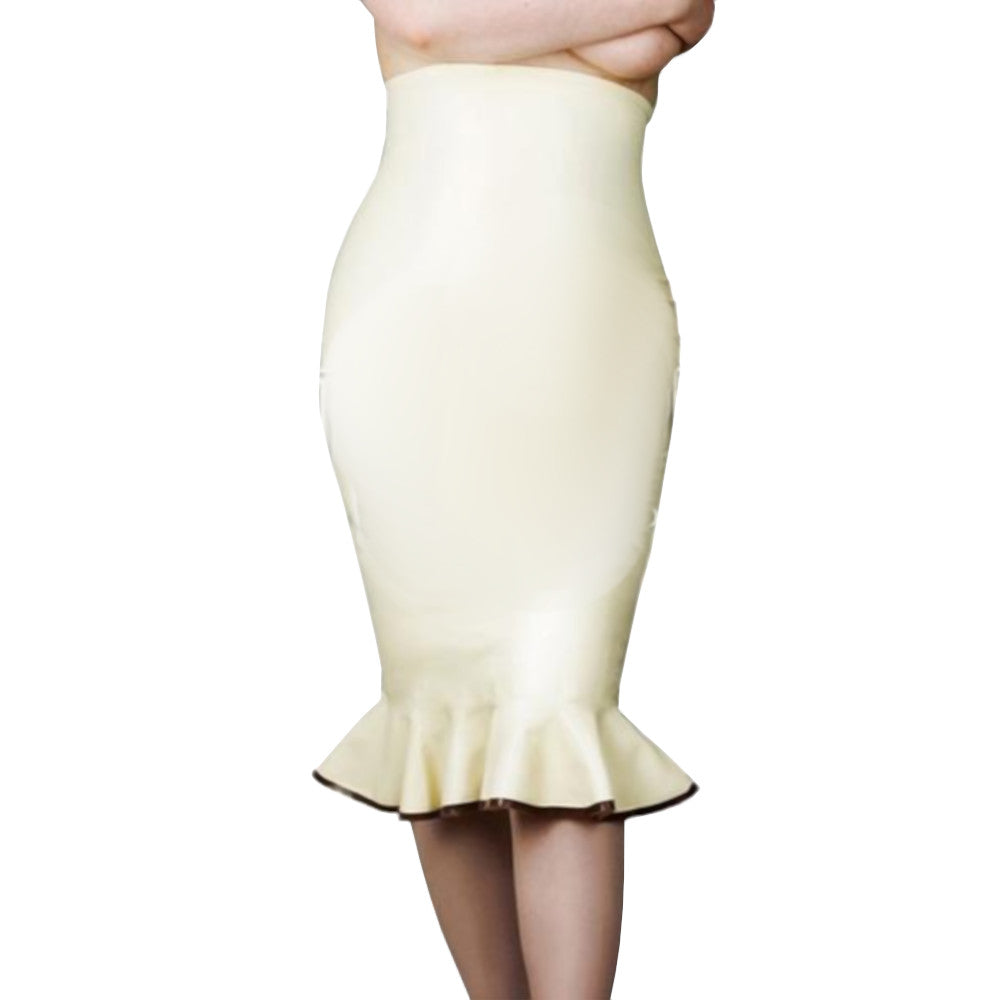 From waist to legs, your body is truly a bombshell. Many girls are so jealous of you because of your natural curves. And for this, they make gossip about you that you are a slutty whore, when in fact, you are this loyal and faithful woman to your man.

Don't let this grapevine grow. Stop the rumors and wear a classic outfit that makes you look reputable yet daring and sexy. Use this Tight White Latex Skirt and let them, girls, get more envious of your steaming hot body!

This hight-waist, below-the-knee serpentina skirt will give you a stunning look as it snugly fits your lower body. It takes the shape of your curvature as the material used in this skirt was 100% latex. It is stretchy and glossy and is known for its durability and high tensile strength. In a layman's term, it does not get torn easily—even when stretched so wide. It is skin-tight on the waist and smooth-flowing on the black-outlined ruffled hem. It comes only in a white variant, which is available in double extra small to extra large sizes. Measure your dimensions now to check which size fits your body.

Whatever top you complement it with, it will surely suit this skirt. Match it with your crop-top, blazer, or even your simple white shirt, and you will look regal and stunning. Use it as your casual attire with your flip-flops. Or, make it a formal skirt when you pair it with your high heels.

Make sure to research the best ways to clean this material. For general washing and cleaning techniques, check the table below for guidance.

You do not need to convince envious people to believe what you truly are. Laugh at them and make them more insecure by letting them see you wear the Tight White Latex Skirt. Get this lovely piece now!
Specifications
Color
White
Material
Latex
Sizes
XXS, XS, S, M, L, XL: Refer to the size chart below for the measurements
Recommended for
Women
Washing Tips and General Instructions

Hand wash only.
Do not iron.
Do not use chlorine-based solution.
Use latex-friendly cleaner.
Sizing Guide