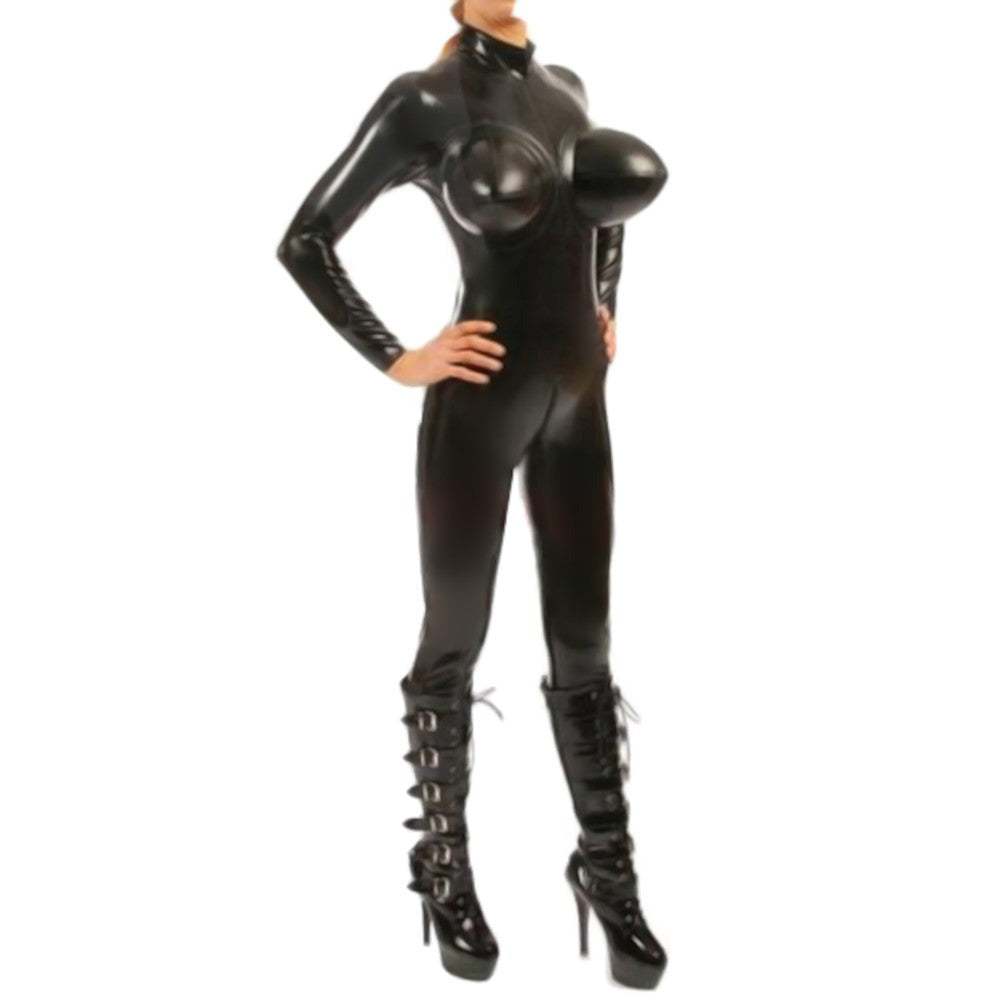 Incredible Inflatable Latex Catsuit
Your boyfriend likes women with big breasts. It's his fetish, which is why he encourages you to put on a push-up bra whenever you go out or make out. But you know how uncomfortable it is to wear a bra—let alone a push-up bra that is why you don't wear them.

You'd rather wear nipple covers or nothing at all. But you love him so much you're considering having a breast implant, no matter how expensive it is.

Hold your horses there, lady! Instead of getting constructive surgery to satisfy your man's fetish needs, why not get an outfit that will increase the size of your boobs—literally? The Incredible Inflatable suit will double up the size of your tits in a snap. No need to do breast exercises or have an implant to increase the size of your watermelons. You only need to suit up and pump the breasts to improve their size. Voila! Your man will have a pair of big tits that he can squeeze and massage or even fuck!

A racy outfit made of Latex, this suit needs careful and proper handling, especially when you put it on. To do this, you have to prepare your body. Lube up your entire body with a silicone-based or water-based lube for easy wear. If you have none of these, talc powder could work. Apply a liberal amount of any of these products all over your body.

When you're ready, carefully slide your thighs into the pants, then your arms into the sleeves. Zip the back zipper to close it, and start pumping those tits, baby! Keep pumping until you get the desired size. When you're happy with your new look, go ahead and flaunt it to your honey and tease him with your big breasts. He'll surely leave what he's doing and do you instead.

Get the body that your man wants to fuck with this Incredible Inflatable suit. It's available in different colors and sizes, so go ahead and pick one that fits you and your hue for passion!
Specifications
| | |
| --- | --- |
| Color | Black, Pink, Purple, Red, Yellow, Sky Blue, Army Green, Dark Blue |
| Material | Latex |
| Sizes | XS, S, M, L, XL, XXL - Refer to the size chart below |
| Recommended for | Women |
| Washing Tips and General Instructions | Handwash in warm water without soap or detergent. Leave it to dry flat and dust with talc. Do not tumble dry. Do not iron. Do not dry clean |
Sizing Guide