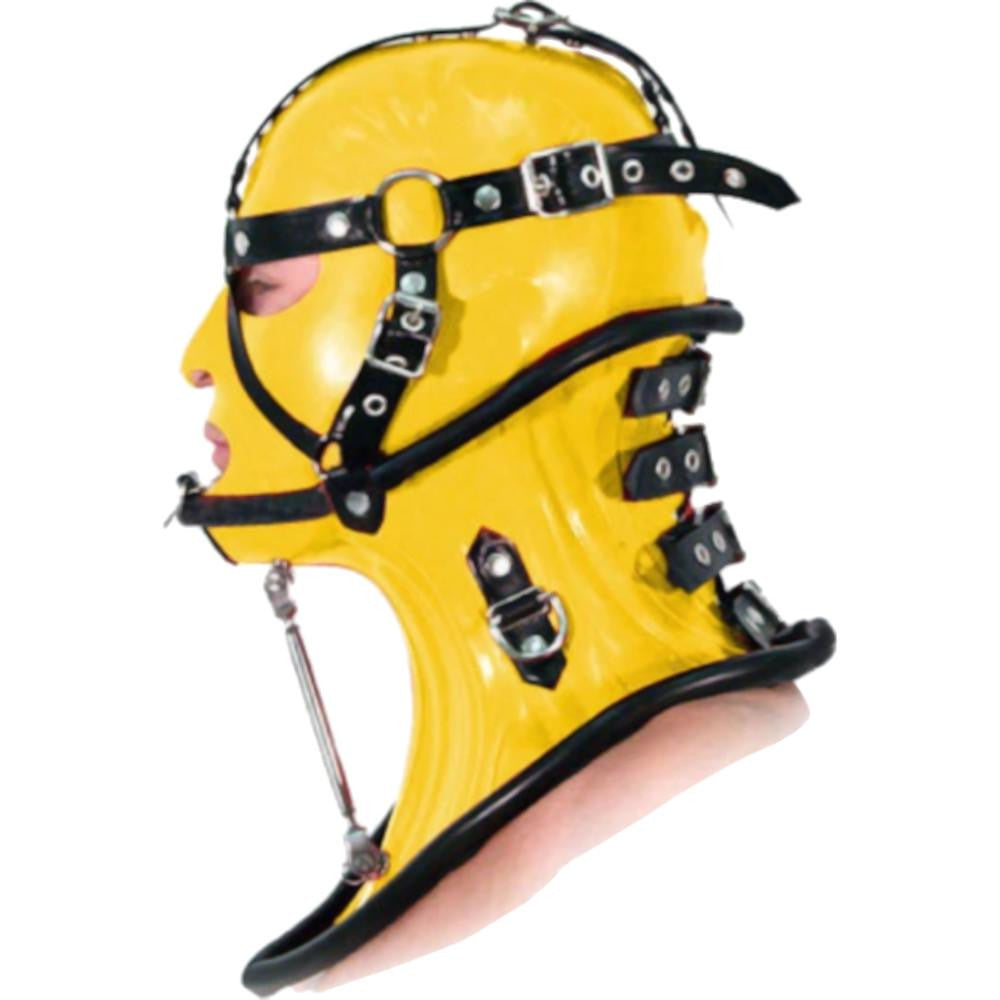 Faux Leather Latex Sex Slave Collar
You do not need to be rescued. The only reason why you want a knight in shining armor to find you is so that you can enslave him and have him under your spell. Strip him off of his armor and have him worship your feet. Or point out his weaknesses by humiliating him and making him suffer. Oh, you are such a naughty witch!

Nothing is wrong with a collar and a leash, but that just isn't your style. While the thought of having your slave naked from head to toe is deliciously appealing, your cavalier fantasies still draw you in. This is where the Faux Leather Latex Sex Slave Collar comes into the picture.

This headgear is not your cheap faux leather. It makes use of latex, a material lauded for its pliability and versatility. It is widely used in the fashion industry as an alternative for leather and has gained a huge following over time. Latex is a celebrity in the BDSM world. And this kink accessory will surely turn you into a rubber fetishist in no time.

This item is a collar and a hood combined. It covers your Submissive's entire head up to his neck, resembling a knight's helmet. It comes in a vibrant yellow hue with black straps and chunky linings for added details. To ensure safe play, this sex mask has holes for the eyes and the mouth and perforations on the nostrils as well. Adjustable belt-like straps adorn the face area, which then connects to the top of the head. These can be found along the nape, too. You can play with the tightness of these straps and set them up according to your preference. You can clip a tiny vertical metal rod at the neck and the chin to assure that your slave will always hold his head up high—like a true blue warrior.

Get your partner to stick his rigid sword inside you whenever you please. Purchase the Faux Leather Latex Sex Slave Collar today!
Specifications
| | |
| --- | --- |
| Color | Yellow with Black straps |
| Material | Latex |
| Sizes | XXS, XS, S, M, L, XL, XXL"Refer to the size chart below for the measurements" |
| Recommended for | Women or Men |
| Washing Tips and General Instructions | You can wash rubber garments on clean warm water. Avoid detergents and soaps. Always wipe away excess water with a soft towel and leave to dry flat or hang up to drip dry. Never tumble dry, dry clean or iron your garment. Do not use washing powder or bleach for washing |
Sizing Guide