Bikinis and swimsuits have always been designed to showcase the parts of your body that deserve to grab everyone's attention. With latex, the skin tight material hugs your curves in all the right places, making you feel like the star of your own show. Imagine the sensation of walking along the beach with all eyes on you, your confidence soaring as you flaunt your figure in a latex bikini.
If you want to make yourself stand out on the beach, pool, or in the bedroom, latex swim wear offers a sexy blend of empowerment and revealing, form-fitting curves. We offer latex, vinyl, or a PVC swimsuit in an array of different styles and colors to suit your preferences.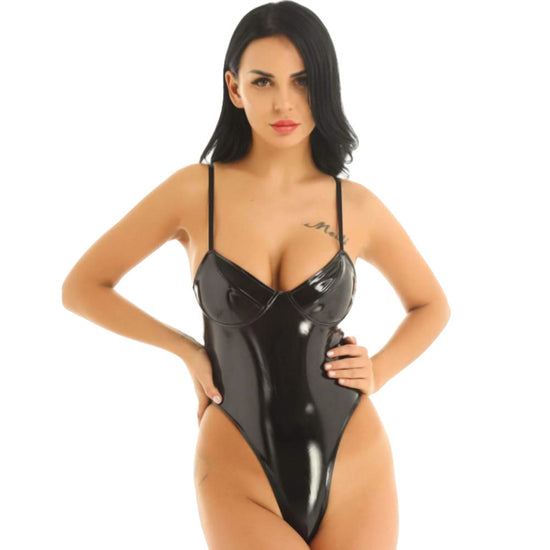 Make Sunglasses Turn Across The Beach
Latex bikinis and swimsuits give you the power to command attention through your walk, posture, and poise. As you stroll along the shore in your latex ensemble, watch as sunglasses tilt down and heads turn to admire your captivating presence. The latex's glistening sheen beautifully contours your body, making your every movement a work of art. Your partner won't be able to resist the jaw-dropping effect when you bend over to lay your towel on the warm sand, the latex accentuating your tight and alluring silhouette. Latex's ability to embrace your hips so snugly will leave you with an envy-inducing hourglass figure, boosting your confidence like never before. With a latex swimsuit, every woman becomes a beachfront sensation.
Why Choose Latex Over Other Materials?
What sets latex apart from other materials is its ability to tightly conform to your body, creating a sensation almost like being naked, yet with a glossy and wet look that's irresistibly alluring. Latex is designed to withstand dynamic movements, ensuring you can flaunt your curves without restriction. While cheaper alternatives like a PVC or vinyl bikini exist, they lack the luxurious feel and durability that latex provides. Latex is a natural material derived from rubber trees, while Laidtex swimsuits marked as rubber, like our rubber swimsuit, are a mix of synthetic and natural. The difference lies in the authenticity and quality that latex offers, making it the top choice for those who seek the ultimate in sensuous swimwear.
Choosing The Perfect Latex Bikini For You
Each individual has their own unique taste in swimwear, whether it's a one-piece or a two-piece ensemble. The same goes for color preferences. Some might like bright hues such as yellow, orange and pink. Whereas others prefer the classic allure of a deep red or black.
If you want to turn heads and make a bold statement, transparent latex swimsuits are an option worth considering. The variety of styles available caters to all tastes and needs. Conservative options include swimsuits with sleeves or high neck closures, while those with eye-catching assets can explore plunging necklines, strapless designs, or high-cut options.
Latex, along with other materials like rubber swimwear, a PVC bikini, or a vinyl swimsuit, offers great options for an affordable and high-quality shiny swimsuit that's favored by many. When you want to stand out and revel in the spotlight, a latex bikini or shiny swimwear are the go-to choice.
How to Easily Wear Your Bikini
Wearing a wetlook bikini can be tough at first, especially if it's a one piece design. Two piece designs usually just require clean, dry skin and patience to slip in. To slip into your latex bathing suit with ease, use talcum powder and dust it liberally along your skin and the surface of your suit, or use a latex-friendly silicone lubricant if your latex bodysuit is tough to get on. This will prevent sticking and potential damage to the material. Make sure to remove jewelry as well.
Not Just For The Beach
Latex bikinis and swimsuits aren't limited to the beach alone. They serve as versatile outfits for foreplay, strip teasing, or the deed itself with open-crotch or zipper designs. Try a transparent swimsuit to exhibition on nudist beaches, a BDSM meetup, or to skip the strip-teasing phase with your partner in the bedroom.
Latex suits, whether formed from natural latex or semi-synthetic rubber, have a seductive allure, and the sensation of this material against your skin and the visual impact it creates can intensify any BDSM play. It can complement your domme outfit, showing your delicious body off to your sub while you watch them quiver in anticipation over you.
Caring For Your Latex
Proper care is essential to ensure the longevity and brilliance of a latex bikini or swimsuit. Exclusively hand wash your latex attire in the sink or bathtub, using lukewarm water and latex-qualified detergent. After washing, rinse your clothes thoroughly with clear water. For that extra shine and flexibility, give your latex a final washing with lukewarm water and a small amount of silicone oil. This routine will help maintain the material's suppleness and keep it looking as alluring as ever.
Remember, latex gives you that "bad bitch" aesthetic, so embrace it with confidence. Walk with purpose, sway those hips, and let the latex do its magic by adding contouring highlights to your assets. Whether you have a voluptuous figure or a more petite frame, latex will accentuate your best features and leave everyone around you spellbound. Whether you revel in the sensation of skin-tight, elastic garments embracing your most intimate areas or find excitement in seeing your partner in rubber swimwear, latex bikinis and bathing suits have the power to evoke an erotic vibe like no other. With the material comfortably hugging your body, it accentuates your tight and juicy assets. Latex swimwear is a perfect choice for those who want to make a splash on the beach, or the bedroom.