Lingerie is both an intimate way to show your partner that you care for their needs, and a celebration of your beautiful body. It has the unique ability to make you feel wanted and undeniably sexy. Latex lingerie takes this sexual appeal a step further with its skin-tight shine, adding extra shape to your body's natural contour with vibrant colors.
Wetlook lingerie covers a broad category of latex, rubber, and PVC bras, panties, stockings, and more options to cover your body while showing off just the right amount for a perfect tease. Make your partner unable to resist your allure as you wear latex lingerie that will have your neighbors ready with binoculars to capture even a glimpse.
Why Should I Try Latex Lingerie?
Romantic at heart? Or fancy being a roleplayer looking to spice things up? Perhaps both, and you're deeply immersed in BDSM and fetish play.
Latex tightly hugs your body, accentuating your curves and showcasing your assets like nothing else can. The material has a captivating wet look that reflects light in all the right places, leaving you feeling irresistibly sexy.
Latex and alternatives like PVC lingerie and rubber are stretchy and adaptable, molding themselves to your waist, hips, and entire body. This versatility is perfect for a variety of bedroom scenarios, whether you're engaging in romance, roleplay, or BDSM. When you slip into latex, you'll instantly feel and look like a goddess. Contrary to popular belief, latex lingerie can be comfortable for the wearer, making it ideal for extended periods of wear. You'll not only look stunning but also feel fantastic.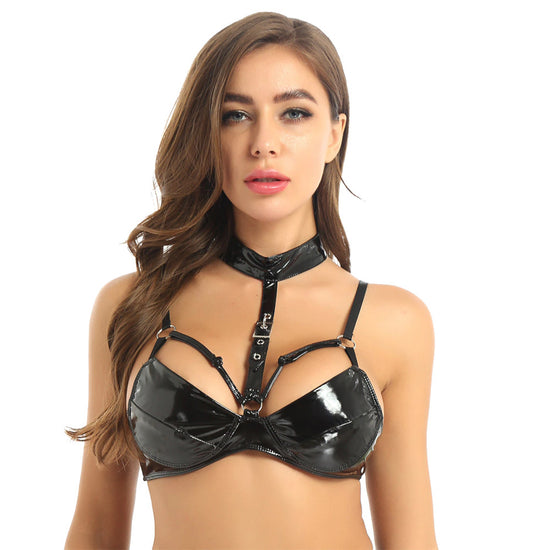 Wetlook Lingerie Offers So Many Sexy Opportunities
If you're new to latex clothing, it's worth considering cheaper materials like PVC, PU leather, vinyl, or synthetic rubber. While natural latex comes from rubber trees and is the highest quality wetlook material, it is quite expensive compared to the alternatives. It is known for it's superior elasticity, strength, and incredibly shiny look, but alternatives materials allow cheaper cost by not getting made-to-order latex lingerie, which comprises most of Laidtex's authentic latex stock.
Shiny lingerie offers tons of options to spice up your wardrobe and bring out the sexiest side of yourself. Panties and bra's are classic options to add a skin-tight shine to, but there are plenty of other options for kitting out your latex lingerie look.
Wetlook Panties: Americans, Brits, and trans-nationalists—call them how you will—latex panties, latex underwear, or latex knickers, are the staple latex lingerie choice. Their glistening shine will highlight your butt, thighs, and carefully manicured inner thighs. Try zipper briefs to highlight more than just your butt as you sensually slide down the zipper. While Latex briefs are the penultimate panty material, cheaper materials that can substitute genuine latex panties exist.
PVC Panties: These keep the wetlook shine of latex panties, but at a fraction of the cost. PVC underwear are a great choice to ease into shiny clothing play and get your measurements just right before investing in a long-term latex option. PVC knickers, also known as vinyl panties, will keep tight against your butt just like rubber and are perfect for long-term wear or a tantalizing tease and surprise
Rubber Panties: Usually made from synthetic latex that may or may not contain natural latex, rubber knickers are cheaper than authentic latex but much closer to the real thing than PVC or PU plastics. Rubber underwear, or rubber panties, contain at least 40% natural latex when marked as rubber on Laidtex, which cuts down on production costs significantly while keeping the durability and elasticity of real latex. The only downside, is they are slightly duller than 100% latex.
Thongs: Choose latex thongs for minimal coverage that shows off everything. Who needs curvy when you can see straight those alluring cheeks? Show off your brazilian or supple, clean shave with latex or rubber that make your derriere look picture perfect.
Latex Bra: Moving our way up from the legs, bras are the next most common wetlook lingerie piece to shape your breasts in skin-tight latex. You probably know your bra size already, so choosing a vinyl bra or rubber bra that fits you will make it comfortable and amplify your cleavage. A rubber brassiere is a cheaper option compared to 100% pure latex, while a PVC bra is cheaper again. Both options sheen and gleam, but may not last as long as authentic latex.
Wet Look Stockings: Comprising shiny materials like latex stockings, rubber stockings, or PVC stockings, Laidtex wet look stockings are primarily sold in pairs of 2 and cover your toes all the way up to where your thighs meet your hips. Latex garter belts are sold in pair with stockings to provide a one-piece latex pantyhose set which will hold itself up and also outline your bum with latex.
Elevate the allure of your legs with latex stockings or pantyhose, making them appear longer and irresistible when paired with an outfit.
Lingerie Ensembles: Get creative with one or two-piece lingerie sets. Laidtex offers natural latex mix and match bra, panties, and stocking garter sets at a non-tailored, non made-to-order discount to create your dream latex ensemble at cheaper prices.
Jockstraps: Originally created for sports, mens latex underwear have transformed into a sexy choice. The unique design highlights a man's package and makes a man's package an irresistible touch.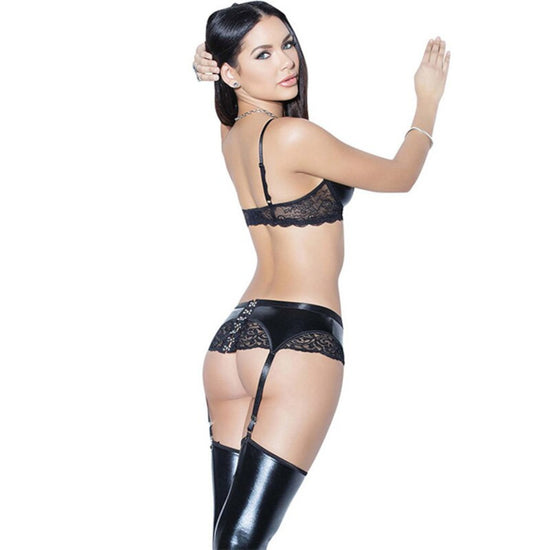 Latex lingerie isn't just for the bedroom. It can be worn to kinky parties, paired with fishnet stockings and high-heeled shoes, ensuring all eyes are on you as you keep yourself just covered enough to deter the authorities.
How Do I Wear Latex Lingerie?
Getting into latex or even vinyl lingerie can be a sensual experience in itself. Talcum powder dusted on your body and lingerie can help get tight latex on, but most lingerie will be easy to don as it has a low overall body-coverage, and require only clean, dry skin and patience as you slowly stretch it over your butt or breasts.
A good fit will keep your vinyl lingerie comfortable, but unlike most other latex, extremely detailed measuring processes are not required as most vinyl or latex lingerie is not made to order. Use your waist-size or bra-size to determine the right latex panty or bra size for you. Latex should hug your body without being too tight or too loose.
Plus size latex is usually designed to be extra stretchy and easy to fit, accommodating more body-types. As such, faux leather lingerie is generally used for smaller sizes as latex accommodates plus-size wetlook fashion without any risk of a damaging stretch.
Take your time and be patient when dressing in latex. It clings to the skin, so avoid long nails or jewelry that can cause rips. Use cotton gloves and ensure your skin is clean and dry.
How Do I Wash And Care For Latex?
Taking care of your latex lingerie is crucial for its longevity and allure. Follow these steps:
Hand Wash Only: Exclusively hand wash your latex lingerie in lukewarm water with latex-qualified detergent.
Rinse Thoroughly: After washing, rinse your garments with clear water.
Allow to air-dry by hanging with a non-metal hanger. Wood or plastic make great choices.
Store your latex lingerie correctly. Keep it in a box away from sunlight and potentially sharp objects that could pierce the surface.
For vinyl lingerie, avoid soaking as vinyl is not a waterproof material like latex. Dedicated vinyl cleaning wipes or sprays can keep the material moisturized and clean without the need for water. PVC lingerie, being formed from the same material as vinyl lingerie, needs to be cleaned with a vinyl cleaner as well.
Confidence helps you to find the sexy, seductive latex succubus buried deep inside you. Latex lingerie is just what you need to bring it out and drag your partner into the depths of passion.