Finding that perfect latex dress can be a challenge, but when you know what you need in terms of style, color, and design for your body type (not size!), you will gain access to a stunning fetish fashion wardrobe that makes you stand out like nothing else.
The key is to not conform to a dress made for a specific body size; it's about finding one that accentuates your unique body-shape. The various types of wetlook dress allow you to explore the palette of materials and colors available, and learn how different styles can enhance any body type, ensuring you feel both sexy and confident in your choice.
Types Of Latex Dresses To Suit All Body Types
A Latex dress is drop-dead sexy with a body-hugging fit and glossy sheen. They beautifully contour to your body, enhancing your natural shape and highlighting your best features. There are styles to suit all body types, regardless of you want to look hot in a small or a plus size latex dress.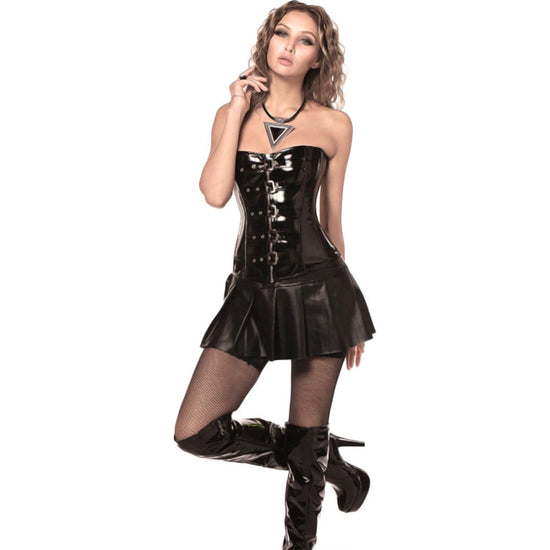 Latex Mini Dresses: The latex mini dress is a choice for those who love to flaunt their legs. It's particularly flattering for those with a petite frame or long legs, as it creates an illusion of height. This style can range from simple, sleek designs to more elaborate versions with intricate patterns or cut-outs. For a cheaper alternative, a PVC mini dress is a common substitute that can save the bank.
Latex Bodycon Dress: A provocative and form-fitting style known for its glossy and curve-hugging appearance, these are a tight latex dress that emphasizes your figure and is best suited for curvy people. Popular in fetish fashion and nightlife scenes, wear it to exude confidence and sensuality.
Latex Pencil Dresses: A timeless style and one of the most popular latex choices, these are perfect for those who want to showcase their curves, especially with hourglass figures. They follow the contoured line of your body, accentuating your waist and hips. This style is super versatile and suitable for a variety of occasions.
Latex Skater Dresses: With a fitted bodice and flared skirt, skater dresses offer a cute and more reserved look. They are excellent for those looking to balance a bigger upper body while still flaunting your booty as the flared skirt adds volume to the lower body. This style is often favored for its comfortable fit and flattering silhouette.
Latex Sissy Maid Dresses: If you thought pretty dresses were the domain of women alone, think again. These dresses have over-the-top girly and frilly, elaborate designs, making them perfect for those the discerning sissy looking to step into truly slutty shoes. They often feature voluminous skirts, puffed sleeves, and intricate detailing, making them stand out in any crowd (or to any bull!).
Latex Gowns: Merging the elegance of traditional evening wear with the glistening aesthetics of latex, a latex gown can range from sleek, form-fitting designs to more elaborate, flowing designs. They are versatile in design, suiting many body-types and are designed to turn heads.
Latex Corset Dresses: Wearing a latex corset dress not only offers waist cinching but also adds a classic, vintage touch. This style is perfect for those who want to highlight their waist and bust, offering both support and a striking visual appeal, while a pvc corset dress is a budget option for a similar look and the same waist tightening effect.
Latex Hobble Dresses: Tightly fitted around the legs, they create a stunning silhouette that accentuates the curves. It's ideal for those who wish to highlight their hips and legs while maintaining a sophisticated look. The restricted movement they offer makes a kinky choice for bondage play.
How To Wear And Look Fabulous In Your Dress
Each of these dress styles offers something unique, whether it's the playful flirtation of a skater dress or the total submission of a hobble dress. Choosing the right style can enhance your natural shape and ensure you feel confident and alluring. While latex is the most popular material, cheaper alternatives like a pvc dress (also known as a vinyl dress) can give you something close to the same look, while costing a fraction of the price. Synthetic rubbers or PU are also used to make the faux leather dress and the rubber dress, which blends between leather and latex in terms of appearance. When it comes to wetlook dresses, there are materials available to fit any preference in budget, feel, and look.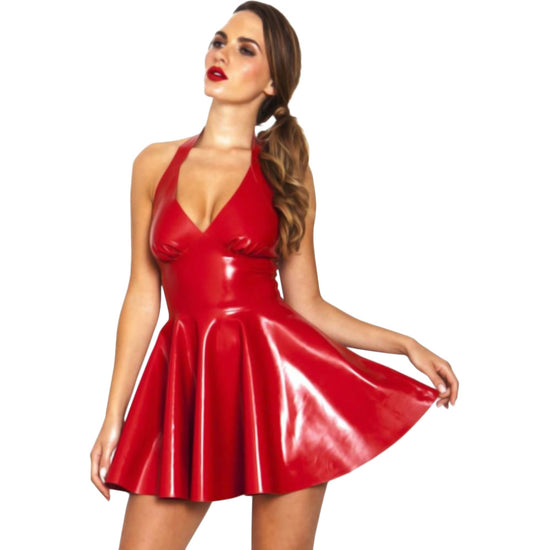 The color spectrum choices are as diverse as they are vibrant and impactful on your look. Soft pinks and purples are perfect for a toned-down, intimate theme, while bold and bright reds greens and blues offer a match for every mood and theme. A black latex dress can evoke an air of enigma and sensuality, perfect for those who prefer a subtle yet powerful statement. On the other hand, a red latex dress is the embodiment of confidence and desire, symbolizing both passion and dominance. A white latex dress offers an air of refinement and elegance, and there are plenty of other colors to fit the mood or vibe you're looking for—a transparent latex dress can take the mood even further by hugging your form and leaving all the goods on display!
Compared to other latex clothing, latex dresses are usually much more simple to wear, but still benefit from talcum powder dusting. It's recommended to invert the dress at the middle, folding it gently and stepping in feet first, before unrolling it and pulling it up until it's comfortably adjusted.
Every latex dress style offers unique advantages for different body types. The key to feeling hot and confident in a sexy latex dress is selecting a style that not only flatters your body shape but also resonates with your personality and personal style. Whether it's a figure-hugging mini, an sexy gown, or a playful sissy dress, the right latex dress can transform your presence, making you feel empowered and irresistible. Remember, the perfect latex dress is one that makes you feel superbly confident and undeniably yourself.