Latex leggings accentuate curves and boost confidence, standing out with their superior fit and shiny allure compared to materials like vinyl or PVC. Choosing the right pair involves considering fit, color, and thickness. Proper wearing techniques, including using talcum powder or lube, ensure a sleek look. Embrace the confidence and sexiness they bring to elevate your style and allure.
How To Wear Latex Leggings For Fashion Or Fetish
Latex leggings are tight and sexy form-fitting bottoms that accentuate your natural curves and highlight them even further with the shiny wet-look glisten of latex, giving you a sense of confidence and allure that's hard to replicate with any other material. Learn how to choose and wear latex pants, whether for a sexy fashion statement or as fetish wear.
To choose the right pair, consider the size, color, and style. Wear your latex leggings easily and comfortably by dusting with talcum powder or lube, and hang them in a wardrobe to avoid sun damage and creases.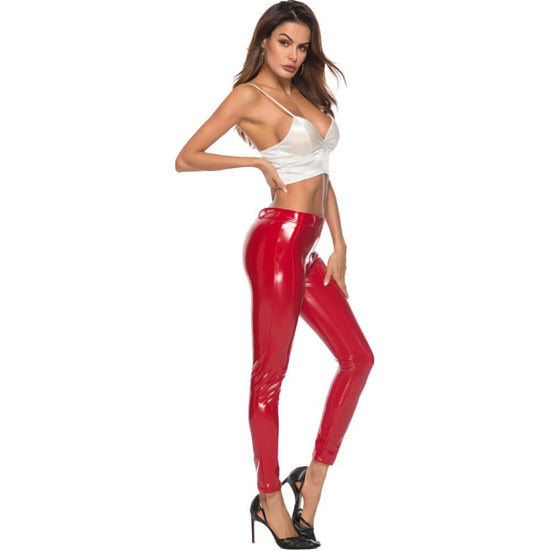 Why Choose Latex Over Other Materials?
Latex pants stand in a league of their own compared to other materials. Their strength and quality are unparalleled, providing a skin-tight fit that feels almost like a second skin. Unlike other materials, latex molds tightly to your body, accentuating every curve and contour in a flattering and sexy manner. While alternatives like vinyl leggings (also known as PVC leggings) offer a sleek and shiny appearance, they don't quite stand up to the superior quality toughness, and shiny allure that latex brings to the table.
Understanding the difference between synthetic rubber and natural latex will help you avoid scams or being tricked into buying an inferior material. Natural latex, when harvested from rubber trees, has a unique feel and durability that rubber pants can't match. In the fashion world, latex leggings make a devastatingly sexy look that fabric or PVC trousers simply can't compete with.
Choosing The Right Wetlook Pants
Latex leggings stand out compared to other bottoms as a bold and confident choice that makes you stand out from the pack. The way shiny leggings conform to your body's contours, highlighting your best features, is nothing short of mesmerizing. Their gleaming tone catches the light and the eyes of onlookers, making them irresistible to glimpse at your toned legs and sculpted posterior, commonly called a "latex booty".
Choosing the perfect pair of wetlook latex leggings requires you to look at a few things to ensure they not only look fabulous, but also feel comfortable. First up is size. Too tight, and they'll be uncomfortable or just won't fit entirely. Too loose, and they won't have the smooth, un-creased, and contour-enhancing effect. The thickness of the latex can also affect comfort, durability, and mobility, so choose according to your preference, how hot it is, and the occasion. When it comes to fashion, color of course plays a huge role both in matching your other attire, and giving off the type of vibes you want. Black latex leggings offer the classic wetlook glisten, while bold colors work well with cheaper materials like red vinyl pants. White or even transparent can make a more standout and striking statement.
There are several different styles and types of latex pants, with the main variations taking place on the length of the legs.
Leggings: Tight-fitting and covering yours legs from the waist to the ankles, they are similar to regular leggings but made of latex.
Tights: Similar to leggings, latex tights also fit snugly but are more like pantyhose, covering the feet.
Stockings: Sold in 2 pieces, latex stockings cover the feet and run all the way up to your thighs, typically being held by a garter belt. In some cases, they are sold as piece with latex underwear which holds them up.
Latex Trousers: These are full-length pants made of latex, covering the legs from the waist down to the ankles, resembling traditional trousers in style.
Wetlook Pants: With a glossy, wet appearance, they can be made of latex or other materials like pvc pants or rubber pants.
Crotchless Latex: These kinky and provocative pants are not intended for public wear, and have a hole for easy access to your crotch, allowing all the fun of sex without needing to take them off.
Shorts: Shorter in length, these cover from the waist to mid-thigh or higher. Latex shorts are a common material used but PVC can be a cheaper substitute.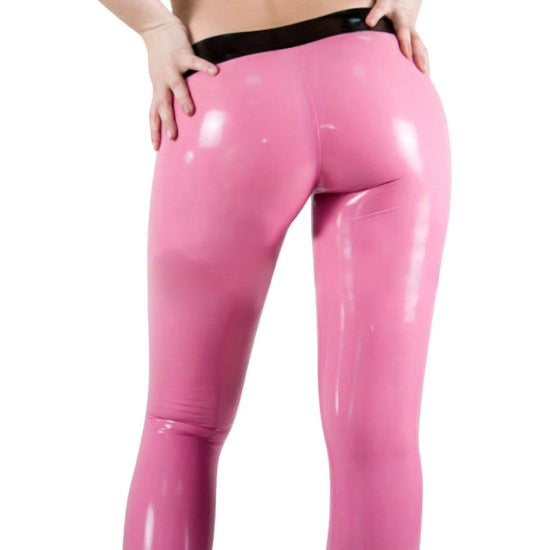 How To Easily Slip Into Your Latex Pants
Putting on latex leggings is tricky without knowing how, and doing it incorrectly might make you think your pants don't fit., but with these steps, it's straightforward.
Prepare Your Skin: Ensure your skin is clean and completely dry. Any moisture can make putting on latex difficult.
Avoid Oils and Lotions: Skip any body oils or lotions as they can degrade the latex.
Powder or Lube Up: Generously apply talcum powder or silicone-based lube (not water-based) to your legs and the inside of the leggings. This reduces friction, making it easier to slide them on and off.
Rolling Technique: Invert the waistband and roll the leggings down to the ankles.
Insert Legs Carefully: Slowly insert your legs, unrolling the leggings as you move upwards. Ensure you smooth out any air bubbles for a sleek look.
Final Adjustments: Once fully on, make any necessary adjustments to ensure a perfect fit, rolling out any bubbles in the pants until they're smooth.
Strut Confidently: Don't forget to walk with confidence and show off your stunning new look.
Proper Care: clean your leggings with warm water (soap-free) and store them correctly to maintain their condition. Follow the manufacturer's instructions for cleaning to avoid damage.
Tease and Become The Sexiest Person in The Room
The appeal of latex leggings lies in their ability to tease and tantalize. They accentuate your figure in a way that's undeniably sexy, making you the focal point of any room. The tight fit and shiny surface playfully highlight your assets, ensuring that you capture everyone's attention. The confidence you exude while wearing latex leggings is infectious, making you not just look, but feel like the sexiest person around.
How To Wear Latex Leggings For Maximum Effect
To maximize the impact of your latex leggings, it's all about embracing the attitude they bring. Here's how to do it.
Understand that latex boosts your sexual appeal. It's not just clothing; it's a message to the crowd.
Embrace the confidence that latex naturally offers.
As you walk, move with purpose. Let the latex accentuate the movement of your hips and thighs, creating an eye-catching play of light and shadow.
No matter your body size, latex leggings will highlight your best features, enhancing your natural allure.
Latex leggings accentuate your silhouette in a way that's both gorgeous and intimate without being revealing. The snug fit and glossy finish highlight every curve, reminding you of your allure and sexiness. When you step into a pair of latex leggings, you're not just dressing up, you're dressing to impress and get all the attention in the room.