In wetlook fetish fashion, the latex skirt reigns supreme as the ultimate choice for those seeking to make a bold statement. Why? Latex skirts are the best wetlook bottoms with many options available for those looking to spice up their wardrobe. A vinyl skirt is a cheaper alternative which makes them ideal for anyone looking to dip their toes into wetlook wear without splashing out too hard. A rubber skirt made from synthetic latex provides a more authentic look without being quite so expensive.
Embracing the Freedom of Skirts
Some may wonder why someone would opt for skirts over leggings or trousers in their wetlook wardrobe. The answer lies in their blend of sexiness, freedom, and versatility. Unlike constricting latex leggings or trousers, skirts allow for comfortable movement and an undeniable sensuality that transcends body types. Whether you're curvy, athletic, or petite, skirts have a universal appeal that can accentuate your natural beauty.
Styles Of Wetlook Skirts For Every Taste
One of the fascinating aspects of wetlook skirts is the sheer variety of styles available. From mini skirts that exude playfulness to tantalizing spanking skirts that cater to more daring desires, there's something for everyone.
Mini's
Latex mini skirts are all about making a statement. They hug your curves in all the right places, leaving little to the imagination. Whether you opt for cheaper alternatives like a vinyl mini skirt or a PVC mini skirt, the shiny materials accentuate your body's contours, creating an irresistibly sexy look. Pair them with a crop top or a matching latex bra for an outfit that screams confidence and allure.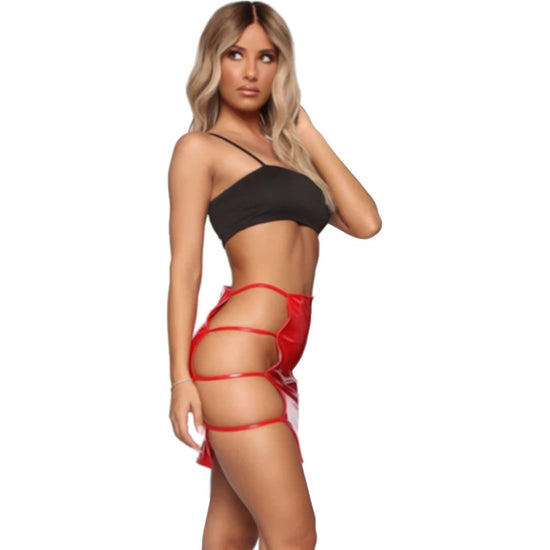 Hobble
Hobble skirts are the epitome of elegance and seduction. These form-fitting skirts narrow at the knees, forcing you to take shorter steps and creating a graceful, swaying walk. With their elongated silhouette and shiny latex finish, they're the perfect choice for a night of sophisticated fetish fashion.
Pencils
If you prefer a more classic and refined look, latex pencil skirts are an excellent choice. They hug your curves while maintaining a sleek wetlook appearance. Whether you're dressing for a fetish event or a night on the town, a vinyl pencil skirt is versatile and timeless, with a pvc pencil skirt close behind in offering total sexiness
Skaters
For those who love a flirty and playful style, a latex skater skirt is a fun, comfortable, and sexy option. The flared design adds a cute look to your wetlook ensemble. Paired with stockings or thigh-high boots, a PVC skater skirt is perfect for those who want to exude youthful charm.
Midis
PVC Midi skirts offer a blend of elegance and modesty. Falling below the knee, they're perfect for those who want to show off their curves while maintaining a touch of sophistication.
Spanking Skirts
For those who crave a touch of kink in their wardrobe, a spanking skirt is a slutty and fun choice. They feature strategically placed cutouts that expose just enough skin to ignite the imagination. Latex makes a resounding sound when slapped, so whether you're indulging in BDSM play or simply exploring your wild side, spanking skirts are designed to tease and tantalize.
Materials and Colors
Your choice of material and color can significantly impact the overall look and feel of your outfit. Let's explore the advantages and disadvantages of different materials like latex, vinyl, and PVC, and how color selection for each material can help you achieve your desired aesthetic without spending too much.
Latex
Latex comes in various forms, including natural, synthetic, and blended. Natural latex offers superior stretch and durability, making it a popular choice among fetish enthusiasts. Synthetic latex, while more affordable, may have a slightly different feel. Blended latex combines the best of both worlds, offering comfort and affordability. Consider your budget and desired level of authenticity. Popular colors for boldness and stand-out aesthetics include the pink latex skirt or red latex skirt. More refined and glossy alternatives include the black latex skirt or white latex skirt.
PVC
PVC skirts are a staple in edgy fashion with a flair for the dramatic. They radiate a glossy sheen, and provide a blend of fashion-forward aesthetics and practical comfort. Try a pink PVC skirt for a playful barbie charm, or a classic black PVC skirt to exude timeless elegance. For those looking to make a daring impression, the red PVC skirt is a showstopper. The clear PVC skirt, a daring choice that leaves nothing to the imagination but still hugs your butt tightly, contrasts with the white PVC skirt offering a crisp, clean look. Each color, from the vibrant to the subtle, crafts a different narrative, allowing for versatile styling options. They're not just about color but an expression of individuality and style.
From Fashion Statement to Fetish Fantasy
wetlook skirts bridge the gap between fashion statement and fetish fantasy. They can be worn with confidence as everyday attire or as the centerpiece of an intimate encounter. The sensual feel of latex against your skin and its enticing shine make every moment an unforgettable experience.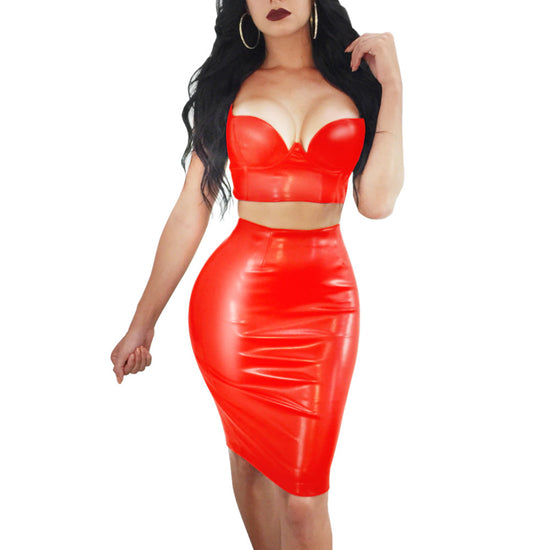 A Perfect Outfit Complement
Shiny skirts effortlessly pair with a variety of tops, from corsets to crop tops. Their versatility allows you to mix and match, creating a look that suits your mood and occasion. Whether you're attending a fetish event, a private rendezvous, or simply expressing your style, they are the perfect complement.
Easy to Wear
Unlike the struggle of squeezing into leggings or trousers, latex skirts are a breeze to put on and take off, and if it's correctly fitted, you may not need to use talcum powder at all. The stretchy material allows for a comfortable fit without sacrificing the allure of wetlook fashion. Slip into your vinyl skirt effortlessly and be ready to turn heads.
Unparalleled Sexiness
Last but not least, the sexiness of latex, vinyl, and PVC cannot be overstated. The way they cling to your body, the enticing shine, and the sensation of latex against your skin combine to make you feel irresistibly sexy and confident. They empower you to embrace your desires and exude sensuality.
There's a choice for every taste and occasion. Don't miss out on the sexual appeal—embrace the freedom, sensuality, and versatility they offer, and make a bold statement with the best wetlook bottoms in the game.