Embracing your role as a Domme is self-expressive. There's something undeniably sexy about dressing yourself up as your alter ego. Becoming a domme isn't just about attitude, but how you represent your looks.
Teasing to the eye, but untouchable to the observer, how you represent yourself is the foundation of being a successful dominatrix. So, whether you're already an established bad bitch, or just tipping your toes into the world of sexy garments, we'll delve into the key elements that make up the perfect dominatrix clothing just for you. Discover how to make a bold statement in your domme attire and how to raise more than just eyebrows with a femdom outfit.
The Choice Between Latex Dominatrix Or Leather Mistress
Latex Dominance: Latex is a quintessential material in dominatrix fashion. Its sleek, form-fitting allure hugs your curves and leaves little to the imagination. The glossy finish of a dominatrix corset not only accentuates your body, but also commands attention. Whether you choose a latex bodysuit, dress, or catsuit, this material is sure to make a statement.
Leather Mistress: While latex takes the spotlight, leather adds a classic and powerful edge to your dominatrix outfit. Consider incorporating leather accessories such as gloves, belts, or chokers for a bold contrast. Leather harnesses and corsets can cinch your waist and amplify your dominance.
Mixing Materials: Don't be afraid to experiment with different textures. Combining satin or lace with latex and leather can create a dynamic and visually striking look. Layering these materials adds depth and complexity to your ensemble.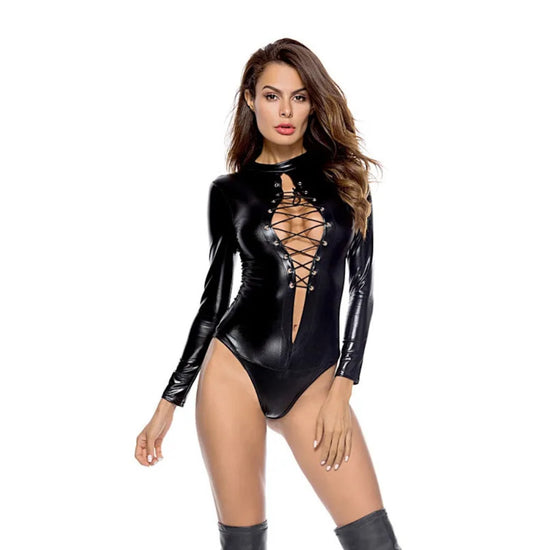 Accentuating with Accessories
Essential Accessories: To truly embody the dominatrix costume, whips, cuffs, and collars are essential. These accessories not only serve as tools of control but also carry symbolic power. Choose high-quality items that align with your style.
Material Coordination: Ensure your accessories match the primary outfit materials, focusing on latex and leather. Coordinating materials will create a cohesive and striking look that exudes confidence.
Creative Additions: For a unique twist, consider incorporating body chains or harnesses into your ensemble. These creative additions can elevate your sexy dominatrix outfit and emphasize your alpha presence.
Footwear: From Stilettos to Thigh-High Boots
Impactful Choices: Your choice of footwear can make a significant impact. Stilettos, with their towering height, exude authority and dominance. Thigh-high boots, whether in latex or leather, add an imposing touch to your look. Choose the footwear that makes you feel most empowered.
While style is crucial, don't forget about comfort. Opt for footwear that allows you to move confidently and maintain control. Remember, a comfortable dominatrix suit makes for effective dominatrix gear.
When selecting boots, consider the design and color that complements your overall domme outfit. Black is a classic choice, but you can also explore other bold colors to make a statement.
Lingerie and Undergarments: The Foundation of Seduction
Lingerie and undergarments play a vital role in adding layers of allure to your dominatrix outfit. Tease your submissive by revealing glimpses of what's underneath, made all too easy with a dominatrix dress, leaving them yearning for more.
Opt for latex or leather lingerie that aligns with the theme of your outfit. These materials provide a seamless transition from outerwear to intimate moments.
Choose lingerie pieces that are both seductive and empowering. Incorporate elements like lace, straps, or cutouts to add a playful touch to your ensemble.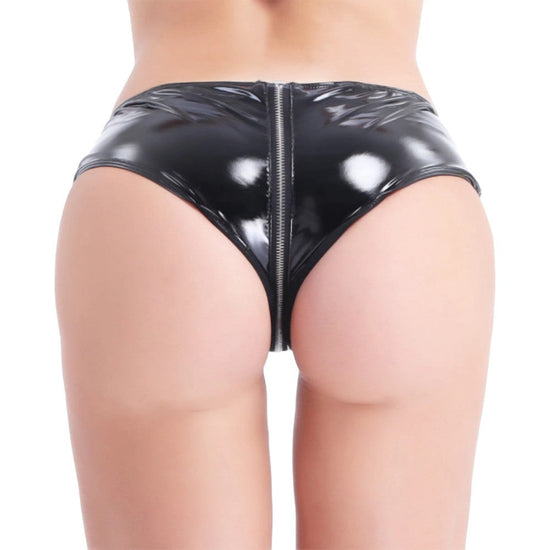 Color Schemes and Styling Tips for Maximum Impact
Dominant Colors: The power of color choices cannot be overstated. Traditional black and red latex make for a conquering fashion with dominatrix lingerie, but you can explore other bold colors in latex and leather. Let your chosen colors reflect your dominant personality. Femdom clothing revolves around strong colors that evoke strong and instinctive feelings, just from looking at them.
Accent Colors: Use accent colors strategically to highlight certain aspects of your outfit. Whether it's a red collar against black latex or silver hardware on leather, these details can enhance your overall look.
Trial And Error: Don't be afraid to experiment with different combinations of colors and pieces. Try clashing colors strategically, mix gold and silver jewelry or clash different types of materials. Go wild and let your creativity shine.
Hair and Makeup: Completing the Dominatrix Look
Hair Styles: Your hairstyle should complement the dominatrix aesthetic. Sleek ponytails, bold bobs, or even long flowing locks can add to your commanding presence. Choose a style that makes you feel confident, you can even wear a wig.
Makeup for Intensity: Makeup plays a crucial role in enhancing your femdom outfits. Bold lips, dramatic eyes, and perfectly contoured features can exude intensity and control.
Consistency with Theme: Ensure that your hair and makeup align with the overall theme and color scheme of your outfit. A harmonious, sexy dominatrix look ties everything together and makes a powerful statement.
Acting The Part Of A Dominatrix
More than just clothing, learning how to act can really sell your dominant role.
The key to embodying the dominatrix role is confidence. Walk with purpose, maintain eye contact, and speak with authority. Your self-assured demeanor will captivate your submissive. As far as wearing the pants in a relationship goes, being a plus size dominatrix has advantages and should not dissuade you from acting the part. A plus size dominatrix outfit accentuates your curves and makes for an even more intimidating yet impressive look.
Pay attention to posture, gestures, and body language. Dominance and control should emanate from your every move. Stand tall and assertive, and your presence will command respect.
Embrace the dominatrix persona through speech and attitude, presence, and of course, suitable dominatrix wear. Sound disgusted, use short sentences, and say demeaning words. Even when you're satisfied with them, still use a sarcastic tone of voice.
Leave a lasting impression by embracing your inner wolf with creativity and ultimately, confidence. It's not just about what you wear, it's about how you wear it, and the confidence with which you embody the role.
Creating a dominatrix outfit takes self-expression and empowerment, and with dominatrix attire you can use your imagination and what you feel most comfortable in to leave an irresistible aura that will leave any sub breathless. Go ahead and unleash your inner latex dominatrix or leather mistress, and let the world embrace your red-hot, irresistible allure.