Fetish fashion offers you a way to complete your look with dangerously sexy latex boots, shoes, and latex thigh high boots that glisten all the way up your legs. Transform your entire presence with latex shoes that paint a picture of you stepping into a room, your latex-clad legs encased in shiny, sleek latex boots and drawing any who love the rubberboots fetish in for miles. Everyone in the room is in awe and shock over your dominating presence, covered in gleaming latex from heel to shoulders. You sway your hips and keep your head up, and you know that you, and only you, are the star of this moment. Imagine pushing your partner down with your sexy latex stilettos on their chest, and as they stare up at you in absolute submissiveness, you know they have only one thing on their mind: "I need this."
Picking The Right Type Of Latex Shoes
Latex shoe types are as diverse as your desires. But before you make your choice, take a glimpse at some essential considerations.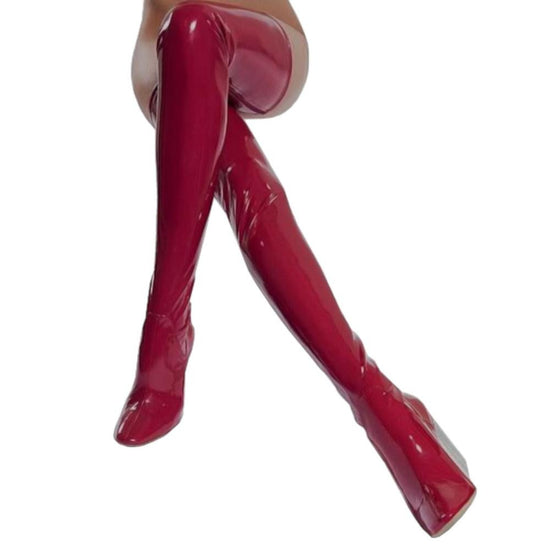 Choosing the Right Color to Match with Your Outfit
The color of your latex mistress boots can set the tone of your outfit and enhance your overall aesthetic. Here are some color options to consider:
Black: A classic choice for a sexy and dark aesthetic.
Red: A bold, stand-out option that screams seduction.
Transparent: Show off your tan and sexy legs with this revealing choice.
Blue, Green, White: Explore the tones these colors set and find the one that speaks to your desires.
Materials Used For Wetlook Footwear
The material of your latex boots matters. While there are other options like vinyl, PVC, and vegan leather, latex remains the king. Its unique characteristics make it a top choice:
Latex: Known for its sleek, shiny, and stretchiness that conforms to your feet, ankles, and thighs, they make for a dominant and sexy mistress boots. Black or red latex boots are a common color choice.
Vinyl: A close contender, but without the same level of stretch and shine. You can still impress clients or partners with red vinyl boots
PVC: Offers durability and a shiny finish, with exciting color options like red pvc boots.
Vegan Leather: A more ethical alternative that can still provide a captivating look.
Types of Latex Footwear
When it comes to the type of your latex footwear, the options are just as exciting. Consider these styles:
Skin-Tight Fitting Heels: Latex heels emphasize the contours of your legs and keep you poised and ready for fun, these make a great choice for dominatrix heels.
Latex Thigh High Boots: A classic choice with a timeless appeal, they let you skip latex leggings and keep a sexy but unobtainable strip of skin between your thighs and hip in sight of your partner.
Stiletto: The ultimate symbol of dominance.
Platform Heels: Elevate your stature and your confidence.
Lace-Up Fronts: Adds a touch of sensuality and elegance, and shows off your rope-tie skills if you choose to walk the walk of dominatrix shoes.
Leg Heights Used For Latex Boots
The height of your latex boots plays a significant role in your overall appearance. Choose from various leg heights to suit your style:
Above the Ankle: A subtle yet alluring choice.
Under the Knee: Versatile and suitable for various occasions. PVC knee high boots offer all the fun of latex at a fraction of the price.
Over the Knee: Exude confidence and sex appeal, and supplement with d-rings and o-rings for the perfect bondage shoes that can tie your legs up.
Thigh Highs: Take it to the extreme and make a bold statement with latex or PVC thigh high boots.
A Good Pair Of Latex Shoes Completes Your Outfit
Matching your latex shoes to your outfit is the key to achieving a captivating look. Latex is sleek and shiny, becoming the unspoken symbol of kink with its overflowing sex appeal. Imagine how sexy you'll feel as latex conforms to your feet, ankles, and thighs, giving you an irresistible wet look that reflects all your seductive details.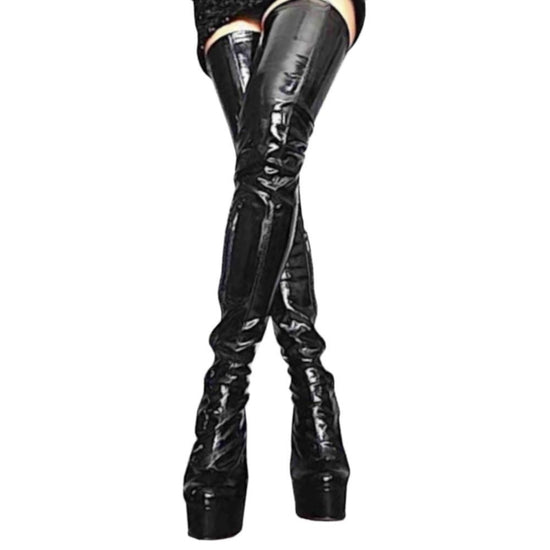 Become the Most Relentless Domme in Existence
If you're into BDSM or fetish play, latex boots can take your dominance to a whole new level. In the world of fetishism, especially within BDSM, boot worship is a favorite humiliation play among fetishists. Submissives are tasked with kissing, licking, and more to please their Master or Mistress. With your pvc thigh boots or shoes, you can become the most relentless Domme in existence, getting what you want, how you want it, and when you want it.
Latex boots are more than just footwear; they're a symbol of power, seduction, and fetishism. So whether you're exploring BDSM, aiming to make a bold statement, or simply want to exude confidence and sex appeal, don't hesitate to slip into a pair of latex boots and step into a world of desires fulfilled.
Remember, latex is more than a material; it's a lifestyle. Embrace it and unleash your inner Dominatrix or Mistress, striding confidently into the world, knowing you're the star of the show.